Best free plug-ins this week: Chow Kick, AMP and GFilter
This week, Chowdhury DSP is back with an awesome kick drum synthesizer. We've also got AMP, a combined limiter and saturator for fattening up your drums, and GFilter, a very useful multi-mode filter with included impulse generator.
Looking for more free plug-ins? Check out our archives!
Chowdhury DSP Chow Kick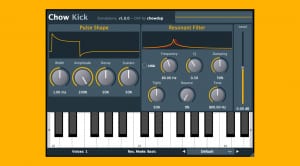 Chowdhury DSP has quickly made a name for himself with the fantastic Chow Tape Model and Chow Matrix plug-ins, among others. Now the developer has released Chow Kick, a great-sounding bass drum synth. Chow Kick uses "creative physical modeling" of vintage drum machine circuits. After setting the pulse shape with the width, amplitude, decay and sustain knobs, you can use the included filter for more creative possibilities. Chow Kick also lets you tune the kick drum using MIDI notes.
Chow Kick is available for macOS, Windows, Linux and iOS in VST, VST3, AU and LV2 formats.
ProduceRNB AMP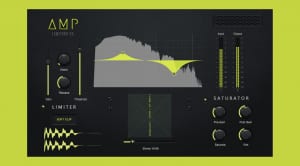 If your kick drum still isn't punchy enough, you can use ProduceRNB's new AMP plug-in. Specifically designed for drum sounds, AMP combines a limiter, EQ, saturator and stereo tool in one plug-in. The limiter offers attack and release controls and a soft clip feature. The equalizer lets you tackle frequencies with unlimited point-and-click bands. The saturator has pre and post gain controls for added color. And you can use the stereo tool to control the stereo width of your signal.
AMP is available for macOS and Windows in VST and AU formats.
Flandersh Tech GFilter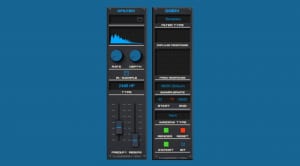 Flandersh Tech GFilter is a quick and easy multi-mode filter for your audio signals. In addition to 14 filter modes with frequency and resonance controls, there's an integrated LFO for modulation. GFilter comes bundled with the GGen impulse response generator. GGen lets you create impulse responses for use in GFilter. The bundle is Flandersh Tech's contribution to this year's KVR Developer Challenge, and it looks like a great tool to have for all kinds of creative filtering.
GFilter and GGen are available for Windows as VST3 plug-ins.
Videos
Image Sources:
chowdhury-dsp-chow-kick: Chowdhury DSP
producernb-amp: ProduceRNB
flandersh-tech-gfilter: Flandersh Tech