Best free plug-ins this week: Fresh Air, Bucket Pops and CHOW Matrix
This week's collection of the best free plug-ins brings you a breath of Fresh Air, a fun vintage drum machine and a unique delay that grows like a tree. Here's Fresh Air, Bucket Pops and CHOW Matrix.
Check out our huge archives for many more free plug-ins!
Slate Digital Fresh Air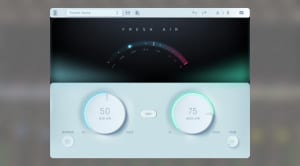 We don't typically see the big names of the audio and plug-in industries in this column, so it's a very pleasant surprise when we do. Fresh Air by Slate Digital is a "dynamic high frequency processor that breathes new life into your mix". You can adjust the effect with the "mid air" and "high air" knobs and put it on individual tracks or the stereo mix. The developer claims that it adds brilliance without sounding harsh or brittle, and judging by the demo tracks, I don't think they're exaggerating.
Fresh Air is available for macOS 10.13-10.15 (Intel only) and Windows 8 or 10 in AU, VST, VST3 and AAX formats (64 bit). You need a free iLok account for activation.
Full Bucket Music Bucket Pops
Acclaimed freeware developer Full Bucket Music is back with an emulation of the Korg Mini Pops-7 drum machine from 1966. This early analog machine became famous for being used by Jean-Michel Jarre on "Oxygène". The Mini Pops' 15 drum sounds have been modeled (not sampled) and are tweakable. The emulation also contains the 20 original rhythm patterns, which are editable. If you're into lo-fi analog beats, definitely check this one out.
Bucket Pops is available for macOS and Windows in VST and AU formats (32/64 bit).
Chowdhury-DSP CHOW Matrix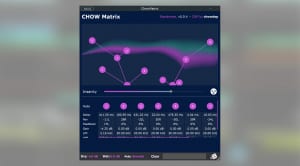 Developer Jatin Chowdhury brought us the fantastic CHOW Tape earlier this year. His latest creation is CHOW Matrix, a unique delay effect with delay lines that grow like branches of a tree. Each node delays the audio from its 'parent node' and offers control over the delay time, feedback, panning, filtering and distortion. Think of it as a multi-tap delay with a unique visualization system. It's nice to see a developer approaching a familiar effect like delay in a fresh way!
CHOW Matrix is available for macOS, Windows and Linux in VST, VST3 and AU formats.
Videos
Audio demo
Image Sources:
slate-digital-fresh-air: Slate Digital, Gearnews
full-bucket-music-bucket-pops: Full Bucket Music, Gearnews
chowdhury-chow-matrix: Chowdhury-DSP