Best free plug-ins this week: CHOW Tape Model, 2B Clipped and Psyscope
We've seen plenty of distortion and other sonic degradation plug-ins in this column recently, and this week is no exception. We've got CHOW Tape Model, a reel-to-reel tape simulation that began as a class project, and 2B Clipped, a free distortion plug-in. And if you'd like to see for yourself just how much damage you're doing to your audio, check out Psyscope, a free 4-channel oscilloscope.
Head over to our huge archives for many more free plug-ins!
CHOW Tape Model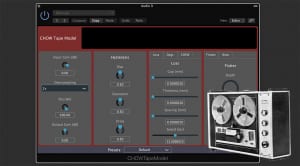 CHOW Tape Model began as a class project at Stanford University. The plug-in emulates an analogue tape recorder using physical modeling. The developer says that it was originally modeled after the Sony TC-260, but can now also emulate a variety of other machines. The plug-in is distributed under the GNU General Public license and all the technical stuff is posted on Github, so you can contribute to it if you're technically-minded.
As of now, CHOW Tape Model is available for Windows, macOS and Linux in VST, VST3, AU, LV2 and stand-alone formats.
2B Played Music 2B Clipped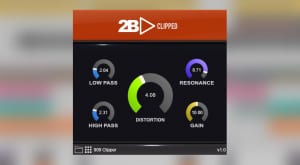 Last week brought us two free distortion plug-ins, and here's another one! 2B Clipped is based on the distortion engine from the developer's commercial 2B Filtered filter plug-in. They say that turning up the distortion knob slightly will add character to the sound, while turning it past the half-way position will result in clip distortion. They've also added high pass and low pass filters before the drive stage, so you can adjust the frequency range affected by the distortion.
2B Clipped is a VST and VST3 plug-in for Windows.
FX23 Psyscope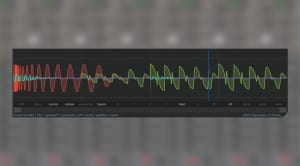 Psyscope by FX23 is a great-looking, free, multi-channel oscilloscope plug-in. It offers four stereo input channels, which can be displayed individually or as overlapping layers. Other display options include summed, L, R and mono sum. The developer says that it supports zooming and scrolling for precise inspection up to sample resolution. Psyscope also displays various data like max buffer peak, under-mouse dB value, and more. It's fully resizable and comes with three GUI skins.
Psyscope is a VST plug-in for Windows.
Video
Image Sources:
chow-tape-model: Chow DSP / Gearnews
2b-played-2b-clipped: 2B Played Music / Gearnews
fx23-psyscope: FX23 / Gearnews