Best free plug-ins this week: Wave Destroyer, V-Dist Classic and Ideal
This week's collection of free plug-ins gives you a choice of two distortion plug-ins: one with plenty of tweakability and another one with just one big knob. We've also got an experimental drum and percussion synthesizer. Introducing Wave Destroyer, V-Dist Classic and Ideal!
Want more free plug-ins? Head over to our archives!
GMH Audio Wave Destroyer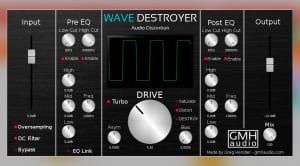 Wave Destroyer by GMH Audio is a distortion plug-in capable of a wide range of tones. It offers three distortion modes (Saturate, Distort and DESTROY) and an additional Turbo button for extra drive. You can further adjust the distortion with the Asym and Bias knobs. Wave Destroyer also has extensive pre and post EQ sections with high and low cut filters and 3-band equalizers. The plug-in is available for free, but you can also name your own price to support the developer.
Wave Destroyer is available for Windows and macOS (excluding Catalina) in VST and AU formats (64 bit).
Violin Melody V-Dist Classic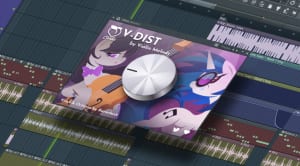 According to the developer, the quirky V-Dist Classic is an "amazing one-knob distortion VST plug-in that will make a true sausage from your audio spectrum". Sounds tasty! Violin Melody says that it's backwards compatible to the original V-Dist. The plug-in is available with three colourful skins. There's also a pro version coming soon, which adds input and output knobs, oversampling and a "banana mode". Like Wave Destroyer, V-Dist Classic lets you name your own price.
V-Dist Classic is a VST plug-in for Windows.
Xoxos Ideal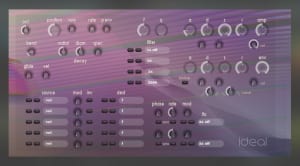 Just last week, we wrote about Universe by xoxos. Now, the developer has released yet another synth plug-in that looks almost identical, but is a different beast altogether. Information is sparse, but Ideal is a drum and percussion synthesizer that uses 2D circular membrane modeling. You can adjust parameters like position, radial and diameter. Like Universe, Ideal also offers a filter, two envelopes, two LFOs and a modulation matrix to tie it all together.
Ideal is a VST plug-in for Windows.
Get Ideal here (direct download)
Image Sources:
gmh-audio-wave-destroyer: GMH Audio / Gearnews
violin-melody-v-dist-classic: Violin Melody
xoxos-ideal: xoxos / Gearnews