Best free plug-ins this week: Vastaus, Exc!te, Wave Folder and Gramophony
This week's roundup of the best free plug-ins features a high frequency "fixer", a physically-modeled snare drum, a wave folder and a cool emulation of an old gramophone. Check out Vastaus, Exc!te, Wave Folder and Gramophony.
Want more free plug-ins? Browse our huge archives!
Wavegrove Vastaus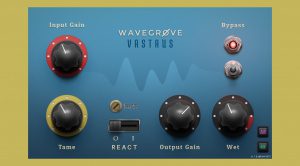 We're always excited to see new freeware developers appear on the scene. Wavegrove's debut Vastaus is a high-end "fixer" designed to tame harsh highs and bring out detail and clarity. The developer says that it works on instrument channels and buses and can be used on vocals, cymbals, guitars and everything else. You can adjust the effect using the Tame knob and activate React mode to bring out transients in an interesting way. There's also a Bias knob for added harmonics and silkiness.
Vastaus is available for macOS and Windows in AU, VST and VST3 formats.
Center for Haptic Audio Interaction Research Exc!te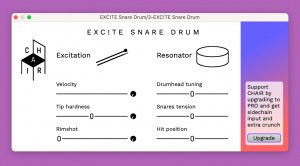 Once you've finished pronouncing the developer's name, you'll be pleased to find out that Exc!te is a meticulously modeled acoustic snare drum with a stunningly realistic sound. You can adjust many parameters of the exciter and resonator, including tip hardness, rimshot, tuning, snare tension and hit position, and dial in a wide variety of sounds. There's also a pro version for €19.90 that lets you play the drum using external signals, e.g. via piezo pickups (see video below). Very cool!
Exc!te is available for macOS, Windows and Linux in AU and VST3 formats (64 bit).
Martinheterjag Gramophony and Wave Folder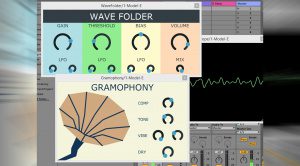 Programmer Martinheterjag says that these two plug-ins were developed when he was learning the JUCE framework. Gramophony combines chorus/vibrato, bandpass filtering and mild distortion to create a lo-fi effect reminiscent of an old gramophone. Wave Folder is inspired by West Coast synthesis techniques. It folds the waveform depending on the gain, threshold and bias settings to create a harsh distortion effect. LFOs for modulation are also included.
Gramophony and Wave Folder are VST3 plug-ins for Windows.
Video
Image Sources:
wavegrove-vastaus: Wavegrove
chair-excite-snare-drum: Center for Haptic Audio Interactive Research
martinheterjag-plug-ins-01: Martinheterjag