Best free plug-ins this week: Sweep, EasyVerb and a bundle
Our collection of free plug-ins for this Easter Sunday includes a very cool sweeping filter, a simple reverb and a complete bundle of modulation effects. Check out Sweep, EasyVerb and four plug-ins by DTM Hacker.
And if you can't get enough free plug-ins, our archive is always here for you!
Lese Sweep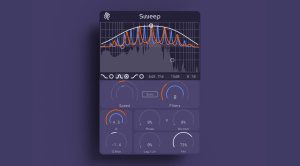 Sweep by Lese is a sweeping filter – but not the way you're thinking. Through the magic of mathematics and a bunch of interconnected filters, it makes your sounds feel like they're rising or falling endlessly. The developer says that it's based on the same ideas as shepherd tones and risset filters. You can also split the left and right channels and process them separately to create unique stereo effects. Sounds like a great tool for buildups, transitions and any creative sound design application!
Sweep is available for macOS (including Apple Silicon) and Windows in VST3 and AU formats.
Martinheterjag EasyVerb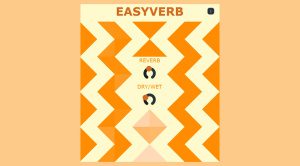 After Gramophony and Wave Folder, developer Martinheterjag is back with EasyVerb, a simple and easy to use reverb effects with only two knobs. The reverb knob lets you dial in the desired type of reverb from rooms to halls to long shimmering reverbs. Then all that's left to do is to adjust the reverb level using the dry/wet mix knob and you're good to go. Despite its lack of more advanced controls, EasyVerb is a great tool if you just want a good-sounding reverb quickly.
EasyVerb is a VST3 plug-in for Windows.
DTM Hacker modulation effects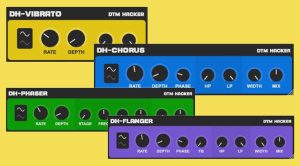 To wrap up this week's collection of free plug-ins, here's a bundle of four modulation effects for the Mac by DTM Hacker. Choose from DH-Chorus, DH-Flanger, DH-Phaser, or DH-Vibrato, or download all four to add the complete bundle to your arsenal. All provide precise control of the rate, depth, width, and any other relevant parameters, and some even come with integrated high pass and low pass filters. If you're looking for free modulation effects, this bundle has got you covered.
DH-Chorus, DH-Flanger, DH-Phaser, and DH-Vibrato are available as VST3 and AU plug-ins for macOS 10.11-11.4.
Image Sources:
lese-sweep: Lese
martinheterjag-easyverb-01: Martinheterjag
dtm-hacker-plugins-01: DTM Hacker