Best free plug-ins this week: Oldigy, Wave Observer and Freqs
This Sunday brings you three early X-mas presents in the form of free plug-ins! We've got some low-res digital goodness and not one, but two new analyzers for your metering needs. Here's Oldigy, Wave Observer and Freqs.
Check out our archives for many more free plug-ins!
Syntler Oldigy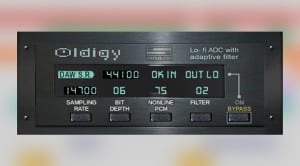 It's not always about analog! Oldigy by Syntler is a free plug-in that simulates the sound of low-resolution digital gear: old samplers, game consoles, phones, that sort of thing. And it's more than just a bit crusher. You can also adjust the sampling rate (all the way down to 3675 Hz, depending on your DAW), and use non-uniform pulse code modulation. There's also a filter for softening digital artifacts. If you're into those lo-fi vibes from the heyday of digital audio, check this one out.
Oldigy is available for Windows and macOS in VST, VST3 and AU formats.
Press Play Wave Observer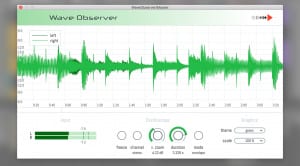 Wave Observer by Press Play is an oscilloscope and waveform monitoring plug-in. In addition to a continuous waveform display for the left, right, or stereo signals, it offers a couple of deeper analysis tools. You can zoom in to one sample per pixel, so you can really see the details. Wave Observer also offers two observation modes (envelope and waveform) and a freeze feature that lets you scroll through history. If you like to keep an eye on the waveform, this one will come in handy.
Wave Observer is available for Windows and macOS in VST, VST3 and AU formats.
HoRNet Plugins Freqs
Analyzers might not be the sexiest of plug-ins, but they're indispensable tools for mixing and mastering. Freqs by HoRNet Plugins is a free spectrum analyzer that helps to keep an eye on frequencies. It offers two different kinds of visualization: analog, which resembles the hardware analyzers still used in many studios, and digital, which is FFT-based. You can adjust the dB range and integration time and choose from mid/mono and side displays. The GUI is resizable and uses hardware acceleration.
Freqs is available for Windows and macOS in VST, VST3, AU and AAX formats (64 bit only).
Image Sources:
syntler-oldigy: Syntler, Gearnews
press-play-wave-observer: Press Play, Gearnews
hornet-plugins-freqs: HoRNet Plugins, Gearnews