Best free plug-ins this week: Nils K1v, JP-ME-1 and Universe
Two unique synths and an 80s-style reverb – that sums up this week's collection of the best free plug-ins. This Sunday, we've got these three great freebies for you: Nils K1v by Nils Schneider, JP-ME-1 by BEN/SCHULZ and Universe by Xoxox.
For many more free plug-ins, head over to our archives!
Nils Schneider Nils K1v
Kawai is best known as a manufacturer of digital and acoustic pianos. What's often forgotten is that the Japanese company also made a few synths back in the day. Nils K1v by Nils Schneider is an emulation of the Kawai K1, an early Rompler from 1988. It's based on samples, but lets you edit all parameters. The plug-in includes the original factory bank and all ROM banks. It's also compatible with K1 SysEx data and can be used to control the hardware synth. Pure late 80s nostalgia!
Nils K1v is a VST plug-in for Windows (32/64 bit).
BEN/SCHULZ JP-ME-1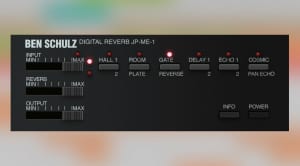 Having fun in the late 80s? Let's just keep going! This plug-in has been out for a few months. We may have missed it at first because it won't stay free forever. But during the public beta phase, JP-ME-1 is free to download, and you get to keep your license. The plug-in emulates a 12-bit digital reverb from the 80s. There aren't many parameters to play with, but you can choose from 12 different algorithms, including the ubiquitous gated reverb. After the beta phase, it'll be USD 39, so grab it now!
JP-ME-1 is available for Windows and macOS in VST, VST3, AU and AAX formats.
Xoxos Universe
Here's another interesting new synth from xoxos. Universe is inspired by spectral resynthesis. The GUI resembles the developer's earlier resyn (which is also free), but instead of analyzed data, Universe uses parametric contours. Don't know what that means? Neither do we! But if you're tired of the same old subtractive synthesis over and over again, Universe looks useful for all sorts of experiments. And it does have a filter and ADSR envelopes – at least we know what those do!
Universe is a VST plug-in for Windows.
Download Universe here (direct download)
Image Sources:
nils-k1v: Nils Schneider / Gearnews
ben-schulz-jp-me-1: BEN/SCHULZ / Gearnews
xoxox-universe: xoxox