The Gearnews guide to field recording
If you're new to the realm of field and location recording, it's hard to know where to begin. Also, even as a seasoned professional, there are new products being released consistently, so it's good to keep in touch with the latest devices. You never know when you might come across new ways to streamline your setup and workflow.
There are many different ways to go about capturing speech, effects, and ambiences. For each of these, you might benefit from an approach and tools specific to the task. We'll cover the basics to give you a broad overview. From handheld devices and external microphones to field recorders that mount onto your tripod and sync up with your camera for video capture.
Handheld Recorders
These pocket-sized recorders are a great introduction to field recording. Although generally, they come with built-in microphones that perform best in quieter environments, they can still capture ambient environments pretty well without additional mics.
The slightly more high-end handheld recorders also have features like mic pres with XLR inputs and the ability to function as an audio interface.
Zoom H1n
The ever-popular Zoom H1n may look somewhat like a dictaphone, but it can easily be used in professional location recording environments, depending on how you use it.
The fixed XY microphone system provides up to 24-bit 96 kHz recording to micro SD and micro SDHC card, while the H1n also functions as a USB interface. In addition, it's hot shoe mountable and allows you to add it to your video capture rig.
Zoom H5
One of the most widely used compact recorders around, the Zoom H5 has some great pro features despite its size. Apart from the XLR combo inputs, the H5 also supports M/S recording and allows you to use the interchangeable Zoom mic capsules.
The H5 runs on two AA batteries, providing up to 15 hours of recording time. This gives you the option of either 1.5 V alkaline or rechargeable 1.2 V NiMH. In addition, you can even run the H5 as an iPad audio interface with the Apple Camera Adapter.
Sony PCM D10
Sony has a reputation for producing high-quality handheld recording devices, so we can expect the same from the PCM D10. The fixed mics offer far better headroom and lower noise floor than most devices in this class and there is a useful monaural mode for recording speech.
In addition, the D10 is equipped with AK4558 AD/DA converters so you can fully enjoy the 24-bit 192 kHz recording capabilities. It may be slightly more than you imagined paying for a handheld recorder, but having a decent signal-to-noise ratio can save you plenty of editing in post.
Shotgun Mics
If you're looking to take your Vlog content to the next level, shotgun mics are essential professional tools used in TV, film, and broadcast for years. The hyper-directional design of these microphones requires a more hands-on approach when capturing the audio.
However, they generally do yield far better results than any other mics – particularly in outdoor environments. Ample off-axis rejection makes it possible to capture speech or effects even in noisy environments unsuitable for ambient micing.
Sennheiser MKE 600
The Sennheiser MKE 600 is one of the more versatile shotgun mics and it's used extensively across the industry. The fact that you can use either AA batteries or 48 V phantom power for operation makes it suitable for almost any recording or camera rig.
The MKE 600 is ruggedly built, so you certainly won't mind using it outdoors, and comes with most of the necessary accessories. This includes the foam windshield, hot shoe/boom mount, and the XLR to mini-jack cable.
Rode NTG5
Not only is the Rode NT5 built with the idea of outdoor use, but it's also relatively lightweight with aluminium housing. It offers decent results, especially for documentary work where you are within ten feet of your subject or sound source.
To add it to your rig, the NT5 does require phantom power. However, once this is taken care of, it will easily find its home above your camera and will certainly upgrade the audio quality of any video capturing you do.
Sennheiser MKH 416 P48
Made famous by the likes of Ernie Anderson and Joe Cipriano the Sennheiser MKH 416 P48 is one of the industry standard mics for location sound, ADR, and voiceover. It captures speech in an extremely pleasing way that sounds natural and requires very little post-processing.
The only negative about the 416 is the price tag, but if you're earning a living from the work you do with it – you can surely justify the expense. The optional extras include the MZW60-1 windshield and the MZS20-1 pistol grip.
Portable Interfaces
If you require or simply prefer recording directly into a DAW, having a portable audio interface is a necessity. Apart from providing a decent conversion stage for your laptop or tablet device, some of these can even function as stand-alone mic pres or mixers.
This makes them incredibly useful for location recording, as they are obviously bus-powered, but also provide phantom power for any additional microphones you are using in your production.
MOTU M2
MOTU has been a trusted name in audio interfaces used in location recording, as well as live music performance for many years. The M2 is a relatively recent development, bringing pro features to the more entry-level side of the market.
It's a very basic 2 in/2 out interface with decent enough preamps, converters, metering, and stable drivers. The casing might not be as hardy as the Ultralite series of interfaces, but it's certainly one of the best options(if not the best option) in this price range.
RME Babyface Pro FS
The Babyface Pro FS provides a wide range of connectivity and high-quality preamps and converters in an extremely compact form factor. It offers 24-bit 192 kHz recording, clear metering, and ADAT I/O expansion for interfacing with larger setups.
Although the casing might not be as ironclad as the other interfaces we've mentioned, RME is renowned for its Steadyclock FS technology, and the TotalMix FX software has a range of processing and routing features.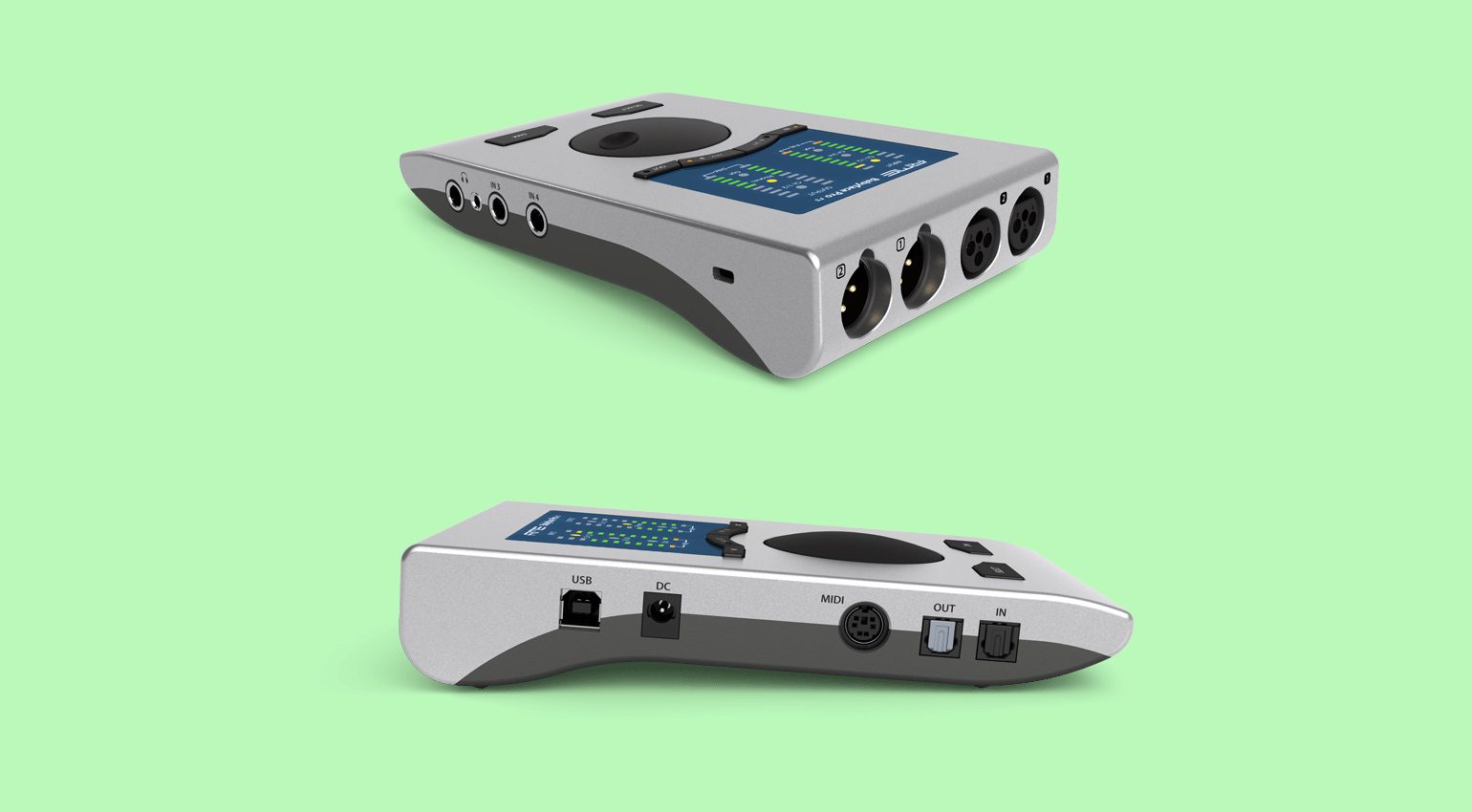 Sound Devices USBPre 2
Sound Devices is known for weapons-grade build quality, and the USBPre 2 is built like a tank. You get high-end mic pres, conversion, and a headphone preamp that will even drive high-impedance headphones.
The connectivity options are endless, and the USBPre 2 also functions as a standalone portable mic pre unit, which is useful when you want extremely high headroom and low noise signal. Yes, it's expensive and even dated perhaps, but what it does – it does well.
Portable Field Recorders
Field recorder units are the main brain of your location sound department. They have a variety of features, including providing mic preamps, mixers, and feeding synced audio into your camera if necessary.
They can run up the production budget considerably, but pricing aside, ensure that your choice is compatible with your camera. Also, if you're doing mostly handheld video work, you're going to want something compact that doesn't add too much weight to your rig.
Zoom F3
The Zoom F3 is the simplified and scaled-down version of the trusty F6 multi-track field recorder. At only 242 g, it's incredibly light and compact, making it the perfect addition to your camera rig if you simply need to add XLR inputs to your setup.
You can control the F3 with a mobile app, provided you have the optional Bluetooth attachment. What's more, if you add the Timecode Systems UltraSync Blue, you can sync your audio and video with precision.
Tascam DR-70D
Despite appearances, the tried and tested DR-70D weighs only 530 g and was designed to be the partner of the Canon 70D (or other DSLR) during video capture. The layout is simple enough for you to quickly familiarise yourself with the features.
Overall, the DR-70D is nicely built and well-equipped for a recorder in this price range. With built-in stereo mics and four mic pres with XLR combo inputs, you have more than enough to tackle any project on a budget. Also available in the larger DR-701D.
Sound Devices MixPre-6 II
On the more professional end of the spectrum, the MixPre-6 II offers all you can expect in terms of quality for a $1000 multi-track field recorder. More than the features, what stands out is the headroom and discrete gain you get from its preamps.
You can simultaneously record the six XLR combo inputs and a stereo mix, which is useful from a post-production perspective. Moreover, this tanky-looking multitracker only weighs around 560 g without batteries, which is pleasantly surprising.
More about field recording:
Videos:
Note: This article contains affiliate links that help us fund our site. Don't worry: the price for you always stays the same! If you buy something through these links, we will receive a small commission. Thank you for your support!
Image Sources:
Zoom H1n: Zoom
Zoom H5: Zoom
Sony PCM D10: Sony
Sennheiser MKE 600: Thomann
Rode NTG5: Rode
Sennheiser MKH 416 P48: Thomann
MOTU M2: MOTU
RME Babyface Pro FS: RME
Sound Devices USBPre 2: Sound Devices
Zoom F3: Zoom
Tascam DR-70D: Tascam
Sound Devices MixPre-6 II: Sound Devices