Best free plug-ins this week: Blindfold EQ, Tape Cassette, IterativeSinCluster
If you need a break from Christmas shopping, checking out free plug-ins is a great way to get away from it all! This week, we've got a mysterious EQ, a nostalgic cassette tape emulation and an additive synth. Voilà: Blindfold EQ, Tape Cassette and IterativeSinCluster!
Need even more free plug-ins to escape from the madness? Head over to our archives!
AudioThing Blindfold EQ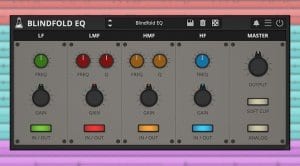 Blindfold EQ addresses a very real problem that many people are having. If you get too much visual feedback from a plug-in, you tend to not use your ears as much. But EQing should be about listening, and that's why AudioThing has completely eliminated any frequency, gain and Q numbers from Blindfold EQ. It's a 4-band EQ with low and high shelves and two parametric mid bands, and it forces you to listen instead of dialing in the usual values. Not a bad idea at all.
Blindfold EQ runs on Windows 7 and up and macOS 10.7 and up in VST, VST3, AAX and AU formats (64 bit).
Caelum Audio Tape Cassette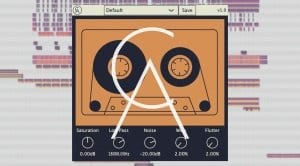 We've seen a few nostalgic emulations of cassette tape recorders recently, like Cassette and SketchCassette. But this one by Caelum Audio is completely free, which makes it even easier to add some retro vibes to your tracks. Tape Cassette offers five simple controls for saturation, low pass, noise, wow and flutter. If you're after that classic Type II Chrome Dolby B sound, this free plug-in is what you need.
Tape Cassette is available for Windows 7 and up (VST3) and macOS 10.11 and up (AU, VST3). There's also an iOS version, which requires iOS 9.3 or higher and works stand-alone or as an AUv3 plug-in.
Uhhyou IterativeSinCluster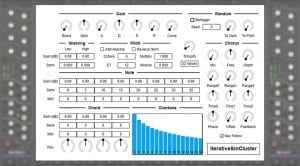 After plug-ins like SyncSawSynth and SevenDelay, developer Uhhyou is at it again. IterativeSinCluster is an additive synthesizer which uses a total of 512 sine waves to form a tone cluster. The minimalistic interface lets you control the tuning of the layered waves, overtones, frequency multiplication and modulation. There's also a chorus effect. Like all of Uhhyou's interesting free plug-ins, IterativeSinCluster produces some very unique sounds – perfect for sonic experiments.
IterativeSinCluster is a VST3 plug-in for Windows, macOS and Linux, although the developer says that the Mac version isn't tested.
Videos
Image Sources:
audiothing-blindfold-eq: Audiothing / Gearnews
caelum-audio-tape-cassette: Caelum Audio / Gearnews
uhhyou-iterativesincluster: Uhhyou / Gearnews