Best free plug-ins this week: Oberom, SyncSawSynth and RhythmDelayFree
Freeware Sunday has arrived, and that means that we've got some more free plug-ins for you! This week's selection includes a new sampled gem by SampleScience, a quirky sawtooth and noise synth and a simple, but useful tap delay. Check out Oberom, SyncSawSynth and RhythmDelayFree.
As always, you can find many more free plug-ins in our archives.
SampleScience Oberom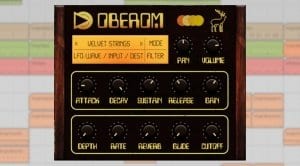 SampleScience have taken to sampling vintage plug-ins from the heyday of software instruments. A few weeks ago, we featured their SQ8ROM, a sampled resurrection of an early plug-in emulation of the Ensoniq SQ80. Now they've done it again and sampled Oberon by Land of Cockaigne, a popular early 2000's synth plug-in that has since been abandoned. Oberom includes all 16 presets of the original plug-in. The makers say that it's a must for synthwave, synth-pop, vaporwave, and other 80s influenced genres. SampleScience Oberom is available for Windows 7 and up (VST 32/64 bit, VST3 64 bit) and macOS High Sierra (AU, VST, VST3).
Uhhyou SyncSawSynth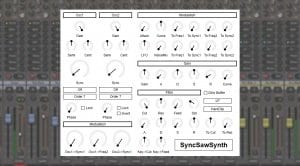 Uhhyou's description of this funky little synth sums it up quite nicely: "SyncSawSynth is a 32 voice polyphonic synthesizer using up to 10th order PTR sawtooth oscillator. Just a basic synthesizer but very easy to make a noise similar to low battery sound of some toys." The software synth from the maker of SevenDelay actually has quite a lot of features, though: two sawtooth oscillators with sync and phase controls, a multimode filter with envelope, hard clip and a "Dirty Buffer" checkbox that I can't wait to try out, and many modulation options. Uhhyou SyncSawSynth is available as a VST plug-in for Windows (32/64 bit) and Linux (64 bit).
D10Labo RhythmDelayFree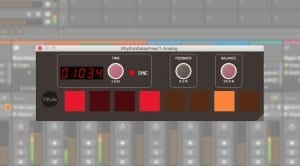 New developer D10Labo has become a regular guest in this freeware column. After LowBitMonoSyn and ModSynthMono, he is presenting RhythmDelayFree, a simple but effective tap delay whose repetitions can be programmed like a drum machine. It's a free offspring of the bigger RhythmDelay, which costs USD 30, has twice the amount of steps and adds level and pan controls for each step, among other things. But if all you need is a quick way of setting up a simple rhythmic delay, the free version may do the trick. It's available for Mac and Windows.
Get D10Labo RhythmDelayFree here
Videos
Image Sources:
samplescience-oberom: SampleScience / Gearnews
uhhyou-syncsawsynth: Uhhyou / Gearnews
d10labo-rhythmdelayfree: D10Labo / Gearnews