Best free plug-ins this week: Sitala, Full Bucket Vocoder and SN03-G
December has arrived and the Black Friday madness is finally over – time to get back to business! It's been a good week for free plug-ins. We've got a major update for one of the best and most versatile free drum samplers, a 20-band vocoder and a tape recorder emulation. Check out Sitala Beta 2, Full Bucket Vocoder and SN03-G.
Head over to our archives for many more free plug-ins!
Decomposer Sitala Beta 2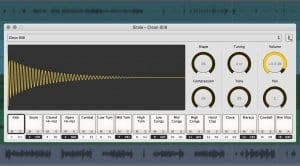 We've featured Sitala before, but the free drum sampler plug-in has just received a major update which deserves another mention. Sitala is a simple but very versatile and useful drum sampler with 16 pads. Sounds can be edited using six knobs for shape, compression, tuning, tone, volume and pan. The latest version adds drag&drop kit management for moving samples around and copying / swapping sounds, a new file browser for loading your own samples, and a new 808 kit.
Sitala is available as a standalone application and plug-in for Windows (VST, 32/64 bit), macOS (VST, AU) and Ubuntu Linux (VST).
Full Bucket Music Full Bucket Vocoder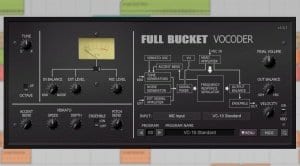 Full Bucket Music has a long history of creating some of the best free plug-ins around, and their latest release is no exception. Full Bucket Vocoder is an emulation of the classic Korg VC-10 vocoder from 1978. It's a 20-band full-stereo vocoder with a 64-voice tone generator section, WAV file playback and full tweakability. FBVC also offers accent bending and vibrato effects, as well as an ensemble effect. Everything can be controlled via MIDI. It's hard to believe that this thing is free.
Full Bucket Vocoder runs on Windows (VST) and macOS (VST / AU).
Download Full Bucket Vocoder here
Sender Spike SN03-G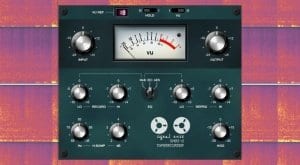 Just a few weeks after releasing the SN01-G compressor, Sender Spike has launched the SN03-G analog tape recorder emulation. The developer says that SN03-G "allows the user to create a properly calibrated 'custom tape machine' that operates in the range of 7.5 to 30 IPS, while conforming to NAB, IEC, and AES equalization standards". The plug-in has separate EQs for the recording and reproduction stages, as well as adjustable "head bump" and tape hiss.
SN-03G is a VST plug-in for Windows only.
Video
Image Sources:
decomposer-sitala: Decomposer / Gearnews
full-bucket-music-full-bucket-vocoder: Full Bucket Music / Gearnews
sender-spike-sn03: Sender Spike / Gearnews