Best free plug-ins this week: Valvola, Dystortion and OrangeFlavor
Happy new year and welcome back to our weekly freeware series! We're kicking off 2022 with three fantastic distortion and saturation plug-ins. Check out Valvola, Dystortion and OrangeFlavor!
Looking for more free plug-ins? Check out our huge archives! And if you've missed the best free plug-ins of 2021, you can find them here.
HoRNet Valvola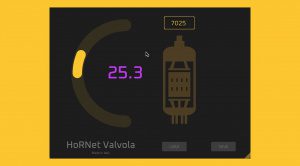 Craving that classic tube distortion sound? Valvola by HoRNet Plugins has got you covered with emulations of seven different types of tubes, including triodes and pentodes like the 12AX7 and EL84. According to HoRNet, the emulations were pulled from their Guitar Kit and Analog Stage plug-ins. The developer points out that the distortion isn't static, but changes with your music thanks to an emulation of the memory effect. There's only one control for the gain, and a pair of load and save buttons.
Valvola is free of charge, but the developer asks that you share the download page on Twitter or Facebook before downloading. The plug-in runs on macOS 10.11 or higher and Windows Vista or higher in VST, VST3, AU and AAX formats (64 bit).
Stoff Audio Dystortion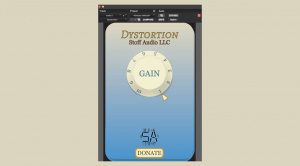 Dystortion is the first plug-in by Stoff Audio. The developer says that he comes from an audio engineering background and didn't have much prior coding experience. But he set out on a long journey to teach himself C++ and the JUCE framework to create this distortion plug-in, which works just as well on guitar and bass as on everything else. If that doesn't deserve a donation, I don't know what does! The plug-in's only control is a large gain knob that lets you dial in the amount of distortion.
Dystortion is available for Windows and macOS in VST3, AU and AAX formats.
SNFK Music OrangeFlavor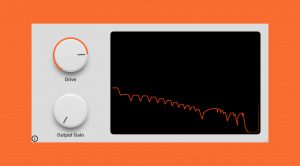 The third free distortion plug-in today is OrangeFlavor by SNFK Music, "a saturation beast designed after analog principles", as the developer writes. In addition to the Drive and Output Gain knobs, the plug-in features a neat frequency visualizer that lets you see the added harmonics introduced by the distortion circuit. It also features a behind-the-scenes anti-aliasing algorithm that removes digital artifacts. Which one is your pick out of this week's three free distortion effects?
OrangeFlavor is available for macOS and Windows in VST3 and AU formats.
Image Sources:
hornet-valvola: HoRNet
stoff-audio-dystortion-01: Stoff Audio
snfk-music-orangeflavor: SNFK Music