ALM - News and Rumours
You want all the latest news, rumours and everything else there's to know about ALM? We're happy to oblige: On this page you'll find everything at a glance – and it's always up to date!
19 Feb
·
BusyCircuits has released the enclosure from their System Coupe as an all aluminium DIY 84HP Eurorack case.
09 Feb
·
Super spacially efficient mixer module with 16 inputs and uniquely fixed pan positions and filtering for instantly rich stereo and spectrally interesting mixes.
12 Jun 2020
·
The ALM027 Boss Bow Two is a voltage controlled 8-way bidirectional switch which is more exciting than it sounds. 3 different modes give it a versatility to play with all sorts of CV or audio.
23 Apr 2020
·
ALM has packed their range of modules into a complete modular system called System Coupe. Is that like a sporty 2-door version of Eurorack? It comes with 10 modules in a slick case ready to roll.
10 May 2019
·
The weirdly named Squid Salmple is an old school sampler that gives you 8 channels of sample triggering, loads banks from USB or record straight in. Assignable CV control, 3 channels of pitch control.
04 May 2018
·
ALM Busycircuits shows the prototypes of a number of modules including a sampler, a digital wavetable oscillator, a headphone amp and the Quaid Megaslope 5-stage envelope, LFO and step sequencer.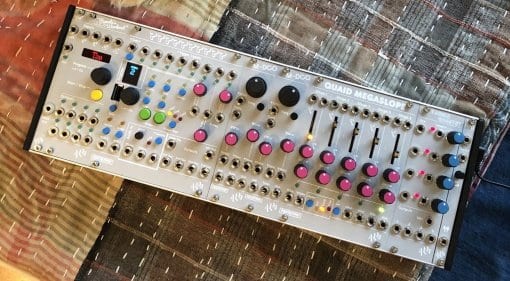 27 Apr 2018
·
An image of a cat looking at a little skiff of unseen modules appeared on Instagram teasing some new modules from Busycircuits. Can you work out what they could be?
10 Nov 2017
·
I put on my detective badge and track down the clues to uncover a rumoured Akai S950 filter clone by ALM/BusyCircuits. Some shaky images and second hand sightings point to the name MUM M8.