Simon's Picks 2016: Cakewalk, PreSonus, Townsend and more…
Here's my top 5 pro audio toys that have stood out in 2016.
It has been a fun ride writing for Gearnews.com in it's first year, keeping me diligently aware of what's become available in the last 12 months, but also disciplined into learning about their technical advancements. It's been a tough choice, but here are the top 5 products which have stood out for me. Some I've used, others I haven't… yet! This is about celebrating the most influential solutions that have come to fruition. Here are my Editors Picks in alphabetical order…
Simon Allen's 'Editors Picks':
Cakewalk CA-2A Compressor Plug-in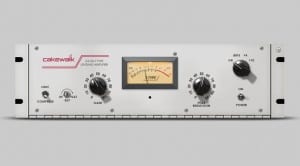 So this is probably the most surprising pick of them all. It's only a plug-in that emulates a classic compressor. There are so many to choose from now-a-days, so why have I picked this one? Well, if you remember my article back in October, those that were quick enough managed to bag a license for this plug-in for free. Ever since I've used it in my mixing projects and it has very quickly become one of my go-to tools. I think it sounds amazing. It might not replicate an LA-2A accurately but it inhibits it's own character that with careful use of the parameters yields amazing results. It's a very musical compressor that you can almost set-and-forget when mixing under time constraints.
If you didn't mange to grab your copy in October, you can still purchase this plug-in for only 63.60 GBP here.
Genelec 8430A AoIP Studio Monitor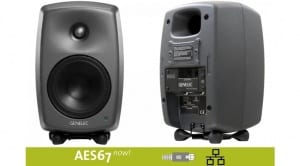 As I mentioned in my original story about the release of Genelec's 8430A's, I actually own a pair of their 8330A's, which the 8430's are based upon with the addition of AES67. That clearly makes this sound like a biased opinion but I hope it's received otherwise. After being in the market for a pair of monitors for under 1,500 GBP that I could use in a temporary facility, I truly believe these are the best option, and still are. I spent a very long time researching and listening to various options, but when I heard the first pair of 8330's on their first ever review in the UK, the decision was made in seconds.
I'm aware the brand Genelec carries mixed opinions from different high-level members of our industry, and I too have the luxury of using brands such as PMC, Barefoot and B&W. However, when you consider the price, the on-board DSP room compensation and their accurate yet powerful soundstage, nothing comes close. Results speak for themselves too, and I've had mine for long enough now to appreciate the results. Several mixes I've worked on this year, done on much larger monitors in well treated rooms have presented 'issues' that only these monitors have highlighted. Studio monitors aren't supposed to sound 'nice', their there to get the job done. These get the job done.
The 8430A's also represent a product which are making great use of AoIP technology, presenting a solution that can now be installed in an endless list of facilities. Perhaps ethernet cables will eventually out-number XLR cables?! Now there's a thought! Head-over to Genelec's webpage for more information.
KLANG:fabrik 3D Binaural In-Ear Mixing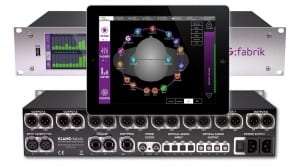 This is the 3rd and final product on my list that I've actually been lucky enough to use this year. I was introduced to the KLANG:Fabrik during my 'judging' role at PLASA London this year, where it achieved the ultimate Gold award. Following the event, I then took the system on tour with a band I regularly work with. See my original story here.
Here to represent the live sound world in my top 5, is a product that I believe has enough innovation to change the stage and studio world of personal monitoring. For the same price as existing personal monitoring solutions, the KLANG:Fabrik offers a solution which integrates smoothly into modern connectivity, while offering the best binaural processing I'm yet to hear. Even in standard stereo or mono mode, this system is very stable, easy and quick to setup and very powerful. Then there's the 3D mode, which needs to be heard to be believed. Do it now! Download the app and try the demo.
PreSonus Studio One DAW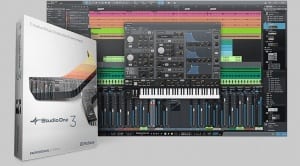 I'm an 'avid' Pro Tools user! This year however has seen many long-time Pro Tools users start using Studio One on a regular basis. I believe that we are currently in an era where most musicians and audio professionals are no longer using just one DAW, but a collection of software packages on a daily basis. Due to my line of work I feel I've been slower on the up-take, but I like this new style of working, enabling us to get the 'best-bits' from each manufacturer. On top of my list of DAWs to look at next year is Studio One by PreSonus.
While reporting on Studio One's v3.3 update this summer, it became very apparent to me that a lot of Pro Tools-esq features were becoming available along with tools I really fancied. I'm not sure if it's anything like ready to replace Pro Tools in my day-to-day workflow, but there are some features I'd love to make use of. Most notably is the ARA plug-in integration which us Pro Tools users are deprived of. Celemony made this a must-have feature with their Melodyne v4.1 update this year. Prices are reasonable too, as they always are from PreSonus. Check out the Studio One webpage for more information.
Townsend Labs Sphere L22 Studio Microphone
Last, but certainly not least is the Townsend Labs microphone system. As you can see from James in the Pro Tools Expert video review above, this has been a very special release this year. Coming from out of the blue, this microphone system has presented a combination of technologies inside a single product, achieving more in a single release than any other brand this year. The interest around this product has been phenomenal and I've been drawn into the excitement too.
Whether you're a believer or not, emulations are here to stay. Thankfully though, they just keep getting better. It can't be avoided, but Slate released their 'virtual-microphone-system' just before the L22 was announced. I remember asking at the time, how does this system compensate or calculate for varying polar patterns? However good Slate's VMS is, in my eyes their solution has been trumped by a new-comer. The chaps at Townsend Labs have taken the time to think about all aspects which are needed to make a professional microphone emulation system. The benefits of this system don't stop their either, as they've also realised tricks such as compensating for the proximity effect. I believe this is just the beginning and there's more to come from Townsend Labs.
Image Sources:
Cakewalk CA-2A Plug-in: cakewalk.com
Genelec-8430: genelec.com
KLANG:fabrik Main: klang.com
Presonus Studio One 3: presonus.com