ChowMultiTool, gRainbow, AI Bass Mini: Free Plugins of the Week
gRainbow is a colorful granular synth with a unique approach, ChowMultiTool is a "Swiss Army Knife" multi-effect, and AI Bass Mini delivers AI-enhanced electric bass sounds. Check out our free plugins of the week!
Brady Boettcher gRainbow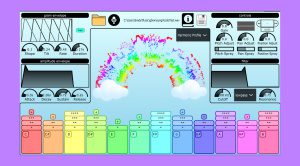 According to the developer, gRainbow was designed to overcome some of the shortcomings of traditional granular synthesizers. The colorful open-source synth uses a pitch detection algorithm to analyze the pitch and harmonic content of the source audio file. It then selects grains that match the pitch of the MIDI input. This ensures that the selected grains have the intended pitch and harmonic content, thereby eliminating the need for time-stretching. Interesting concept!
gRainbow is currently available for macOS, Windows, and Linux in VST3, AU, and LV2 formats.
ChowDSP ChowMultiTool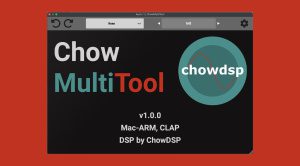 It's been a while since we've heard from ChowDSP, developer of the awesome ChowTapeModel, BYOD, and ChowMatrix plugins. The wait is finally over and ChowDSP presents ChowMultiTool, a collection of highly useful tools for music production. In addition to a powerful linear-phase EQ that lets you draw your own curve, ChowMultiTool includes an equally versatile Waveshaper a band splitter with multiple outputs. The CLAP version also offers a state-variable filter.
ChowMultiTool is available for macOS, Windows, and Linux in VST3, AU, and CLAP formats. There's also a version for iOS.
Bitsonic AI Bass Mini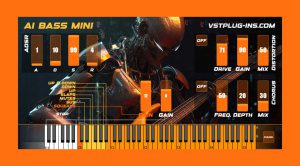 AI Bass Mini by Bitsonic is an electric bass plugin that uses a combination of samples and artificial intelligence to deliver authentic bass sounds. While we don't know exactly what AI contributes to the sound in this case, the developer says that it results in "deeply realistic sounds". AI Bass Mini doesn't offer nearly as many playing techniques and nuances as the full-blown Ultimate version ($119). However, it's still a good-sounding electric bass plugin for sustained notes.
AI Bass Mini is available for macOS and Windows in VST and AU formats.
Want more free plugins like ChowMultiTool? Check out our archive!
Videos about ChowMultiTool and other free plugins
Image Sources:
brady-boettcher-grainbow: Brady Boettcher
chowdsp-chowmultitool: ChowDSP
bitsonic-ai-bass-mini: Bitsonic