Regency, Yamatube, FunkBass: Free Plugins of the Week
Regency is an exciting new phase distortion synthesizer from nakst that sounds as great as it looks. Also in this week's collection of the best free plugins: the Yamatube tube saturator from Smao#Lab and some tasty FunkBass from audiolatry.
Regency: Next-Generation PD Synthesis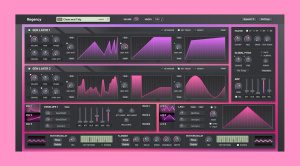 nakst Regency picks up where classic phase distortion synths of the 80s left off and takes the concept to new heights. Each of its two generator layers offers three editable multi-segment curves for distorting the phase. Their modulation amounts are independently modulatable using three envelopes and LFOs each. In addition to a multimode filter, Regency also has three FX slots and six built-in effects, including an exciting pattern delay. Fantastic stuff!
Regency is available for macOS, Windows, and Linux in CLAP and AU formats. There's also a native version for FL Studio.
Smao Lab Yamatube: Dynamic Tube Saturation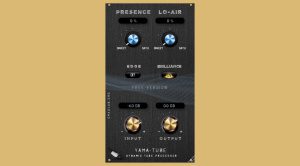 Smao Lab – maker of Tarabia distortion – has taken two tube emulations from Taratube and combined them with a Baxandall EQ to create Yamatube, a dynamic tube processor designed to add punch and presence to your mixes. There's also a paid version (€28) that has four EQ bands, a built-in limiter, and more. The free version offers only two bands (Presence and Lo-Air) and no limiter, but it's a great-sounding free tube emulation and saturator nonetheless.
Yamatube is available for macOS, Windows, and Linux in VST, VST3, AU, and LV2 formats.
Audiolatry FunkBass 3.0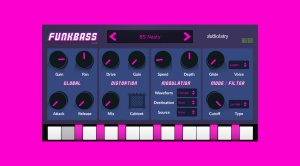 Audiolatry has updated FunkBass, their sample-based bass synth purpose-built for styles like Funk, Pop, Soul, RnB, and more. FunkBass 3.0 has 21 presets ranging from synth basses to tasty electric bass emulations. There's also a built-in distortion and cabinet simulator module. Moreover, you can add modulation and use the envelope, glide, and multimode filter to make the sound extra gnarly and funky. For quick and easy funk basslines, look no further than FunkBass 3.0.
FunkBass is available for macOS and Windows in VST, VST3, and AU formats.
For more free plugins like Regency, Yamatube and FunkBass, check out our huge archive!
Videos about Regency and other free plugins
Image Sources:
nakst-regency: nakst
smao-lab-yamatube: Smao Lab
audiolatry-funkbass: Audiolatry