Best Practice Amps 2021: 9 great-value amplifiers to improve your playing
Nine great-sounding amplifiers under €300 to inspire you when training your craft
In 2021, big guitar sounds can come in small packages. Practice is crucial to improving at your craft, and practice amps should inspire you in addition to sounding good. As guitar technology has improved, so have the tone and feature set of practice amps. No longer are they the dull, harsh, and under-powered models of yesteryear. In fact, some feature very useful features like wireless functionality, editable amp models and effects, innovative I/O for direct recording or playing along with your favorite songs. From the timeless tone of valves to sophisticated solid-state sounds and next-gen features, these nine great practice amps all cost under €300.
Vox AV15
This little Vox amp has a lot of tone for small money, including that British chime tone and a real 12AX7 preamp tube. 15 Watts are unleashed via an 8″ speaker. With eight preamp circuits giving you various levels of crunch and drive, three usable effects and switches for different preamp and power amp tones, there's a lot of variability on offer here.
Orange Crush 35RT
This solid-state design is perfect for everything from the rehearsal room to live performance. Its 2 channels run on Orange's very own CabSim technology, which simulates the sound of an Orange 4×12 cabinet via the line output. The single 10" speaker doesn't sacrifice any of the low end. It has on-board tuning and reverb and comes in traditional orange or black tolex. And if you need something smaller, the Crush line also comes in smaller variants all the way down to a 12W model with a 6" speaker.
Fender Champion Series

If money is tight but you don't want to skip on features, the Champion Series is a solid choice. It comes in three different wattages (20, 40, and 100). A suite of on-board effects gives you options like reverb, delay, chorus, Vibratone, and more. Cabinet sizes come in 1×8, 1×12, and 2×12. The smallest is the Champion 20, which is currently available for as little as €119. If you want a bona-fide Fender tone in a small practice amp, this or the Mustang series should be your first port of call.
Marshall DSL1CR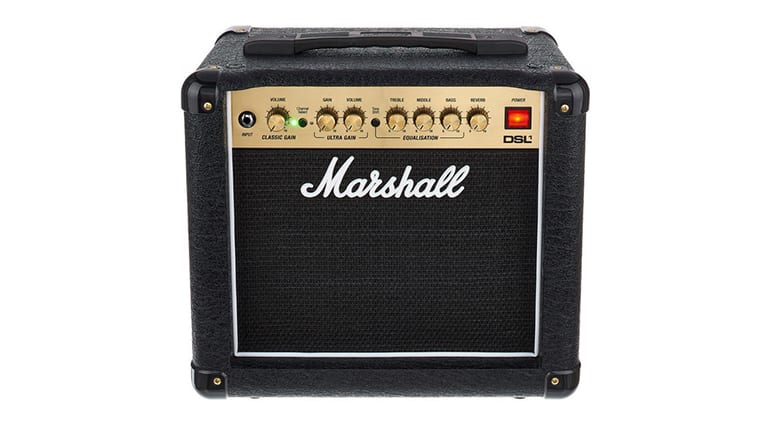 Marshall deserves to be on every "best amp" list, and for good reason. And if you want a highly portable practice amp that doesn't skimp on the tone that made them famous, this one is definitely worth a peek. Built upon the Dual Super Lead design, this 1W combo packs in the Marshall punch you're looking for, but at a much more reasonable volume. It features two channels, a 3-band global EQ, switchable low power, and even speaker emulation for direct recording. Digital reverb and an effects loop rounds out these sizeable features in such a small package. And if you want to push more sound, you can connect an external speaker cabinet.
Blackstar ID:Core 10 V3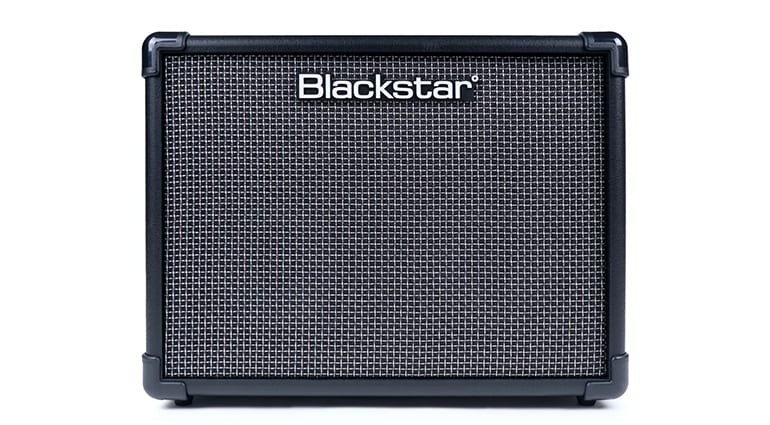 One of the most versatile practice amps comes from Blackstar. The ID:Core is unique in this list in that it is a stereo amp. A Voice switch selects between six channels that all provide different flavors of tone, from clean and warm to heavy overdrive. You can create and edit sounds further via the Architect software, and can even share them in the Blackstar online community. USB routing allows you to record directly to a computer and skip the interface. What's more, you can record with only the preamp so you can use your own impulse responses and cabinet emulation. It has 12 full stereo effects with tap tempo that provide a lush image.
Roland CUBE-10GX
If you're looking for a blank slate that can be essentially any type of amp you want it to be, then look no further. It's really versatile, and not only offers amplifier models for electric guitar, but also acoustic-electric, and even bass! COSM amp modeling provides three voicing types – clean, crunch, lead – that can be easily edited with Android and iOS mobile and tablet devices. A rotary dial provides control over the built-in effects that let you blend reverb, delay, and chorus. The 10-GX has a direct output and headphone jack as well as an auxiliary input for playing along to an external music playing device.
BOSS Katana Mini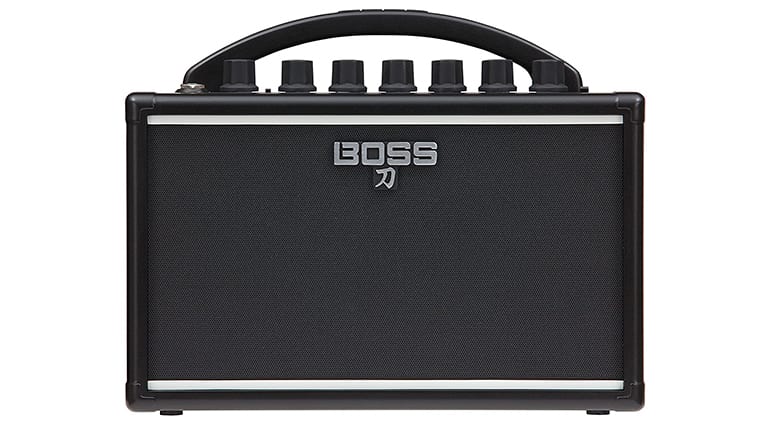 Boss's Katana range has quickly become one of the most successful amp families out there. This model is a great combination of good tone and affordability. The multi-stage, cascading gain circuit and EQ sections drive three different voicings. Brown gives you the sound of a certain British amp with rich harmonics, while Crunch works as a great rhythm tone. Clean gives you a pleasant sound that isn't overly harsh or unnecessarily bright. To add some ambience, you can dial in some tape-style delay. It can be mains or battery powered and has speaker emulation for direct recording. An auxiliary input lets you jam away to your favorite songs.
Mooer Hornet
When Mooer launched this little amp we were impressed by the feature set on offer at this price point. It packs in a lot of tech, including digital versions of 9 different amp tones we all know and love. You also get a tuner and a whole bunch of effects thrown in, too. You can save your favourite setups to presets. The Bluetooth feature lets you stream music from your phone to play along with. Now check the price! Quite a package for this kind of money, we reckon.
Harley Benton AirBorne Go
The newest of the amps we're looking at here, the AirBorne Go wireless amp has a lot of functions designed for guitarists practising at home – for a very reasonable amount of money. It integrates a wireless system, shipping with a 2.4 GHz transmitter you plug into your guitar. That freedom of movement can feel like a wonderful luxury if you're just jamming on your sofa. There's also a drum computer, Bluetooth streaming from your mobile device, three amp models to choose from, and an iOS/Android app for more detailed editing. It's "powered by Nux", a company that knows a thing or two about cheap, good-sounding gear to practice with.
This post contains affiliate links and/or widgets. When you buy a product via our affiliate partner, we receive a small commission that helps support what we do. Don't worry, you pay the same price. Thanks for your support!
Image Sources:
Vox AV15 15W modelling amplifier: Vox
orange crush 35rt guitar amplifier: orange amps
fender champion 20 guitar amplifier: fender amplification
marshall dsl1cr guitar amplifier: marshall amplification
blackstar idcore10v2 guitar amplifier: blackstar amps
Roland's dinky, affordable Cube 10GX amplifier: Roland
boss katana mini guitar amplifier: boss corporation
Big on modelling and FX: Mooer Hornet: Mooer
AirBorne Go: wireless practice amp that packs in the features: Harley Benton