Why do we need Headphone Amplifiers?
Headphone amplifiers have a cult-like status in the global hi-fi headphones communities. Let's find out why, and how we can use this knowledge to get better results when working on headphones.
We've discussed studio headphones previously, but let's look at the difference between these and hi-fi headphones.
Studio vs. Hi-Fi Headphones
Studio headphones are designed with two main applications in mind:
Isolation is key while tracking, so a closed-back design is generally preferred for monitoring.
When mixing, the translation properties of your headphones are essential and you want to minimize ear fatigue. So, an open-back or a semi-open design generally suits this best.
Hi-Fi headphones are selected based on a different set of criteria:
If you need a particularly discrete listening solution, a closed-back headphones design offers better isolation.
While studio headphones aim to provide a degree of neutrality, hi-fi headphones may add a distinctive colour or character to the sound to enhance the listening experience.
Impedance
You'll find that each model of headphones has its own impedance rating, usually in the range of 8 and 600 ohms. Headphone impedance is determined by the design of the voice coils and plays an essential role in the overall performance of a set of headphones. Headphone amplifiers usually provide a minimum impedance rating within their specifications.
This will help you avoid mismatched impedance which can result in two scenarios:
The headphone impedance may be below that of the headphone amp's minimum rating, which can produce distortion at higher volume levels.
Higher impedance headphones (250-600 ohms) may be underpowered by your headphone amp, which makes them underperform. The signal might be soft and lacking in clarity, even with the volume turned way up.
Headphone Amplifiers vs Distributors
Another possible point of confusion is the difference between headphone amplifiers and distributors:
Headphone amps ensure that the integrity and dynamics of a signal are maintained and easily controlled when using headphones with different impedance ratings. Alternatively, headphone distributors split the signal and provide level controls for multiple sets of headphones.
While you can find decent multichannel headphone amps on the upper end of the market, it's important to note that these are two separate functions and applicable to different situations.
Choosing headphone amplifiers
Almost every audio interface is equipped with a built-in headphones amp, but not all of them were created equal, unfortunately. We're going to look at solutions that provide the means to drive high-impedance headphones at different price ranges. So we'll take a look at headphone amps for practice, monitoring, mixing, and hi-fi listening.
Swissonic HAD-1
So you're looking for a basic compact headphone amp to drive a pair of 250 ohms headphones like the DT 990 Pro. Maybe you don't have an audio interface, or you do but it's mounted into your rack in studio.
The HAD-1 will power headphones from 32 to 600 ohms, and it offers a simple USB 2.0 DA converter that includes S/PDIF I/O (with surround playback). The analogue I/O is unbalanced RCA, but it also offers a handy gain switch with three settings (-12, -6, and 0 dB).
Overall, it's a useful tool and an affordable way to get into the more high-end range of the headphones market.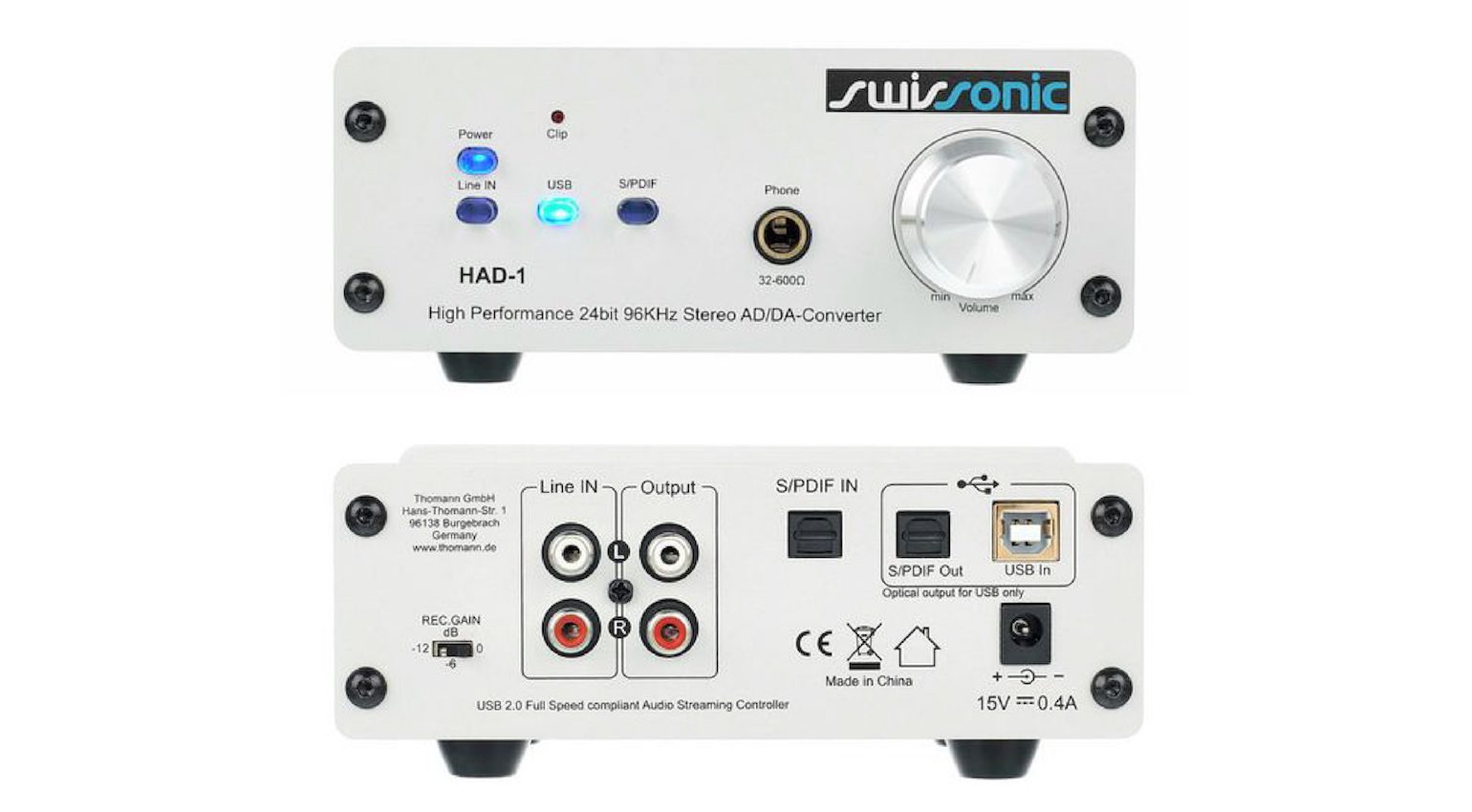 Swissonic HAD-1
Darkglass Element
The Element is a pedal from Darkglass Electronics that provides a headphones solution for electric guitar and bass players while practicing, but it offers plenty of other useful features too.
It has two headphones outs, an aux-in, and Bluetooth for playing along with another song. This makes it useful too for both collaboration and teaching, and the choice of five cabinet simulations means you won't blow your neighbours away with your Marshall stack.
Additional cab sim IRs can be loaded via USB-C and the Element also functions as a DI-box with a balanced XLR output for recording.
Lake People G103 MKII
Whether you need a studio or hi-fi solution, the G103 MKII supports headphones with impedance ratings of between 16 and 600 ohms. There are two models to suit specific applications: the G103-S is equipped with unbalanced RCA connectors and the G103-P has balanced XLR inputs.
You can vary the level of amplification, although this involves opening the anodized aluminium casing and making these adjustments manually. The G103 MKII is built like a tank and gets excellent performance from even vintage headphones, which is great.
One thing to note is that the power supply is 230V and won't work in the USA without a voltage transformer.
SPL Phonitor One
SPL is known for high-quality audio in both hi-fi and studio equipment, and the Phonitor One caters to both worlds. It gives you powerful preamplification with two Burr-Brown OPA 2134 SoundPlus operational amplifiers and SPL's crossfeed function.
With this knob, you can emulate the stereo image of your existing studio monitor setup. What this does is help bridge the gap between the two monitoring workflows so you can achieve better translation on your mixes.
It's also a great tool for enhancing your listening experience when exploring different genres. In addition, the Phonitor One has both balanced TRS and unbalanced RCA inputs, so you have a range of connectivity.
*Also check out the HPm for 500-series
Rupert Neve Designs RNHP
For those looking for console-grade audio quality, the RNHP is based on the RND 5060 Centerpiece headphone amp section. It's a 24V precision reference headphone amp with multiple input formats, including XLR, RCA, and mini-jack.
When complete transparency is a requirement, the RNHP is built with the highest-grade materials to ensure the integrity of the audio you're listening to, with any set of headphones up to 600 ohms.
The rugged steel chassis is also VESA 100 mounting compatible, so you can easily incorporate the RNHP into your desktop setup or vocal booth.
More about headphone amplifiers:
Videos:
*Note: This article contains promotional links that help us fund our site. Don't worry: the price for you always stays the same! We will receive a small commission if you buy something through these links. We appreciate your support!
Image Sources:
HAD-1: Swissonic
Darkglass Element: Darkglass Electronics
Lake People G103-P MKII: Lake People
SPL Phonitor One: SPL
RND RNHP: RND