Best free plug-ins this week: Room Reverb, Retro Keys VII and TheUtility
This week's collection of the best free plug-ins includes a great open-source reverb, a piano ROMpler with awesome retro vibes and a useful utility for blending two signals together in various ways. Here's Room Reverb, Retro Keys VII and TheUtility.
As always, you'll find many more free plug-ins in our archives.
ElephantDSP.com Room Reverb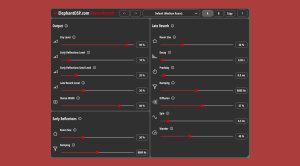 Room Reverb by ElephantDSP.com is just what it says: an algorithmic room reverb with plenty of tweakable parameters. The open-source plug-in gives you precise control over the early reflections, reverb tail and stereo width. There's even a couple of interesting parameters such as spin and wander, which you won't find on most other reverbs. I also dig the clear and uncluttered GUI – let's hope that this is only the beginning and that we'll also see other reverbs like hall and plate in the future.
Room Reverb is currently available for Windows and Linux (64 bit, VST3). A version for macOS is in the works.
ZAK Sound Retro Keys VII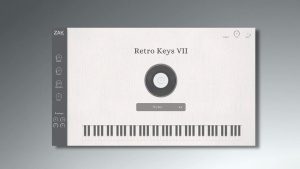 While you might think that this is the 7th installment in a series, the roman numeral is simply due to the fact that this little ROMpler includes seven different piano samples. Each has its own, distinctive retro flavor, and you can dial in additional "lo-fi vibration". The rest is simple: Along with an ADSR envelope, Retro Keys VII offers controls for room and width, as well as a high-pass filter. In short: A nice collection of flavorful sounds for chilled-out beatmaking.
Retro Keys VII is available for Windows (VST3) and macOS (VST3, AU). It requires 620 MB of disk space.
TheZhe TheUtility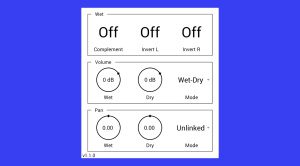 We've features a few of TheZhe's minimalistic plug-ins here lately, such as TheSplit and TheExpressor. Just like these, TheUtility is extremely simple, but ever so useful. It allows you to blend wet and dry signals together in various ways. You can adjust the volume and pan of the two inputs independently, and there are switches for complement (a.k.a. delta monitoring) and for inverting the wet signal's left and right channels. To sum up: It may not look like much, but it can be a real problem solver.
TheUtility is available for Windows (64 bit) and macOS (including M1) in VST3 and AU formats.
Videos about this week's free plug-ins
Image Sources:
elephantdsp-room-reverb: ElephantDSP.com
retro-keys-vii-plugin: ZAK Sound
thezhe-theutility: TheZhe