Best free plug-ins this week: Schroeder, Hanon B70 and Lattice Reverb
An iconic tonewheel organ and not one, but two unusual reverbs: That's this week's collection of the best free plug-ins. Download Schroeder, Hanon B70 and Lattice Reverb, and spend your Sunday checking out these great freeware plug-ins.
For even more free plug-ins, head over to our archives.
discoDSP Schroeder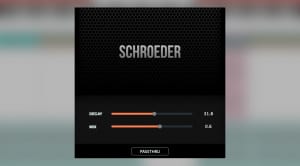 This plug-in models the Schroeder reverb, an early concept for artificial reverberation developed by Manfred Schroeder in the early 1960s. A Schroeder reverb is based on a series of all-pass filters, a parallel bank of comb filters and a mixing matrix (you can read more about it here). Its distinct character is delightfully different from all the spring and plate reverbs out there. The only controls are decay and mix sliders.
Schroeder is a VST3 and AU plug-in for macOS.
Lostin70s Hanon B70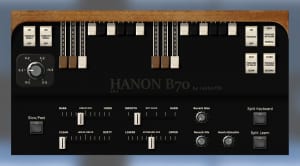 Hanon B70 by Lostin70s is an emulation of the legendary Hammond B3 tonewheel organ and a Leslie 122 rotary speaker cabinet. It's all there: two drawbar sets, percussion, chorus/vibrato and of course the Leslie speaker simulation. You can adjust the balance between the bass and horn rotors, and there's an overdrive for the Leslie effect. Lostin70s has even thrown in a reverb. Now that's the kind of free plug-in we don't see every day!
Hanon B70 is available for Windows and macOS in VST, VST3 and AU formats (64 bit only).
Uhhyou Lattice Reverb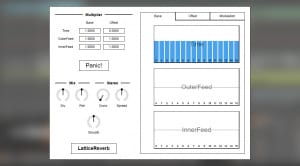 I promised you two unusual reverbs – here's the other one. Uhhyou has released Lattice Reverb, a reverb based on a lattice structure. According to the developer, it features 16 delays per channel, each of which can be modulated by an LFO and passed through a low pass filter. Like all plug-ins by Uhhyou, this isn't a plug-in that you just throw on a track and load up a preset. But if you like experimenting, Lattice Reverb seems to be capable of some great and unique sounds.
Lattice Reverb is a VST3 plug-in for Windows, Linux and macOS (64 bit only).
Videos
Audio demos
Image Sources:
discodsp-schroeder-reverb: discoDSP / Gearnews
lostin70s-hanon-b70: Lostin70s / Gearnews
uhhyou-lattice-reverb: Uhhyou / Gearnews