Best free plug-ins this week: Movementron, Off-Grid and Shape
This week's collection of the best free plug-ins features a very cool sequenced synth, an equally awesome drum machine and a useful waveshaper. Here's Movementron, Off-Grid and Shape.
Check out our archives for more free plug-ins.
Flandersh Tech Movementron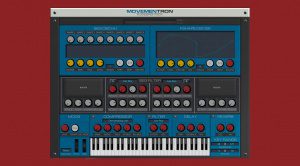 From Flandersh Tech comes Movementron, a unique synth that's all about keeping things in motion. It's got a sequenced 8-step oscillator that allows you to dial in a different wave shape for each step. The second oscillator lets you draw your own waves. Needless to say, the filter is sequenced, too. With a bunch of envelopes and LFOs for modulation, as well as integrated compressor, delay and reverb effects, Movementron never stands still.
Movementron is a VST3 plug-in for Windows 8.1 or higher (64 bit).
Ricardo Plugins Off-Grid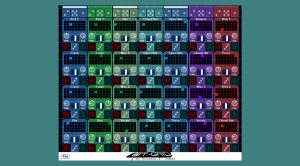 Off-Grid by Ricardo Plugins is a colorful and experimental drum machine that will keep you inspired for days. It has seven channels with four voices or cells each. Each cell has independent volume and pan controls and can hold one of the 448 included sounds, which can be pitched, reversed and looped. But the real fun starts when you roll the dice and use the plug-in's many randomization features, which will help you to come up with something new in no time.
Off-Grid is a VST and VST3 plug-in for Windows (64 bit).
Audec Shape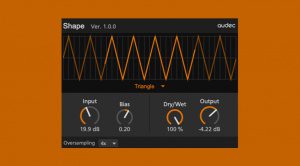 Audec is a regular in our weekly freeware section with its extensive range of simple, but very effective plug-ins. Shape is no exception. It's a waveshaper/wavefolder effect that offers five shaping curves for mangling your audio tracks: hard clip, soft clip, tube, triangle and sine. You can dial in asymmetrical distortion using the bias knob, and adjust the input and output levels, dry/wet mix and oversampling. Simple, straightforward and very useful.
Shape is available for macOS and Windows in VST3 and AU formats.
Video
Image Sources:
flandersh-tech-movementron: Flandersh Tech
ricardo-plugins-off-grid: Ricardo Plugins
audec-shape: Audec