Best free plug-ins this week: Tricent MkIII, Scorpion Multitap and Boogex 3.0
This week's collection of free plug-ins includes something for everyone: an emulation of a legendary analogue synth, a guitar amp simulation and a patchable multi-tap delay. That's Tricent MkIII, Scorpion Multitap and Boogex 3.0.
You'll find many more free plug-ins in our archives!
Full Bucket Music Tricent MkIII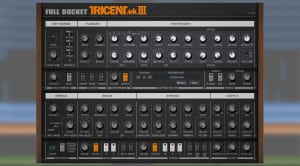 Full Bucket Music is a reliable source for excellent freeware plug-ins. Their latest effort, Tricent MkIII, is an emulation of the Korg Trident analogue synthesizer. The Trident was Korg's attempt at an all-around keyboard for live players in the early 80s, just before the DX7 changed everything. Like the original, the Tricent MkIII plug-in features three separate sections for synthesizer, brass and strings. It offers up to 64 voices of polyphony and individual outputs for the three sections.
Full Bucket Music Tricent MkIII is available for Windows and macOS in VST and AU formats (32/64 bit).
Flandersh Tech Scorpion Multitap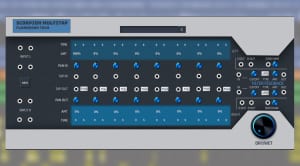 Flandersh Tech has released a very interesting semi-modular multi-tap delay. Scorpion Multitap features separate delay lines for each channel, each with eight taps. Through patchable, virtual "jacks", the taps can be set up to feed into another or the input. There's also a filter feedback section, which is patchable, as well. If you're into creative delays, Scorpion Multitap looks like an excellent addition to your collection, and it's free!
Scorpion Multitap is a VST3 plug-in for Windows (64 bit). It is also available as a Reaktor ensemble.
Download Scorpion Multitap here
Voxengo Boogex 3.0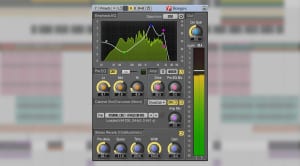 This one is an old favourite, which we've featured before. Voxengo has just updated the free Boogex amp simulation plug-in to version 3.0. It doesn't have the flashy, photo-realistic GUI of other amp sim plug-ins. But Boogex does many things right: It's free, it sounds good, it offers integrated EQ and reverb effects, and – best of all – it can load any speaker simulation IR from your collection. Don't be fooled by the uninspiring looks. For a free amp sim, Boogex keeps on rocking.
Boogex 3.0 is available for Windows and Mac in VST, VST3, AU and AAX formats (32/64 bit)
Image Sources:
full-bucket-music-tricent-mkiii: Full Bucket Music / Gearnews
flandersh-tech-scorpion-multitap: Flandersh Tech / Gearnews
voxengo-boogex-3: Voxengo / Gearnews