Best free plug-ins this year: Top 10 free effects and synths of 2020
On the last Sunday of the year, it's time to look back at the best freeware plug-ins of 2020. We've gone through all of our Sunday freeware collections and hand-picked ten effects and synths that stood out from the rest. Here's our list of the 10 best free plug-ins of 2020.
You can look back at all of our Sunday freeware posts in the archives.
Valhalla Supermassive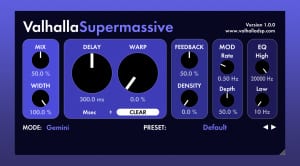 Let's begin this list with an awesome freebie from Valhalla DSP. Supermassive is a huge reverb based on feedback delay networks. This is no reverb that pretends to sound like actual, physical spaces. Instead, Supermassive takes you on a journey through super lush, modulated, otherworldly reverbs and other effects. With now 12 different modes and plenty of parameters to adjust, this is a beast of a free reverb plug-in that just keeps getting better.
Valhalla Supermassive runs on Windows and macOS in VST, AU and AAX formats (32/64 bit).
Matt Tytel Vital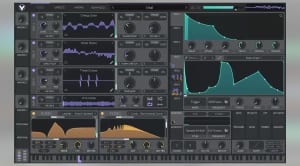 Matt Tytel (the guy behind the wonderful Helm software synth) released this stunning wavetable synth this year. And if you thought you knew wavetables, prepare to be blown away. Vital lets you do things like create wavetables from scratch, modulate them in every imaginable way and even generate wavetables from text. It's pretty rad. There's a free basic version which qualifies Vital for this list, but the Plus ($25) and Pro ($80) versions with more wavetables are where it's really at.
Vital runs on Windows 10 or higher, macOS 10.12 or higher and Ubuntu Linux 18.04 and above. It comes in VST, VST3, AU and LV2 formats.
Audiomodern Filterstep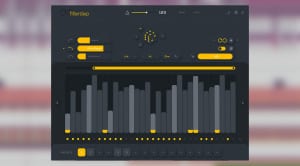 Filterstep by Audiomodern is a resonant multi-mode filter paired with a modulation sequencer. It lets you create rhythmic filtering sequences with up to 32 steps and run them in sync with your host tempo in various modes like forward, backward and ping-pong. There are also a couple of randomization features to spark your creativity, and you can save and recall presets on the fly. It's a great way to add motion to a track! For more stuff like this, check out our list of the 10 best creative filtering plug-ins.
Audiomodern Filterstep runs on macOS, Windows and iOS.
Get Filterstep for macOS and Windows here
Get Filterstep for iOS from the App Store
The Wave Warden Odin 2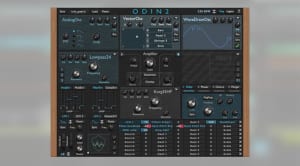 Odin 2 is a huge software synthesizer with tons of different oscillator and filter models. It does many different kinds of synthesis, including virtual analog, wavetable, vector, FM and several others. You can even draw your own waveforms. The list of filters includes Oberheim, Moog and Korg emulations. Odin 2 also offers a good selection of envelopes and LFOs and a massive modulation matrix to bring it all together. It's quite remarkable for a freeware synthesizer!
Odin 2 is available for macOS, Windows and Linux in VST3, AU and LV2 formats.
Analog Obsession LOADED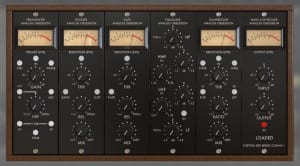 Analog Obsession has become a regular guest in our Sunday freeware columns, because they consistently keep releasing very fine free plug-ins. LOADED is a virtual 500-series channel strip that came out step by step over several beta releases last summer. The final version offers a preamp, de-esser, gate, EQ and compressor, alongside a main control unit. Great stuff! Please consider supporting the developer on Patreon if you enjoy his plug-ins.
LOADED is available for Windows and macOS in VST, VST3 and AU formats.
SyS Audio Research Ton-Geraet 1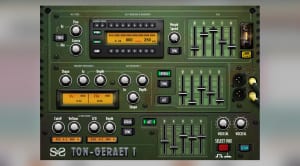 Sound designers developed some creative tricks to get a wider variety of timbres out of the C64's SID chip back in the 80s. The synthesis model used in this one-of-a-kind software synth is based on some of these ideas. Ton-Geraet 1 isn't a SID clone, but it uses similar concepts like wave morphing and sequentially switching basic waveforms a very fast rate. The plug-ins was originally released in 2016 and became freeware this year. One more reason to check this one out!
Ton-Geraet 1 is a VST plug-in for Windows 7 or higher (32/64 bit).
GSi Varispeed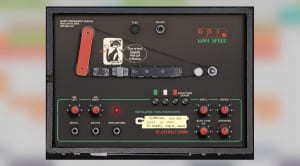 Varispeed is a free simulation of the WEM Copicat IC-400 tape delay. The original featured a DC capstan motor capable of changing speed, which enabled users to change the delay time in real time. Varispeed models the analog device in great detail, with the added benefit of MIDI control. You can shape the effect with the swell, repeat and echo tone knobs, as well as the Varispeed control and independent volume knobs for the three playback heads.
Varispeed is available for Windows, macOS and Linux in VST, VST3, AU and stand-alone formats.
Tokyo Dawn Records Molotok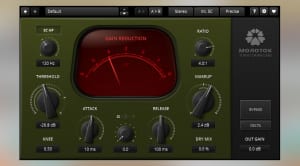 Molotok is the free sibling of the more advanced Molot GE dynamics plug-in inspired by the freeware classic Molot by VladG. Although not a clone, it's designed to do the sort of thing that the legendary Fairchild compressor is famous for: musical compression with tons of character and overall sonic enhancement. Compared to the full version, Molotok is missing a couple of parameters, but it's nonetheless one of the most interesting free dynamics processors to come out of 2020.
TDR Molotok is available for Windows and macOS in VST, AU and AAX formats.
Full Bucket Music Tricent MKIII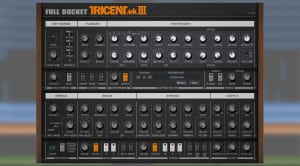 With Tricent MKIII, Full Bucket Music continues its long streak of excellent freeware synths. The emulation of the classic Korg Trident analog synthesizer recreates the original's three sections for synthesizer, brass and strings, each with its own set of controls. Just like on the original, you can split the keyboard and assign sections to the lower or upper parts, or blend them together. Also included is the flanger effect, which was arguably the best feature of the Trident.
Full Bucket Music Tricent MkIII is available for Windows and macOS in VST and AU formats (32/64 bit).
CHOW DSP CHOW Tape Model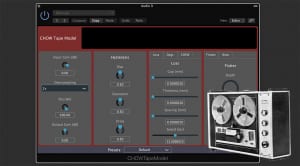 This emulation of an analog tape recorder began as a class project at Stanford University. It was originally modeled after the Sony TC-260, but offers many adjustable parameters like hysteresis, loss and degradation, so you can dial in a wide variety of sounds. The developer continues to improve it, so be sure to check for updates once in a while. Also check out Chow's other plug-ins like ChowMatrix and the pedal emulations ChowPhaser and ChowCentaur, which are just as good.
CHOW Tape Model is available for Windows, macOS and Linux in VST, VST3, AU, LV2 and stand-alone formats.
Videos
Image Sources:
valhalla-supermassive: ValhallaDSP
matt-tytel-vital: Matt Tytel
audiomodern-filterstep: Audiomodern / Gearnews
thewavewarden-odin2: TheWaveWarden / Gearnews
analog-obsession-loaded: Analog Obsession
sys-audio-ton-geraet-1: Sys Audio Research / Gearnews
gsi-varispeed: GSi / Gearnews
tdr-molotok: TDR
full-bucket-music-tricent-mkiii: Full Bucket Music / Gearnews
chow-tape-model: Chow DSP / Gearnews