Tokyo Dawn Records brings the hammer down with Molot GE
Expired
Developer VladG's Molot compressor plug-in is an all-time freeware classic that keeps going strong, close to a decade after release! Molot (the Hammer) is a Fairchild-style compressor on steroids with tons of parameters and a rich analog character. It's worth all the love it can get in this day and age. This explains why developer Tokyo Dawn Records decided to pay it some respect by reimagining VladG's work. Meet TDR Molot GE, the follow up to last week's free Molot compressor!
Tokyo Dawn Records Molot GE
Honoring the original in every aspect, Molot GE offers too much compression stuff to fit into a single sentence. First, there's an analog-style brickwall limiter, a saturation section, and tone controls. A dual-stage timing section enables control over the auto-release behavior. Both feedforward and feedback compression types are supported.
There's also adjustable stereo crossover and some mad science type stuff like negative ratios, sidechain phase rotation, and a bit-crusher. This war ensemble ofcompression techniques can operate in Stereo and M/S mode, the latter with dedicated controls for width. A modern addition is the equal loudness workflow with equal loudness bypass and equal loudness trim for proper monitoring of the results.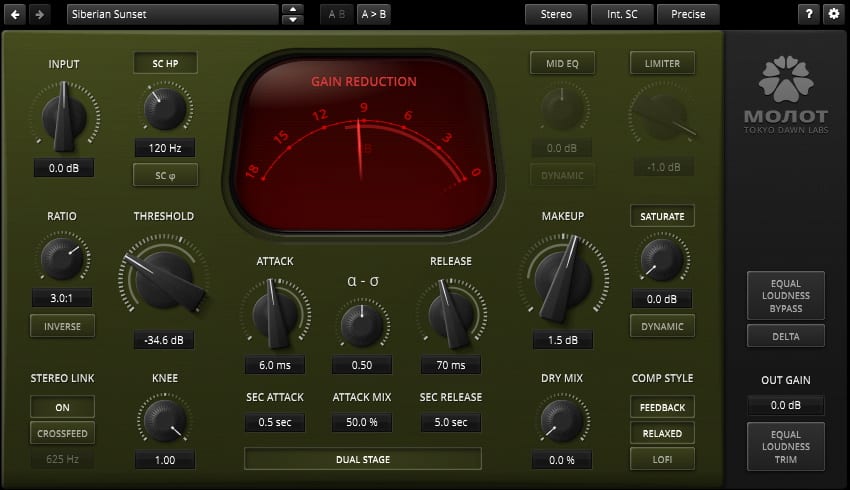 With this many options in it, Molot is really what you make out of it. It can be a gentle LA2A-style comp, an 1176-type peak leveler, or the next best thing after the Distressor. I love the attention to detail which is evident in aspects like choosable stepped/variable controls. And that user interface, of course – vintage Soviet madness!
All in all, this is Molot – one of the most intriguing compressors to ever grace a DAW – and though it never went away, it's back with a vengeance!
Price and availability
Tokyo Dawn Records is selling TDR Molot GE at an introductory 20% off discount, the final price being EUR 40. The offer is good until Wednesday, October 28.
Molot GE is available in VST, VST3, AU, and AAX formats for 32 and 64-bit computers runnng Windows XP SP2 and later, or macOS 10.7 and later. A user manual and free demo version can be downloaded from the developer's website. Note that a paired-down free version called simply Molot is also available – you can read more about it here.
More information
Video
Image Sources:
Molot GE: Tokyo Dawn Records