Best free plug-ins this week: Flux Mini, Cymbal Killer and Basic Filters
This week's collection of the best free plug-ins brings three great additions to your plug-in folder. We've got a dynamic modulation tool, a 2-band gate for drum shaping and a modulated filter. Here's Flux Mini, Cymbal Killer and Basic Filters.
As always, head over to our huge archives for many more free plug-ins.
Caelum Audio Flux Mini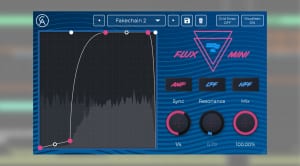 Here's an awesome new freebie from the same folks who brought us the wonderful Tape Cassette. Flux Mini lets you draw a custom envelope that you can use to modulate the amplitude, low pass filter or high pass filter. You can also apply resonance to emphasize the filter cutoff frequency. Flux Mini syncs to the host tempo and comes with a bunch of presets to get you started. If you're into rhythmic modulation effects like ShaperBox, be sure to check this one out.
Flux Mini is available for macOS 10.11 or higher and Windows 7 or higher in VST3 and AU formats.
Low Wave Studios Cymbal Killer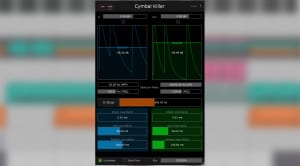 Cymbal killer by Low Wave Studios is a 2-band gate for cleaning up and shaping drum tracks and other signals. It lets you adjust the crossover frequency and set different attack, hold and release times for the low and high frequencies. Besides removing unwanted cymbal bleed (hence the name), Cymbal Killer lends itself to a variety of other frequency-specific transient and envelope operations on drums and other audio tracks. Looks like a simple, yet effective tool for tidying up your tracks!
Cymbal Killer is available for macOS and Windows in VST3 and AU formats.
Fabric 70 Basic Filters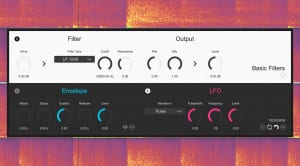 Basic Filters by Fabric 70 offers a selection of ten different filter modes, including low pass and high pass options with various slopes, as well as band pass, notch, peak, all pass and comb filters. You can adjust the cutoff and resonance, and modulate the filter using the included LFO and envelope, which can be triggered by the input signal. Basic Filters also offers a drive knob for saturation, as well as pan and mix controls. They call it "basic", but it's a pretty comprehensive filter that covers all the essentials.
Basic Filters is available for macOS and Windows in VST3 and AU formats.
Video
Image Sources:
caelum-audio-flux-mini: Caelum Audio, Gearnews
low-wave-studios-cymbal-killer: Low Wave Studios, Gearnews
fabric-70-basic-filters: Fabric 70, Gearnews