AudioGridder: Turn any Mac into a networked plug-in server for free
Is your main DAW computer struggling to handle all of your plug-ins? AudioGridder by Andreas Pohl is a networked solution that lets you offload DSP processing to another computer, giving your main machine room to breathe. And here's the kicker: The software is free!
AudioGridder DSP server
If you're constantly maxing out your DAW computer with plug-ins and virtual instruments, one way to give your CPU a break is to invest in DSP hardware from companies like Universal Audio and Antelope Audio. While these solutions are popular, they tend to limit your choice of plug-ins and force you into closed ecosystems. AudioGridder is a new alternative that lets you turn another computer into a DSP server over the network. And best of all, the Mac software is free and open source.
Like similar commercial solutions such as Vienna Ensemble, AudioGridder consists of a plug-in for your main machine and a server software for the remote computer. The plug-in runs inside your DAW software and serves as a host for VST3 and/or AU plug-ins. It talks to the remote server over the network. Any plug-ins loaded in the AudioGridder host plug-in are processed by the server, which then returns the processed audio to your DAW. While a wired network is obviously the best choice for this setup, the developer says that it's even possible to pull this off using a wireless network, provided it has low latency and enough bandwidth.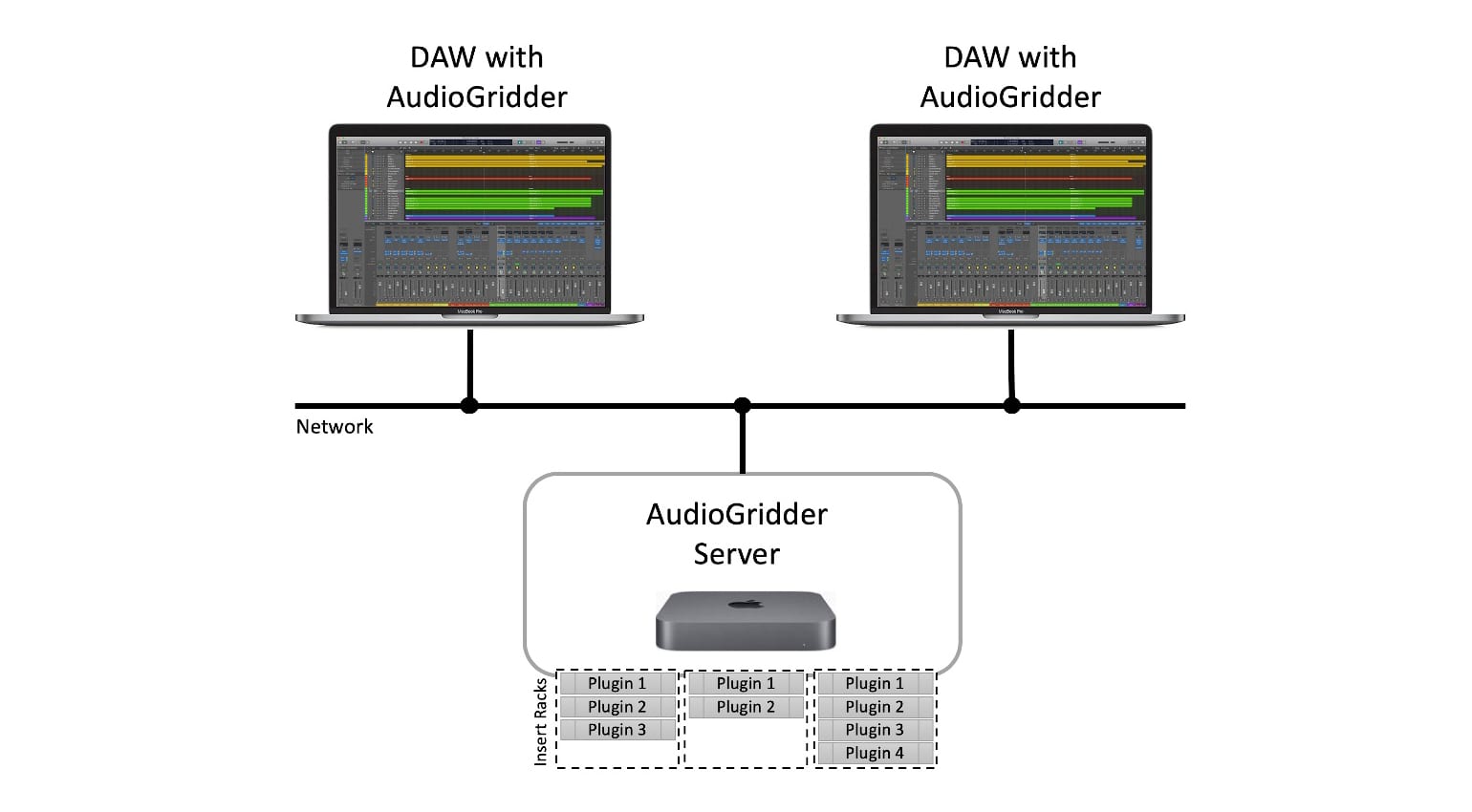 While you can of course invest in a dedicated machine like a Mac mini for your DSP server, AudioGridder also seems like a great way to extend the life of an older computer that you're not using as your main DAW anymore. According to the developer, it's also possible to access multiple servers from the plug-in, so if you have several unused computers, you can turn them into a cluster of DSP servers.
If AudioGridder works reliably, it's sure to give dedicated commercial DSP systems a run for their money. Especially since it's free, which I still find hard to believe.
Compatibility
AudioGridder only works on Macs and requires macOS 10.14 or higher. The plug-in is available in VST3 and AU formats and hosts VST3 and AU plug-ins in 64 bit.
More information
Image Sources:
andreas-pohl-audiogridder-02: GitHub / Andreas Pohl