7 Live Mixing Consoles That Changed the Industry Forever
It's something we often take for granted, but the development of the mixing console has shaped the development of live music. Several mixers have included groundbreaking innovations that helped shape how engineers mix and raised the standard of live audio. Here's our definitive list of seven live consoles that we think changed the industry forever.
7 Consoles That Changed The Industry
You may not believe it, but the idea of the modern PA system is now around half a century old. Undoubtedly, the development of the live mixing console was fundamental to live sound as we know it. This got us wondering; what are the most important live consoles ever made?
We've deliberated long and hard and settled on our pick of the consoles which have changed the industry. It should be noted that our choices don't necessarily represent "the best" live consoles ever made. We've chosen consoles which were genuinely "game-changing", whether through price-point, performance or both!
WEM Audiomaster
Watkins Electrical Management or WEM as it's better known was founded by Charlie Watkins. You may never have heard of Charlie Watkins, but in many ways, he was Britain's version of Leo Fender. Alongside pioneering instrument amplification and guitars, we consider Charlie as the inventor of the modern PA system. At the heart of his revolution in live sound systems was the WEM Audiomaster.
It may look naive to you and me in 2020, but importantly the WEM Audiomaster pioneered all the mixing console essentials we take for granted. Individual gain trims for each channel, multi-band equalisation, monitor foldback, and even reverberation. Undoubtedly, The WEM Audiomaster is the genesis of the live mixing console.
Soundcraft Series One
Only three or four years separate the Soundcraft Series One and the WEM Audiomaster, and yet anyone used to a modern mixing desk would feel at home on the Series One. It would probably be a stretch to say this was the first "modern format" live mixing console, but it's a strong contender. Up to sixteen individual channels with faders rather than rotary knobs and an optional four-channel mix-bus. This was studio-style mixing brought to the live arena…
Look hard at the Soundcraft Series One, and you'll notice more features we take for granted: Switchable phantom power on each channel with balanced XLR microphone inputs. There was even an ELCO connector to accept a multichannel stage box loom. Oh, and it was all housed in its own flight case too! Undoubtedly, the Soundcraft Series One is a landmark live console.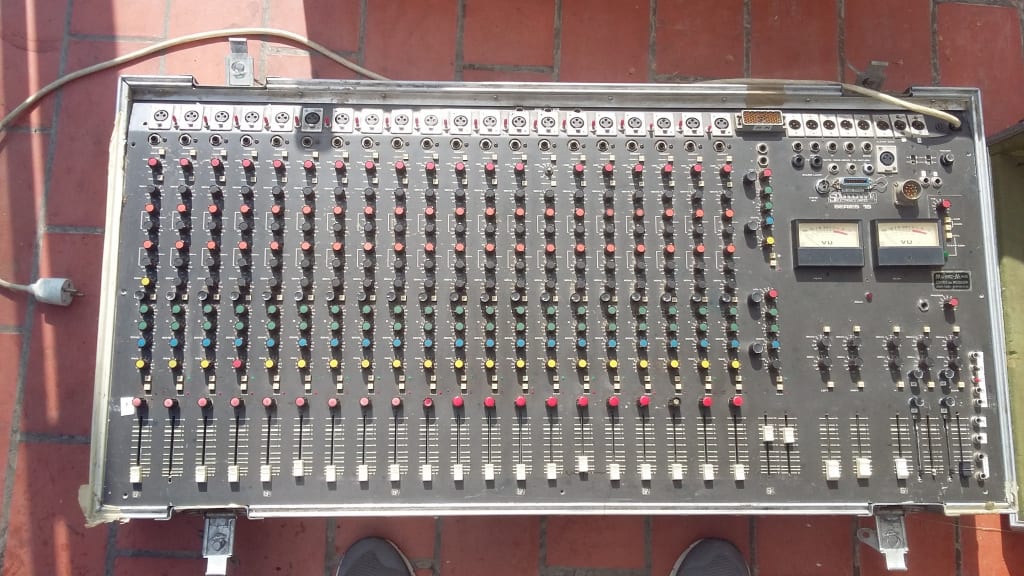 RSD Studiomaster
Imagine it's the 1980s and you're either a PA hire company, an aspirational band or a small venue; you're looking for a live console which has professional features at an affordable price. There's a very good chance that you'd have gone out and bought an RSD Studiomaster mixing console.
Few desks had offered the sort of feature set offered by the RSD Studiomaster consoles, at this price point: Three-band EQ with parametric mids and lows and an HF shelving EQ on each channel. Additionally, you got three auxiliary sends per channel and insert points for external processing
Perhaps cleverest of all, the RSD Studiomaster consoles offered you the option to buy an "expander module" which increased your channel count by plugging in an expansion console. If you were involved in live music in the early to mid-1980s then the RSD Studiomaster would have been just what you were looking for; an affordable live desk just as the DIY/Indie scene was starting to explode.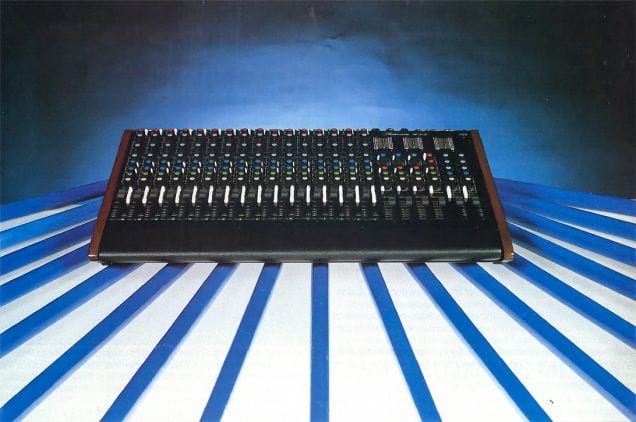 Midas XL3
We couldn't have a list of groundbreaking live consoles without mentioning Midas, and when you talk about Midas you have to talk about their legendary XL series of consoles. The original Midas XL was launched in 1986, a desk so costly to develop it bankrupted Midas and led to their acquisition by Klark Teknik. We've chosen the XL3 here because it's a live console legendary for its build quality and its sound. 
Additionally, the XL3 pioneered the use of VCA faders which allow you to control the level of several channels from a single fader. Indeed, so important is the Midas XL3 that you can see serial number 003 as part of the National Science and Media Museum collection. In their own words "[The Midas XL3]… was a turning point in the development of analogue mixing consoles for live music, and established Midas as the leading live console manufacturer for the next two decades"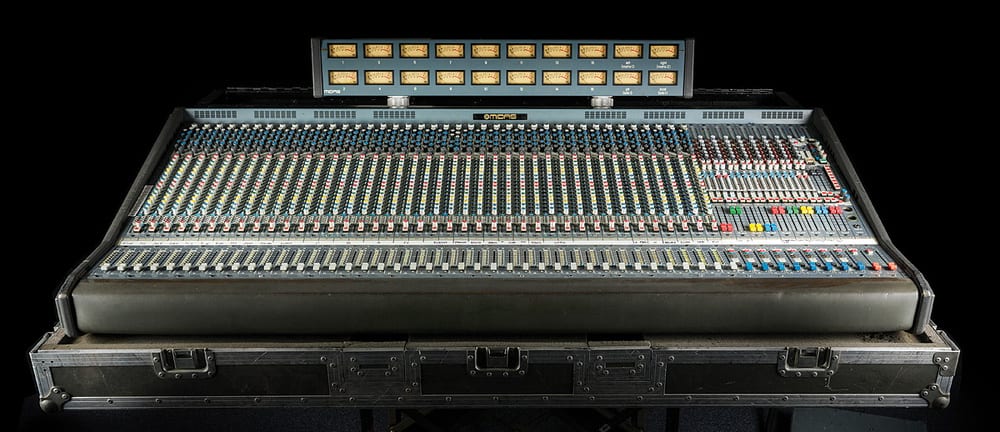 Allen & Heath GL2200
If you, like your author, spent many hot sweaty nights in mix booths around the turn of the millennium, you'll be familiar with the Allen & Heath GL2200. Launched in the latter part of the 90s, the GL2200 became the absolute de-rigueur club mixing desk. A combination of price point, features and reliability proved a winning combination. The GL2200's four-band, parametric and shelving EQ got the job done night after night.
Thanks to some clever routing options, the GL2200 could be quickly configured for dual duty. If you needed a dedicated FOH console, a monitor console, or a console to run both, the GL2200 was ready. It was only the advent of the digital mixing revolution which dethroned the GL220 as the club mixer of choice…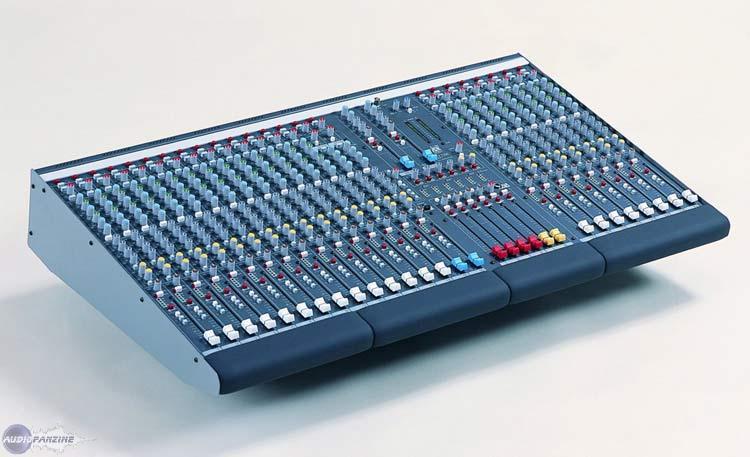 Yamaha PM1D
And so we enter the era of the digital live mixing console and few companies did as much to push the technology as Yamaha. In 1999 Yamaha launched the PM1D, taking their knowledge of studio digital consoles and bringing it to the live arena. With analogue consoles, you've always been limited in terms of channel count by the physical channels built into the mixer frame. Now with the PM1D, you could have up to an astonishing 320 microphone inputs!
With motorized faders, and onboard processing and effects came one of the biggest revelations: scene recall. If you've ever spent frantic moments in a dark booth writing on mark-up sheets to save settings, you'll know the revolution scene recall brought. Save the entire sound-check settings at the push of a button, including your effects and dynamics. Undoubtedly, it was a revolution in workflow and put Yamaha at the forefront of live consoles for at least a decade or more.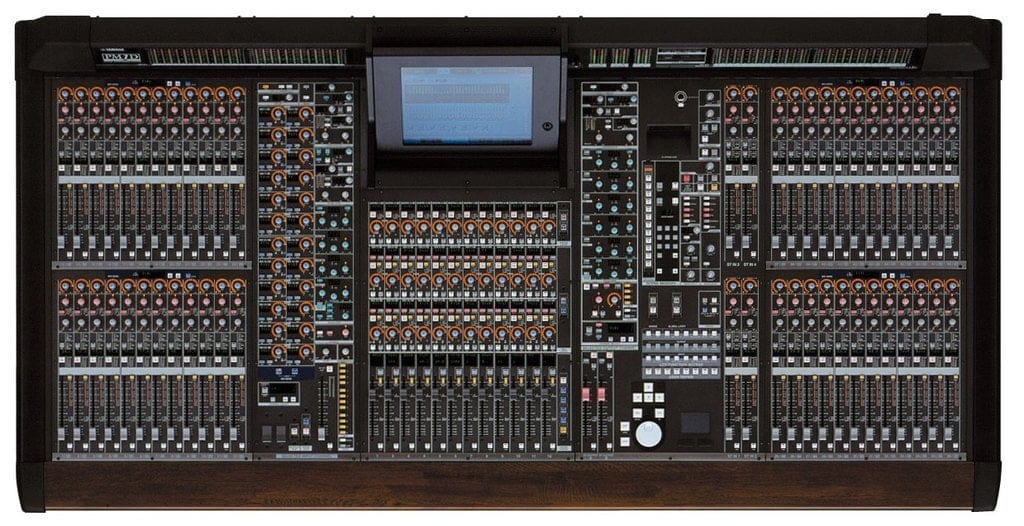 Behringer X32/Midas M32
And so to finish this list, probably the nomination which will have some of you howling in derision. Whatever your thoughts on the Behringer X32 (and its sister console the Midas M32), they undoubtedly changed expectations of digital consoles. If you look in the mixing booth of your local club, you'll probably find an X32 or an M32. That's because few desks offer the same ease of use, feature set and sheer bang-for-buck.
In a very short space of time, the X32 established itself as the default small club mixing console. Just take a look back at the trends which have made the desks above groundbreaking and you'll find them in the humble X32: value for money, features, ubiquity. There was a time not so long ago when you'd find "NO BEHRINGER" printed large on tech riders; times have changed and you'd probably struggle to find a small/medium size club without an M32/X32. Will Behringer's WING console prove to be as popular? Only time will tell!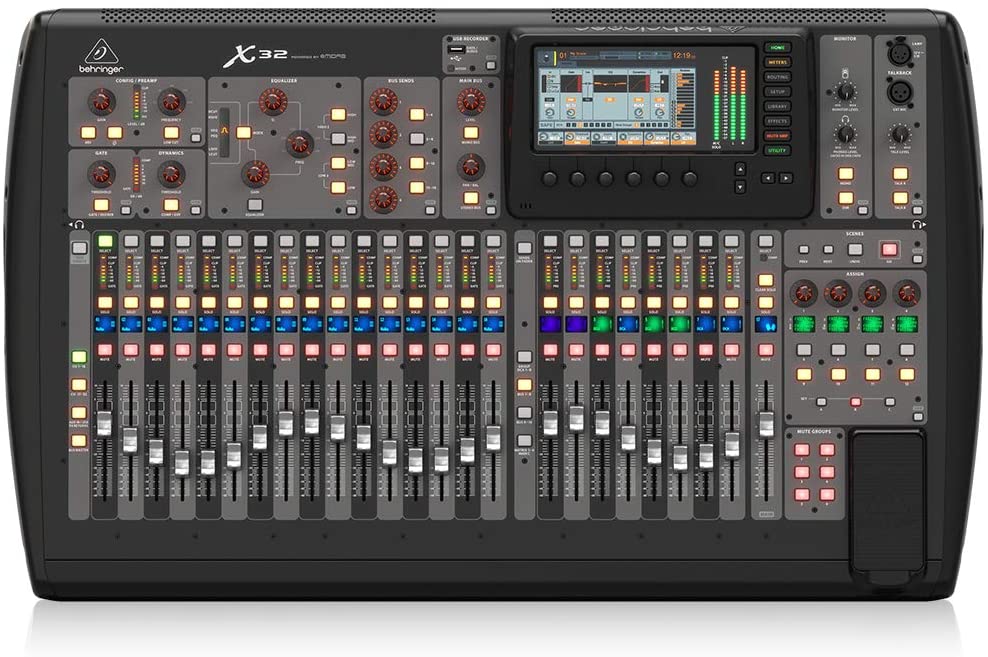 Think we've missed something off the list? Don't agree with us? Leave us a comment below! We'd love to hear what your favourite live consoles past and present are!
Image Sources:
Picture Courtesy Chris Hewitt - CH Vintage Audio: Chris Hewitt
soundcraft-series-1s-2217256 (audio fanzine.net): audiofanzine.net
RSD Studiomaster 16:4:2: mu:zines
Allen & Heath GL2200: Audio Fanzine
Behringer X32: Behringer