The Best Reverb Pedals for Music Production and Performance
Reverb is one of the fundamental aspects of effects processing, in any form you choose. So we're looking at some of the best reverb pedals for music production and live performance.
We've discussed affordable reverb pedals in a previous post, but what happens when you want to take things a little more seriously?
Whether you use it as an in-line or parallel effect, you can process a wide range of sounds with reverb, adding spacial characteristics for realism or simply creating a more dramatic sonic expression.
Choosing the Best Reverb Pedals
The range of reverb effects available can make this a difficult choice indeed. Not only do some effects provide an overlap of the same features, but they are also very similarly priced in many cases.
Once you spend over $300 on a reverb, most of them sound good too, so it becomes more about your specific sonic palette and workflow preferences. Do you like to simply find a decent preset or sit for hours tinkering with parameters?
Meris Mercury 7
Inspired by the spacious modulated Lexicon reverb effects used by Vangelis when he created the famous Blade Runner score, the Mercury 7 is a great-sounding reverb available in both a pedal and a 500-series module.
With only 2 algorithms it might appear limited at first, but the extensive sound design parameters and expression features like Auto Swell Envelope more than make up for this.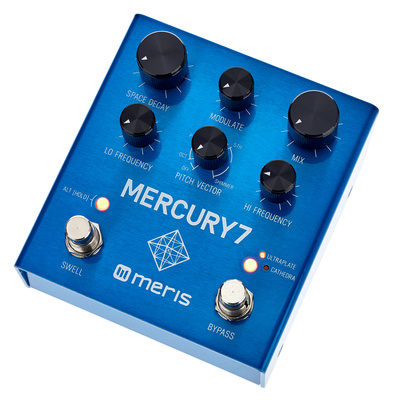 Meris Mercury 7 Reverb Pedal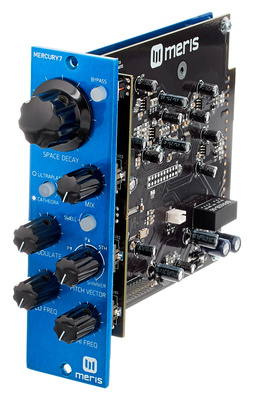 Meris 500 Series Mercury 7 Reverb
Empress Effects Reverb
With 12 different reverb types, a 3-mode cabinet simulation feature, and an output transformer, the Empress Reverb provides an incredible range of reverbs and just enough controls to make things interesting without interrupting your flow of creativity.
This means no menu diving and a selection of performance-focused parameters like swell time and modulation depth. moreover, the 2 mode-specific controls give you the most expressive aspect of each reverb at your fingertips.
Eventide Space
If you're looking for something that offers a little more than just the usual hall, plate, and spring algorithms. The Eventide Space is an extremely versatile reverb with a wide selection of presets that enter the realm of unnatural and avant-garde reverb spaces.
In addition, there are plenty of controls to sculpt each reverb sound and decide where it's going to sit in your mix. The Space also offers flexible connectivity, which favours a wide range of instruments and applications.
Strymon Big Sky
The Big Sky is rated as one of the top reverb pedals ever designed for guitar, but it can easily be used on other instruments such as vocals, synths, and drum machines too.
Apart from the library of 300 high-quality reverb presets, the Big Sky also provides MIDI I/O which adds versatility and there are 2 custom assignable controls that can be used for each preset.
Vermona DSR-3
Although it's not necessarily a pedal, the Vermona DSR-3 is a great tool to reach for when you need the character of a spring reverb unit. This is an authentic electro-acoustic effect, so don't expect a myriad of parameters here.
However, the DSR-3 does have 3 operating modes including dual mono, stereo, and serial which makes it useful in far more situations than you'd expect from something as niche as a spring reverb effect.
More about the Best Reverb Pedals:
Videos:
*Note: This article contains promotional links that help us fund our site. Don't worry: the price for you always stays the same! If you buy something through these links, we will receive a small commission. Thank you for your support!
Image Sources:
Meris Mercury 7: Meris
Empress Effects Reverb: Empress Effects
Eventide Space: Eventide
Strymon Big Sky: Strymon
Vermona DSR-3: Vermona