The best compact live mixers for studio and stage
Whether you're working with an electronic live act or a classical ensemble – a compact mixer is essential both on stage or in the rehearsal room. With the endless options available, it's difficult to know where to start. So to get you started we've picked out the best compact live mixers.
Which are the best compact live mixers?
You will find a few older models in this list, however, this is the nature of analogue equipment that doesn't need to compete with the ever-changing tech formats. In this price range, the digital features mostly include built-in interfaces and effects. So check out the different features and let's find something that suits your setup.
Soundcraft Notepad 12FX
Soundcraft's Notepad series of compact mixers are lightweight but well built and affordable. The Notepad-12FX gives you four mono input channels with XLR/jack combo sockets for microphone and line signals including phantom power. In addition, there are four stereo inputs, one of which is intended for RCA.
The mono channels also feature Hi-Z switches for instruments such as guitars, a 100 Hz low cut, and a 3-band EQ. Built-in Lexicon effects include delay, chorus, and reverb. There is also a Tap Tempo feature, which is useful. The audio interface provides 4-track recordings at 48 kHz and the master outs are XLR with a handy LED level meter.
Elite Acoustics GigMix 4-1
The super-compact GigMix 4-1 is a 4-input digital mixer. This gives you four TRS and one XLR input, which unfortunately doesn't carry phantom power. However, there are ways around this. Each channel has aux sends and access to the internal effects such as noise gate, compressor, EQ, reverb, and delay.
A useful touch is that you can save and recall up to ten preset mixer configurations, making it easy to switch between songs. Overall, the GigMix 4-1 is a versatile portable tool that fits into any backpack. This is a worthy choice for electronic musicians and instrumentalists who can easily mix their own performances without any hassle.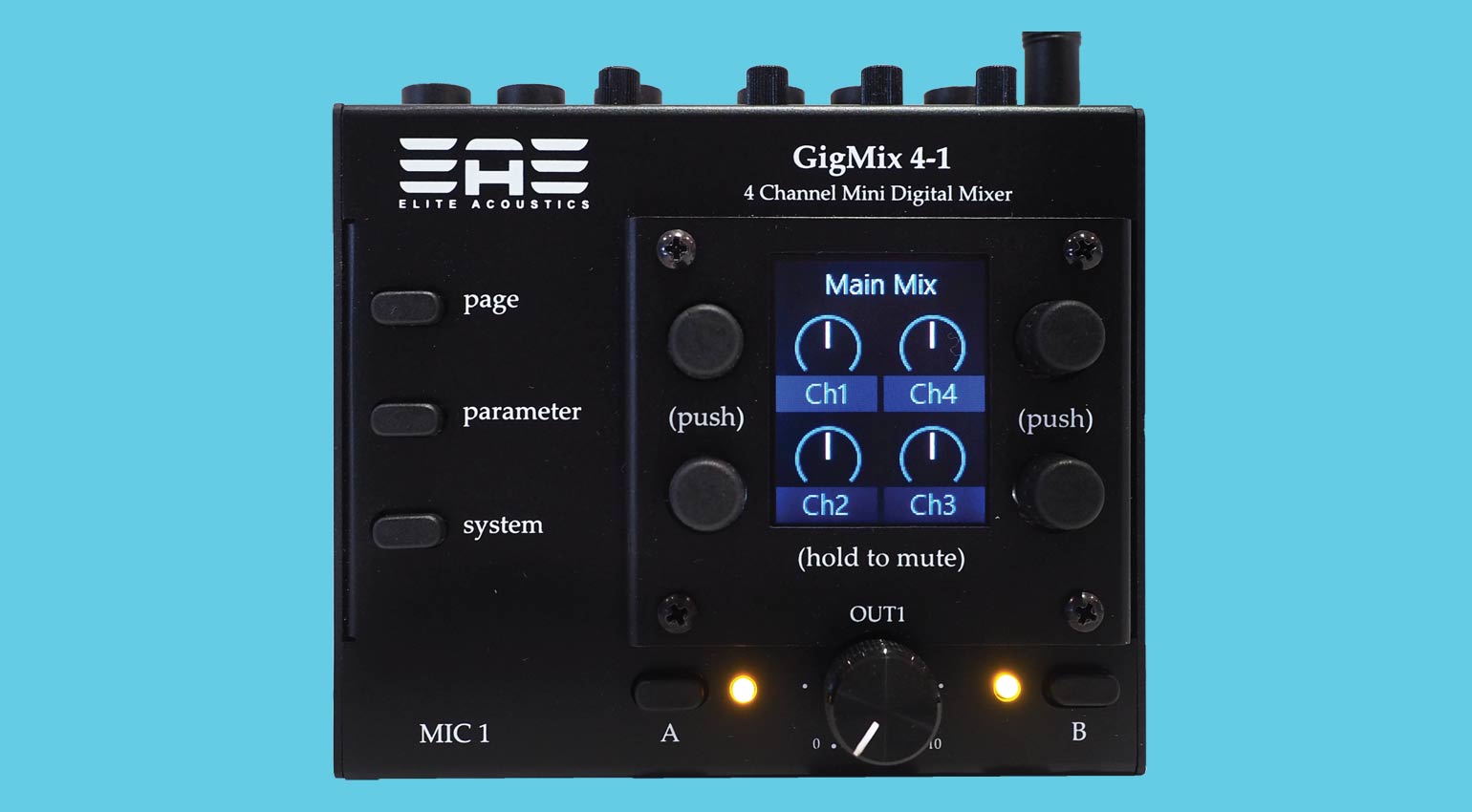 Behringer Xenyx X2222 USB
The Xenyx X2222 USB brings incredible value for the price. A total of 22 input channels, with 8 mic inputs that each have inserts, a 3-band EQ, and a compressor. In addition, channels 9 to 16 process stereo signals, with four stereo returns and 3 aux sends. This should be more than enough inputs to accommodate a small band setup.
The X2222 USB also has an integrated USB audio interface and a multi-effects system. Meanwhile, the included rack kit makes it road ready, allowing you to mount the mixer into your favourite 19-inch rack case.
Allen & Heath ZED-14
The ZED-14 has been around for what seems like an eternity, however, that means that it's a tried and trusted tool. Its six mono inputs are mic/line ready with phantom power, while it also has four stereo inputs and four aux sends. It's equipped with inserts on every channel (including stereo channels) which are a useful feature, and the mono channels have 3-band EQ.
This gives you a decent amount of control, with sweepable mids and a 100 Hz low cut. In addition, the ZED-14 also has XLR master outs, stereo record outs, and alt stereo outs. For a small format mixer, it gives you flexibility, and the 100 mm channel faders are great to work with.
Soundcraft Signature 12MTK
The Soundcraft Signature series of popular analogue mixers give you an impressive feature set at a decent price point. With Soundcraft's Ghost preamps, a built-in audio interface, and Lexicon effects you have enough tools to get going on smaller projects, without needing extra gear.
The Signature 12MTK has eight mono inputs with three aux sends per channel. Apart from the dbx limiters on channels one and two, what sets the MTK apart is the fact that you can assign channels to a subgroup. Although the knobs aren't the best quality, it's still one of the best options in this price range.
PreSonus StudioLive AR12c
The PreSonus StudioLive AR12c mixer has a great balance of everything: features, design, and decent build quality. There are eight mic/line inputs, four of which can also be used in stereo. Each channel has a 3-band EQ, while channels 1 to 4 have a parametric mid and high-pass filter.
The built-in effects and USB 2.0 audio interface are useful, giving you 24-bit, 96 kHz recording capabilities. Meanwhile, there are also some neat features like a Bluetooth 5.0 receiver and an SD card recorder, but this only offers stereo recordings in 24-bit, 44.1 kHz.
Tascam Model 12
Although it falls slightly outside of the price range of mixers on this list, some of our readers pointed out that the Tascam Model 12 was worth mentioning. The Tascam Model series of analogue and digital mixers bring together a pro feature set into a well-built frame.
The Model 12 gives you eight mic pres with combo inputs and each channel has a compressor and 3-band EQ. Sub-mix assignment is a useful feature and you can record up to 48 kHz 24-Bit onto SD card, or use the built-in USB-C audio interface.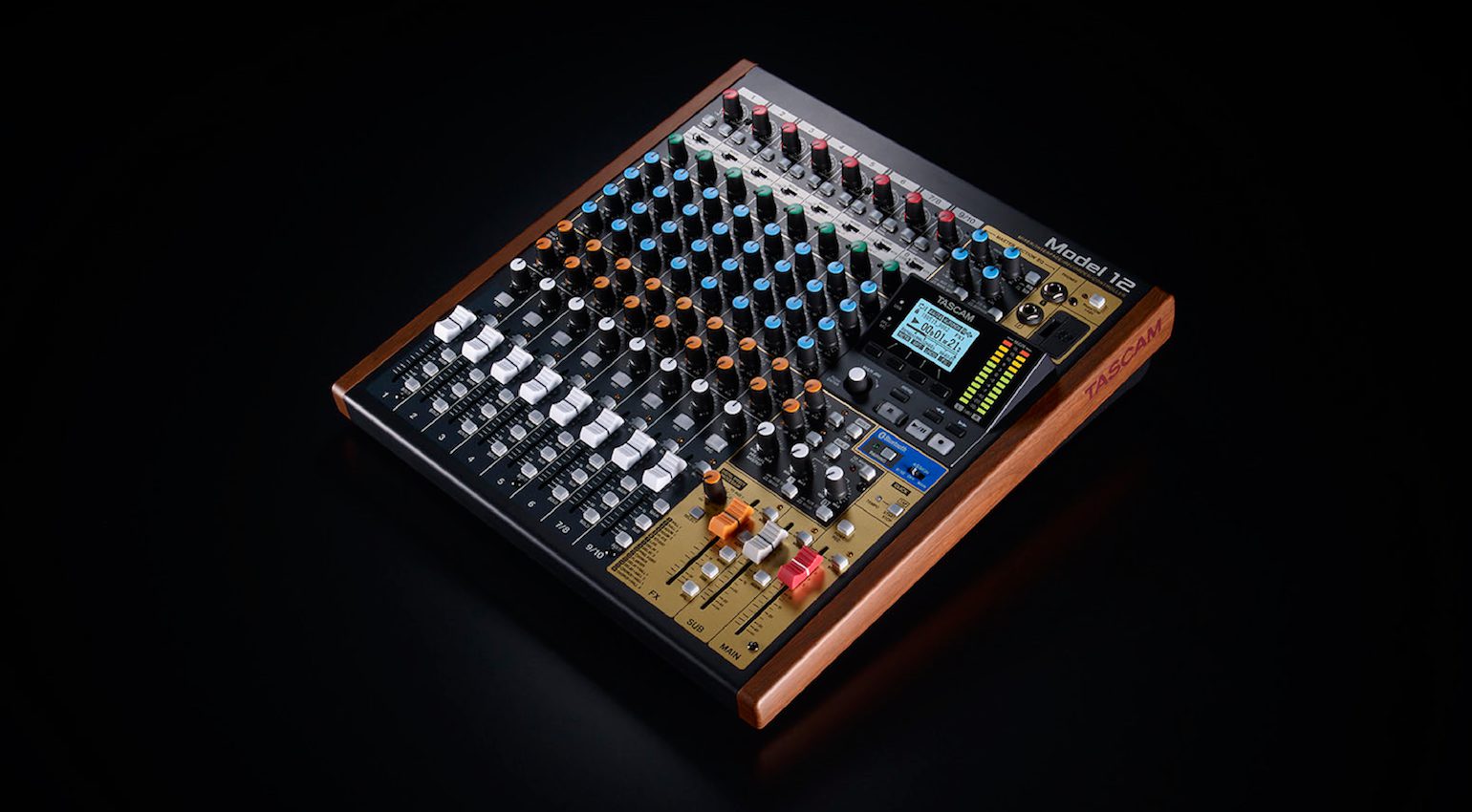 More about mixers:
Videos:
* Note: This article contains promotional links that help us fund our site. Don't worry: the price for you always stays the same! If you buy something through these links, we will receive a small commission. Thank you for your support!
Originally published on Gearnews.de by Dirk.
Image Sources:
Soundcraft Notepad 12FX: Soundcraft
elite-acoustics-gigmix-4-1: Elite Acoustics
Behringer Xenyx X2222 USB: Behringer
Allen & Heath ZED-14: Allen & Heath
Soundcraft Signature 12MTK: Soundcraft
PreSonus StudioLive AR12c: PreSonus
Tascam Model 12: Tascam
Behringer Xenyx X2222 USB: Thomann