Best free plug-ins this week: SPATIO Light, SideChainer 2 and STR-X
We've got a little bit of everything in this week's collection of free plug-ins: a reverb, a very cool sidechain effect and a guitar amp simulator. Here's SPATIO Light, SideChainer 2 and STR-X.
Check out our archives for many more free plug-ins!
ANWIDA Soft SPATIO Light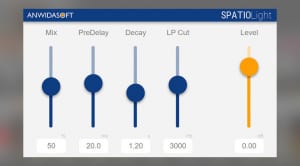 SPATIO Light is a freebie that's based on ANWIDA Soft's upcoming SPATIO reverb. Its predecessor is the classic DX Reverb Light. The developer says that SPATIO Light can emulate everything from small rooms with plenty of coloration to large, natural-sounding spaces. The plug-in offers the familiar mix, pre delay and decay parameters, as well as a low pass filter. It's a true stereo reverb with 64-bit internal processing, which yields "ultra clean and noiseless" results, according to ANWIDA Soft.
As of now, SPATIO Light is available for macOS in VST3 and AU versions. A Windows version is in the works.
RDGAudio SideChainer 2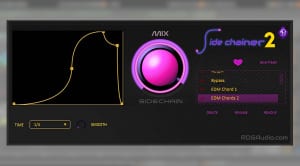 SideChainer 2 lets you achieve the popular pumping effect without having to deal with an actual sidechain compressor. You can specify the note value and use the mix knob to dial in the desired effect amount. Its best feature, however, is that you can draw your own curve for the effect. This lets you achieve custom pumping effects that are hard to achieve with just the envelope controls of a compressor. SideChainer 2 includes a bunch of presets for common applications.
SideChainer 2 is available for Windows and macOS in VST3 and AU formats.
Strix Audio STR-X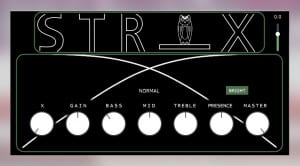 STR-X is a guitar amp simulation that isn't based on any particular analog amp. Instead, it's designed to be a simple, but powerful amp sim that lets you achieve a variety of tones quickly. You can choose from Normal, Thick and Open modes, dial in some distortion with the X knob and use the gain knob to drive the preamp section. There's also a 3-band equalizer, presence control and bright switch. The Master knob allows for more overdrive.
STR-X is a VST/VST3 plug-in for Windows.
Videos
Image Sources:
anwidasoft-spatio-light: ANWIDA Soft, Gearnews
rdgaudio-sidechainer-2: RDGAudio, Gearnews
strix-audio-str-x: Strix Audio, Gearnews