Best free plug-ins this week: Rock Amp, MCharmVerb and AFX
Approximate reading time: 2 Minutes
This freeware Sunday, we've got something for everyone: a guitar amp, a drum machine and a reverb plug-in, and all of them are free. Introducing Rock Amp by Linda Audio, MCharmVerb by MeldaProductions and AFX by beatassist.eu.
If you're looking for more free plug-ins, look no further than our archives!
Linda Audio Rock Amp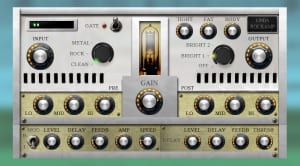 New developer Linda Audio is presenting its first guitar amp plug-in. Rock Amp isn't modeled after any particular amp. It offers three drive modes (clean, rock and metal), three brightness settings and a switchable noise gate. The Tight, Fat and Body knobs provide additional sound shaping opportunities. The amp simulator also includes pre and post equalizers, as well as modulation effects and a delay. Not bad at all for a freebie! Rock Amp doesn't come with any cabinet simulations, however.
Rock Amp is a VST (32/64 bit) and VST3 (64 bit) plug-in for Windows.
MeldaProduction MCharmVerb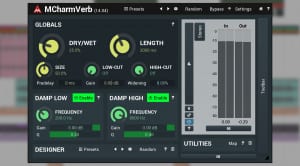 MCharmVerb is the latest addition to MeldaProduction's MFreeFX bundle. The company describes it as a "lush algorithmic reverb" and says: "We decided to give it away for free as a thank you for your support all these years!" You can download it as part of the whole MFreeFXBundle collection. The reverb has all the essential controls of an algorithmic reverb (length, size, filters and damping) and comes with a nice selection of presets.
MCharmVerb runs on macOS 10.9 or higher (64 bit) and Windows Vista or higher (32/64 bit) in VST, VST3, AU and AAX formats.
beatassist.eu AFX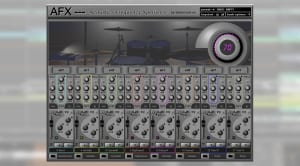 The latest plug-in by beatassist.eu is named "Acoustics Frequency Experience", which sounds like some sort of VR thrill ride. But it's actually a drum plug-in with eight channels and acoustic drum sounds in .sf2 format. Each channel offers distortion, filter and a pitch envelope, as well as a 3-band equalizer. Acoustic drums are a nice addition to the developer's other free plug-ins like BAT-S12, Esfera 2 and ITS.
Immerse yourself in the Acoustics Frequency Experience on Windows in VST and VST3 formats (32/64 bit).