Best free plug-ins this week: Magic Dice, Mad Filter and 2RuleSynth
This week's collection of the best free plug-ins is all about randomization. Baby Audio serves up a never-ending palette of delay and reverb textures by rolling the "Magic Dice". Rast Sound's new filter plug-in also likes to go mad. And 2RuleSynth is a dual-oscillator synth with lots of modulation.
You'll find many more free plug-ins in our archives!
Baby Audio Magic Dice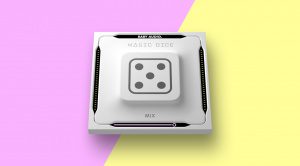 Here's a great freebie from Baby Audio that you won't want to miss. Magic Dice is based on the same algorithms as the company's fantastic delay and reverb plug-in Spaced Out. Baby Audio says that Magic Dice offers anything from lush echoes and reverbs to alien-sounding modulation effects. Simply roll the dice to generate random textures on demand and adjust the mix slider. They say that you'll never hear the same result twice. Sounds like a great way to get creative!
Magic Dice is available for macOS and Windows in VST, VST3, AU and AAX formats (64 bit).
Rast Sound Mad Filter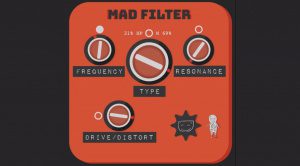 Mad Filter by Rast Sound also has plenty of randomization going on. The filter plug-in can transition seamlessly between low pass, band pass, high pass and notch characteristics. It also features a drive circuit for added warmth, richness and analog feel. The small circles next to every knob introduce "natural, complex LFO movements", Rast Sound says. And if you feel adventurous, there's a "Go Mad" button with two intensities for all sorts of crazy modulation and movement.
Mad Filter is available for macOS and Windows in AU and VST3 formats (64 bit).
2Rule 2RuleSynth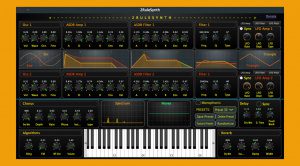 This new software synth by 2Rule features two oscillators with five waveforms, FM and ring modulation. Each oscillator has its own amp, filter and envelopes. 2RuleSynth also offers three syncable LFOs and chorus, delay, reverb and waveshape distortion effects. The real fun begins when you hit the randomize button to generate new settings. You can exclude selected parameters from randomization, which helps to achieve more refined results.
2RuleSynth is available for macOS and Windows in VST3 and AU formats (64 bit).
Videos
Image Sources:
baby-audio-magic-dice: Baby Audio
rast-sound-mad-filter: Rast Sound
2rule-2rulesynth: 2Rule