Best free plug-ins this week: The Great Escape, LVC-Meter and Magic Switch
A dynamic tremolo with an envelope follower, a useful analyzer and a one-button chorus: those are the things you'll find in this week's collection of the best free plug-ins. Get some unique tones with The Great Escape, mix them using LVC-Meter, and then hit the Magic Switch!
For many more free plug-ins, take a look at our archives!
And here's our list of free and discounted music content to keep you happy and inspired in times of social distancing.
Musical Entropy The Great Escape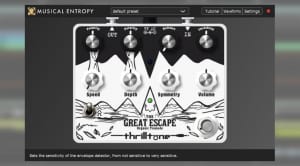 The developer says that The Great Escape is a free preview of an upcoming commercial product, and that it won't be free forever. So grab it while it lasts! The plug-in is a collab with French pedal maker Thrilltone and is an emulation of the Thrilltone Great Escape Organic Tremolo pedal. Its specialty: The tremolo speed and depth can be controlled by an envelope follower, so they react to your playing. A perfect way to escape from it all!
The Great Escape is available for Windows, macOS and Linux in VST, VST3, AU and AAX formats.
LVC-Audio LVC-Meter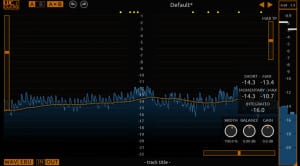 LVC-Meter is a useful metering tool that includes a spectrum analyzer, stereo vectorscope, and a waveform history view. According to LVC-Audio, all of the meters use true-peak monitoring and can be used in EBU mode, K-System metering, and standard dBFS mode. With spectrum analyzer settings and the width, balance and gain controls, you can adjust the meters to your needs. The resizable interface lets you configure the colours to your liking.
LVC-Meter is available for Windows and macOS in VST, VST3, AU and AAX formats. The AAX versions require an iLok device.
BABY Audio Magic Switch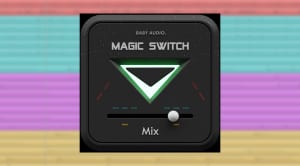 BABY Audio has pulled the chorus from its Super VHS video cassette simulation plug-in and released it as a freebie. Magic Switch was designed to be as instantly gratifying as the famed chorus of the Roland Juno synths. But the developer rightfully says that there are already plenty of emulations of the Juno chorus out there, so they set out to create something with a unique sound. It has one button and a mix slider. The rest is magic.
Magic Switch runs on Windows and macOS in VST, VST3, AU and AAX formats.
Video
Image Sources:
musical-entropy-the-great-escape: Musical Entropy
lvc-audio-lvc-meter: LVC-Audio
baby-audio-magic-switch: Baby Audio / Gearnews