The Best Workstation Keyboards under $2500
If you've got keyboard skills, or even if you don't, workstations provide an amazing set of tools for creating music. To help you navigate this process, we've selected some of the best workstation keyboards under $2500.
Workstations became extremely popular in the late 1990s and early 2000s, when producers like Timbaland and Scott Storch dominated the charts with the sounds from workstations from Yamaha and Korg.
As music moved into the button-bashing phase, the keyboard-driven production style waned in popularity. It's still, however, a very effective way to get a unique and dynamic feel into the core of your tracks.
Choosing the best workstation keyboards under $2500
With the overall sound engine quality as a priority, we've selected keyboards based on sound creation and synthesis capabilities, arrangement and production features, as well as live performance functionality.
Yamaha MODX8+
The MODX8+ is an 88-key GHS (Graded Hammer Standard) synth workstation keyboard with Yamaha's advanced Motion control synthesis engine.
There are 2 parts to this engine, each with 128 voices:
The AWM2 (2nd-Gen Advanced Wave Memory) section with 5.67 GB of ROM waveforms and an additional 1.75 GB of flash ROM for user waveforms
The incredibly powerful 8-operator FM-X synthesis engine with 88 algorithms
In addition, the MODX8+ has built-in effects and EQ for both the individual parts and the master section and a bank of over 2000 performance presets.
Roland Fantom-08
With the Fantom-08, you get an extremely versatile instrument with features for both music production and live performance. It's equipped with an 88-key PHA-4 (Progressive Hammer Action) keyboard, 256-voice polyphony, and five sound engines.
Apart from the impressive sound library and sound-shaping tools, you also get a 32-band vocoder, an 8-Voice pad sampler, and the onboard 16-track sequencer with step recording and TR drum programming.
The fun part about the Fantom series is you get a great collection of sound from classic Roland synths. When combined with the rhythm pattern creator, arpeggiator, or chord memory function, this can be seriously fun.
Kurzweil PC4
Armed with Kurzweil's high-quality V.A.S.T. Engine with 256-voice polyphony, the PC4 is a great tool for song creation or performance. When it comes to sounds, you get a 2 GB factory library and a 6-operator FM synthesis engine.
On top of that, there's 2 GB of user sample memory and the ability to import 16-bit WAV and AIF files at up to 96 kHz along with the Kurzweil .P3K, .KRZ, .K25, and .K26 formats.
The 16-track sequencer gives you plenty of power when combined with the effects engine, and the KB3 ToneReal organ is incredibly realistic-sounding.
Korg Nautilus 88
If you're looking for a complete keyboard-driven music production system, the Nautilus 88 provides creative tools in almost every aspect.
With up to 200-voice polyphony and 9 sound engines including SGX-2, EP-1, HD-1, AL-1, CX-3, STR-1, MOD-7, MS-20EX and PolysixEX, you're well equipped to take on most modern music styles.
Apart from the 16-track sequencer, the Nautilus also provides sampling capabilities and a 24-bit 48kHz 16-track audio recorder with 16 different effects processors and 3-band EQ on every channel.
Kurzweil K2700
The K2700 is an incredibly versatile instrument from the expressive 88-key Fatar TP/40L keyboard to the realistic Kurzweil sound engines onboard.
These include the V.A.S.T, 6-operator FM, and VA1 Virtual Analogue synthesis engines, the KB3 ToneReal organ, and K.S.R. (Kurzweil String Resonance) modeling technology.
The K2700 has a 16-track sequencer and also offers a MIDI CC sequencer for automation which is useful, and the comprehensive effects section gives you so much creative power.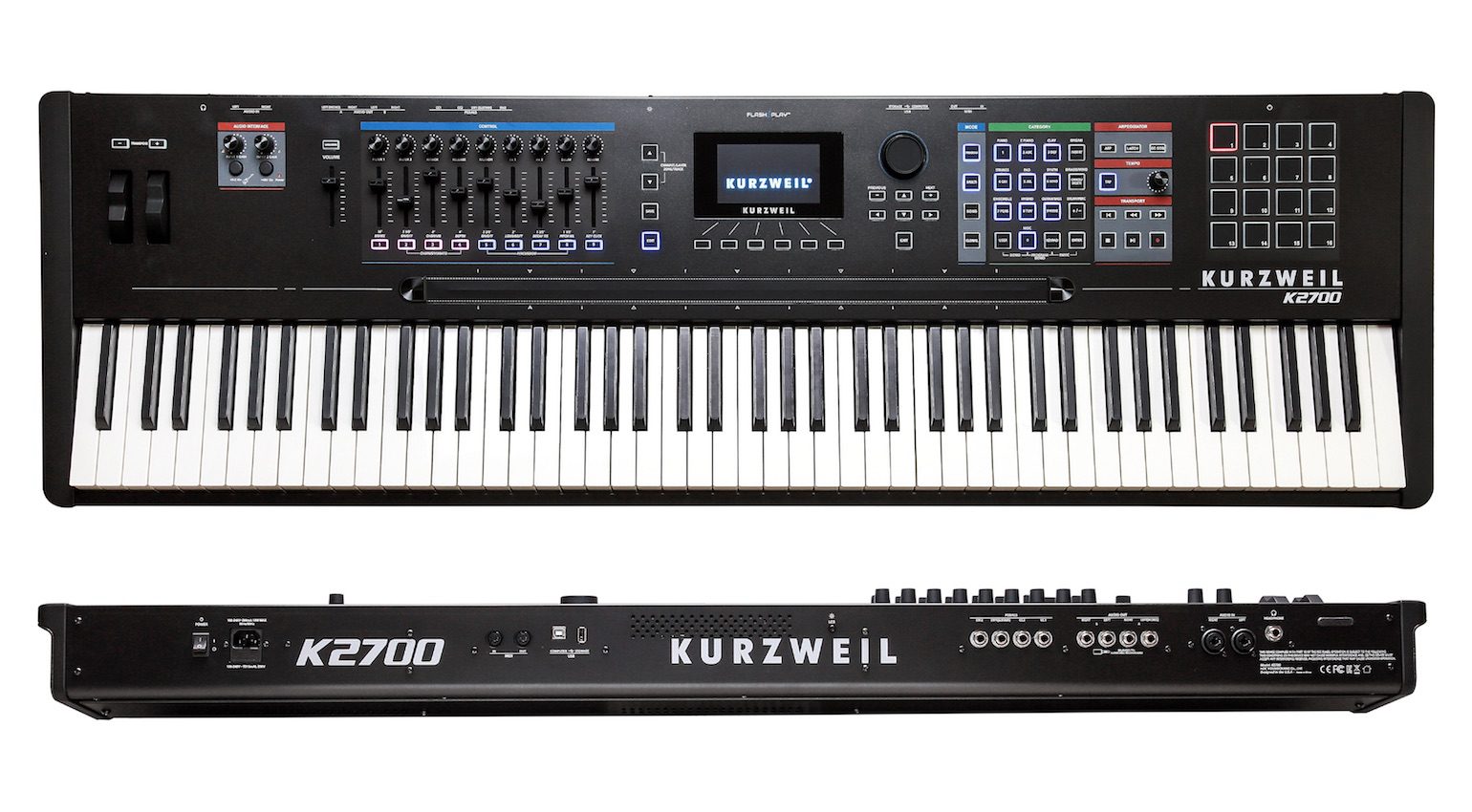 More about Workstation Keyboards:
Video:
Note: This article contains affiliate links that help us fund our site. Don't worry: the price for you always stays the same! If you buy something through these links, we will receive a small commission. Thank you for your support!
Image Sources:
Yamaha MODX8+: Yamaha
Roland Fantom-08: Roland
Kurzweil PC4: Kurzweil
Korg Nautilus 88: Korg
Kurzweil K2700: Kurzweil