Best delay plug-ins: Our Top 10 echo tools of 2020 (so far)
Delay effects belong in every music producer's toolbox. With them, you can let your sounds fly through time, widen the stereo width of an audio track or make sounds more interesting and varied. To refresh your plug-in collection a little, we present the 10 finest delay plug-ins from the past eight months.
Valhalla DSP Super Massive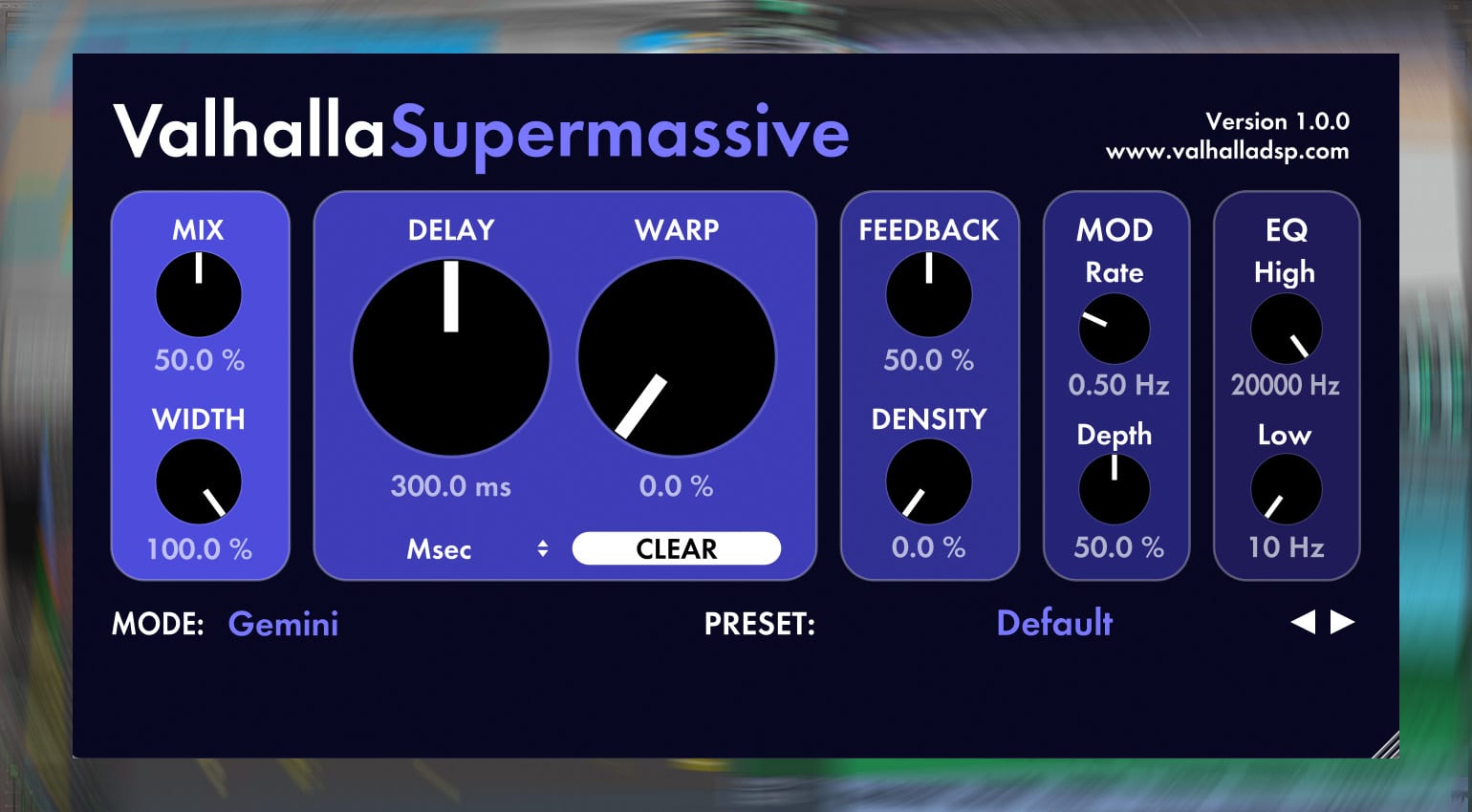 You can't go wrong with Valhalla DSP's Supermassive Delay. This VST plug-in can be downloaded absolutely free of charge from the developer's website! As the name suggests, the plug-in generates epic and extremely dense delays. Eight different modes named names Gemini, Hydra, Centaurus, Sagittarius, Great Annihilator, Andromeda, Lyra and Capricorn can create different delay effects with different densities. What a great gift!
The plug-in runs on Mac OSX and Windows as VST, AU and AAX in 32 or 64-bit format. Download here.
Baby Audio Comeback Kid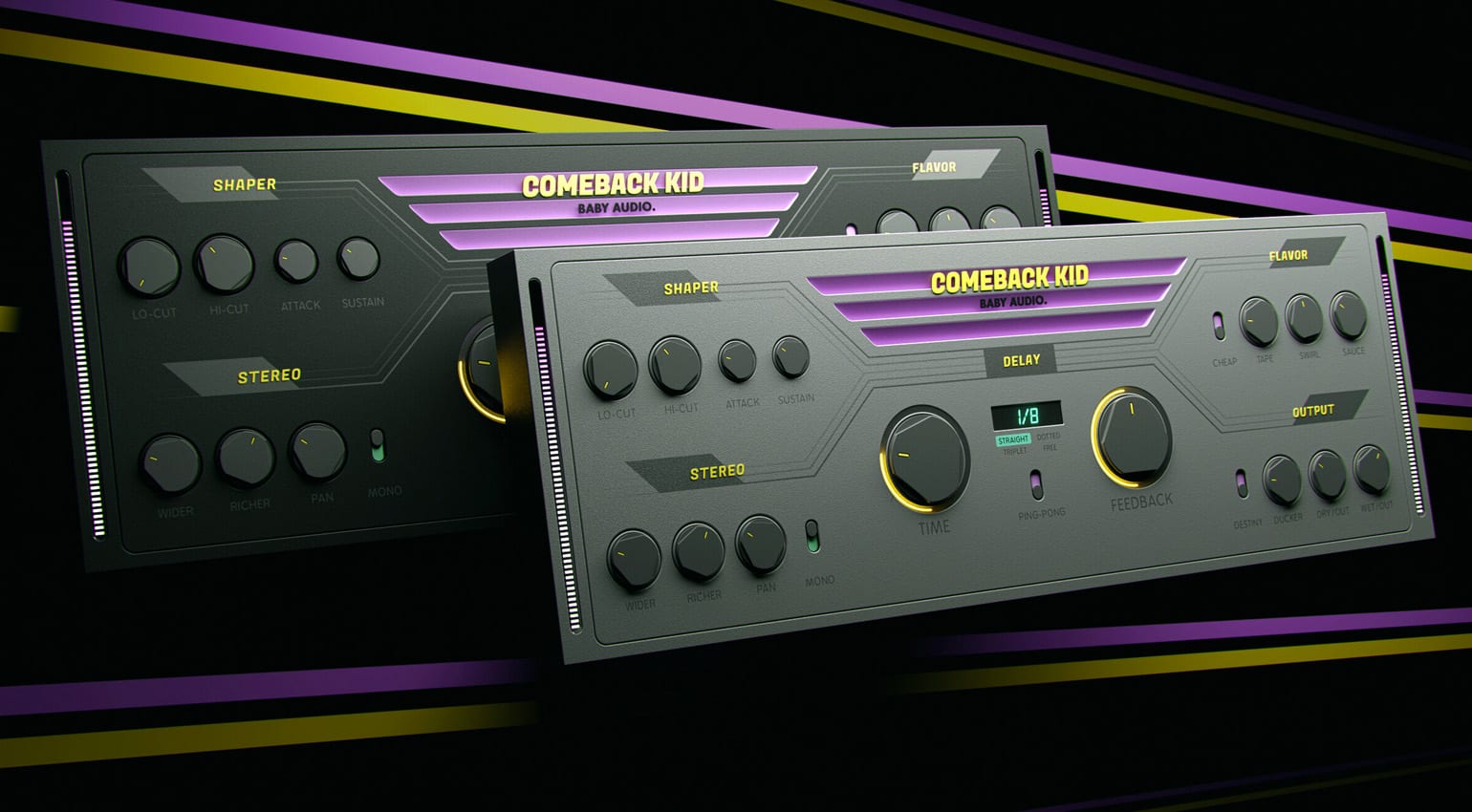 Analog emulations are very popular. One such is Baby Audio's Comeback Kid. This versatile delay plug-in is very easy to use. The individual parameter sections are clearly separated from one another. You can even find sound shapers here, such as a transient designer and a stereo tool. The "Flavor" area is responsible for the characterful and warm sound. With the controls Cheap, Tape, Swirl and Sauce you can add that certain something to the actual effect. This delay has a ton of mojo!
You can get the plug-in here at Plugin Boutique (affiliate) for EUR 42. The plug-in runs on macOS 10.7 or higher and Windows 7 or higher as AU, AAX, VST and VST3.
IK Multimedia Space Delay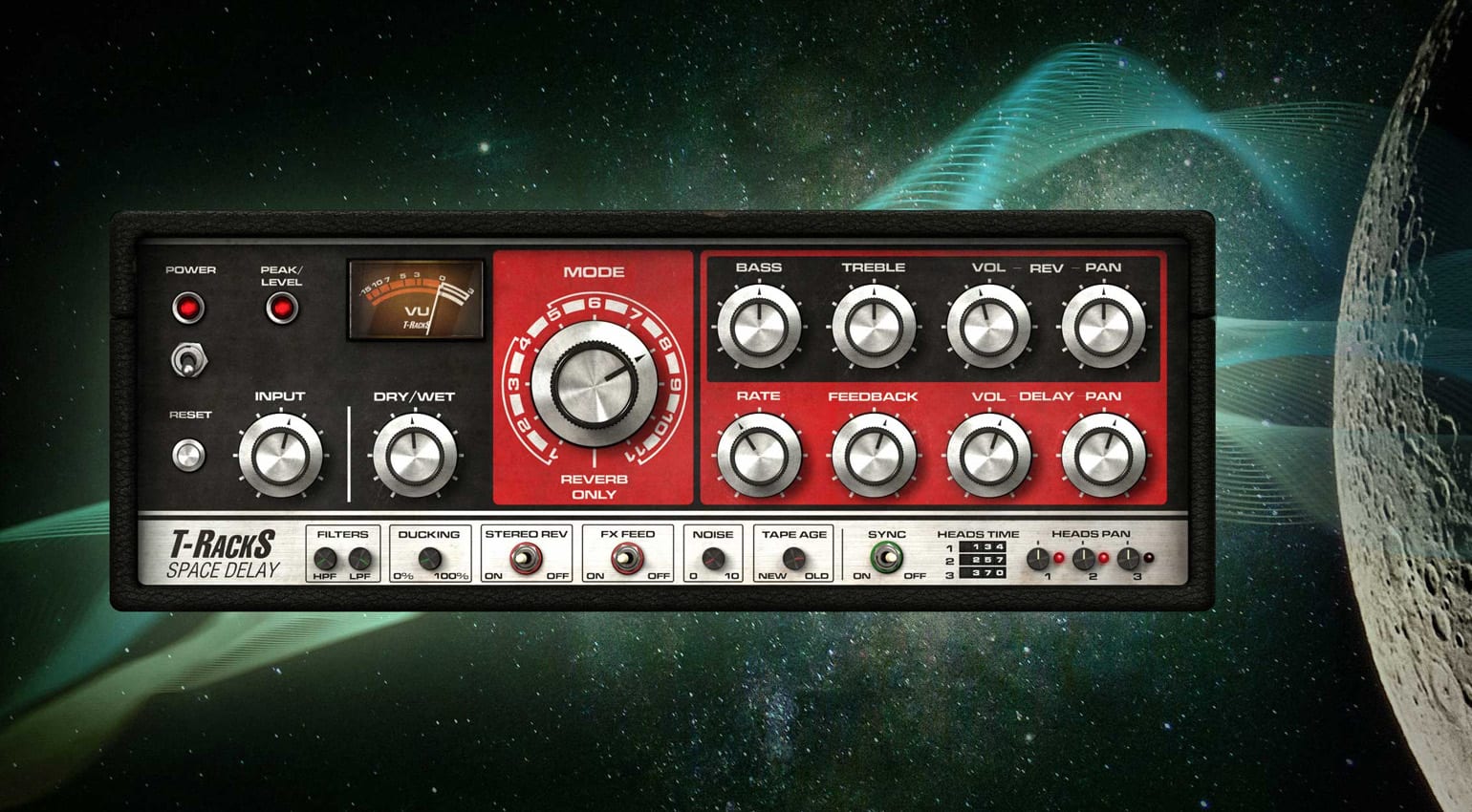 This virtual delay effect device from IK Multimedia also emulates an old piece of hardware – the legendary Roland RE-201 Space Echo from 1974. This lively and interesting effect generates delays via a tape and several tape heads. It is still used in all music genres today! You can use the effect via the free T-RackS 5 CE in your DAW. In addition to the typical tape delay, you can mix in reverb generated by convolution technology and physical modeling. The plug-in also has a stereo tool, input filters, sidechain ducking and Lo-Fi effects.
The plug-in runs on macOS 10.9 or higher and Windows 7 or higher standalone, as VST , VST3 , AAX and AU in 64 bit. The effect costs EUR 111 here at Thomann (affiliate).
2getheraudio Space Duck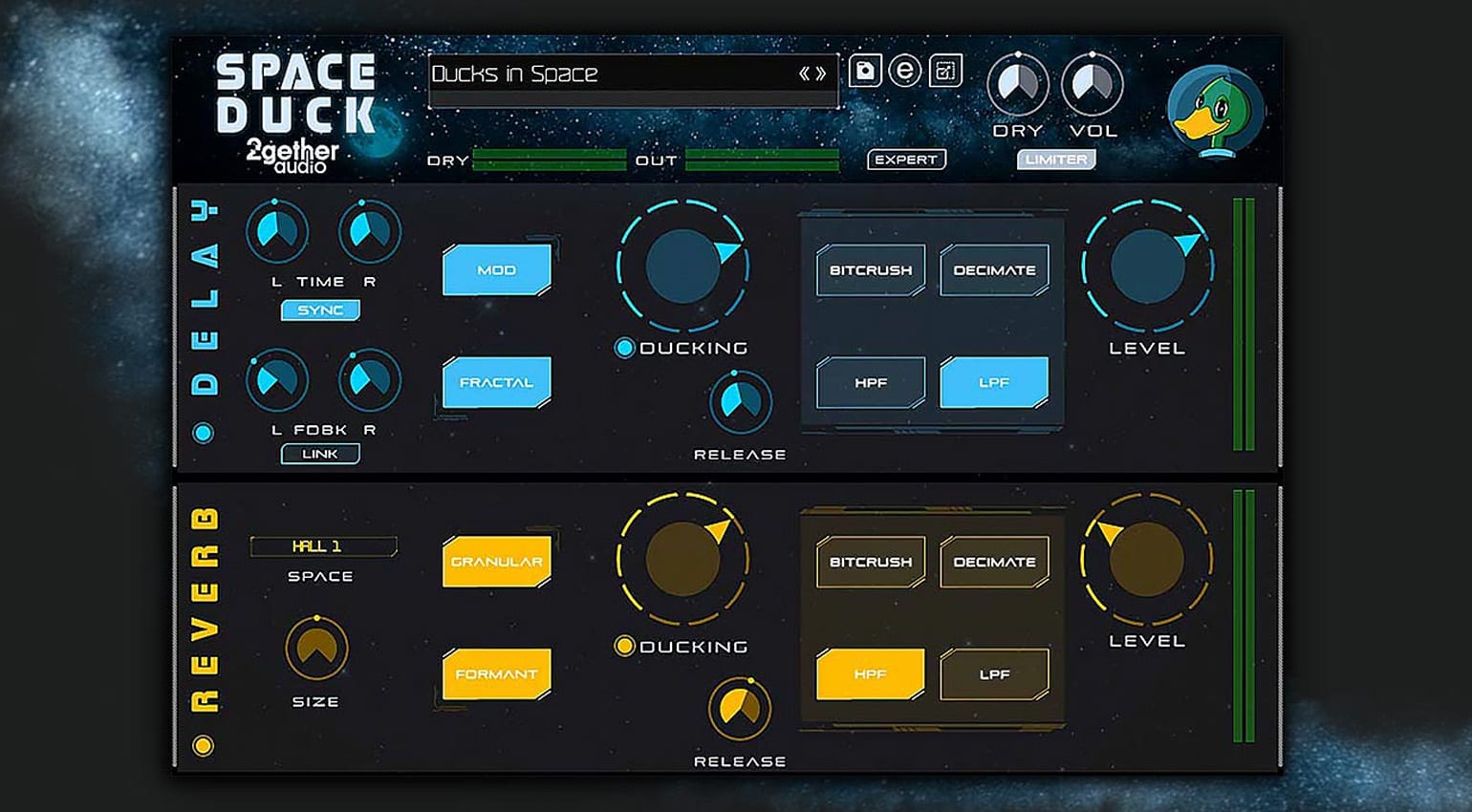 If you want even more sidechain ducking in a delay plug-in, you should take a look at the Space Duck effect from 2getheraudio. This is where the delay starts to pump, and that's controlled by audio tracks that you route into the sidechain input of the plug-in. This tool also shows that a delay always likes to work side by side with a reverb. You can shape both sections separately using the ducker. Also contained are additional effects for the effects themselves. There is a granular processor, bit crusher, ring modulator, decimator, and the mandatory filters.
The plug-in runs on Mac OSX 10.10 or higher and Windows 7 or higher as VST , AAX and AU in 64 bit. You can determine the price yourself on the developer's website.
Inear Display Antagone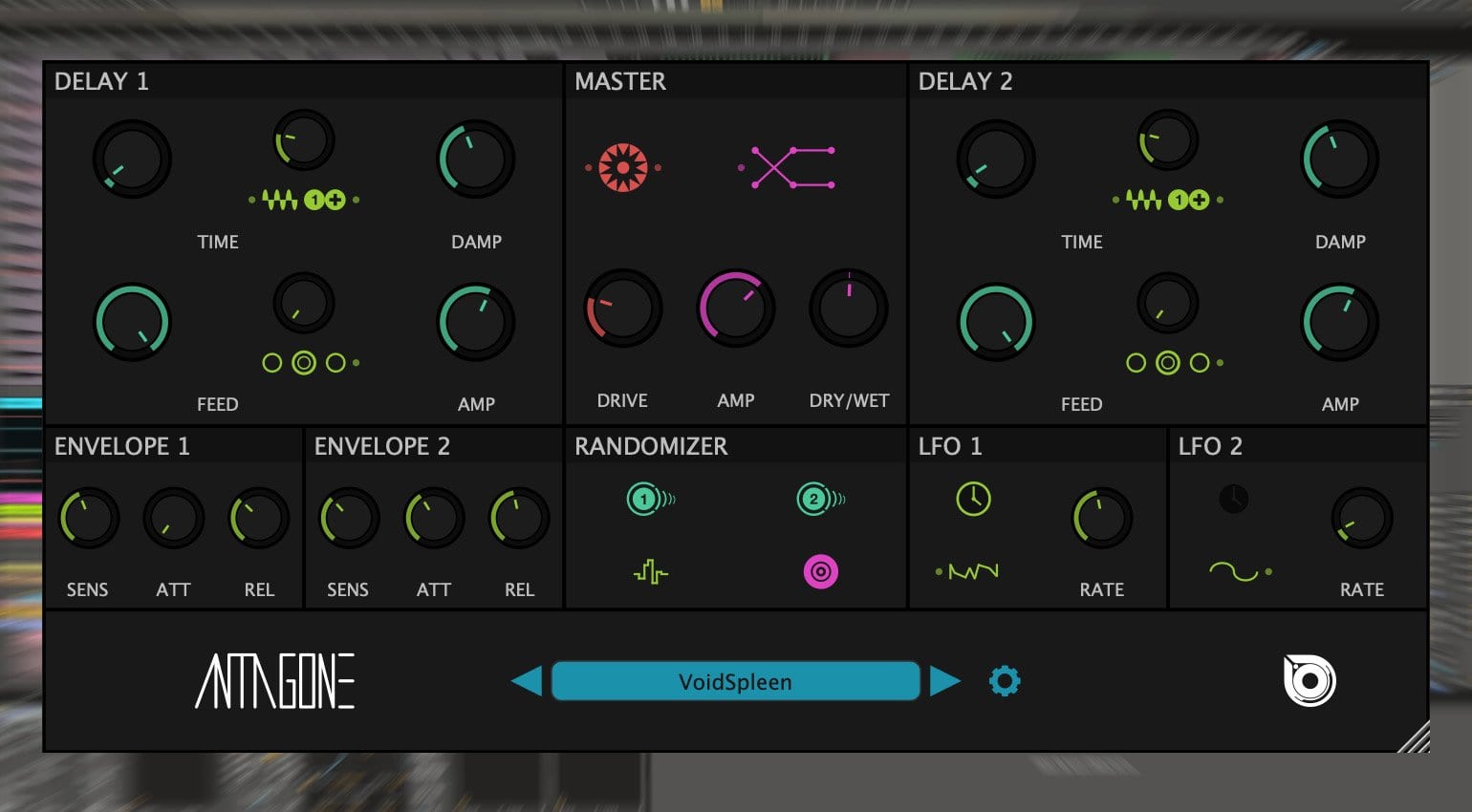 This delay plug-in handles glitches, which all sound designers and sound hobbyists love. With Antagone from Inear Display, you can create crazy and experimental sounds. The plug-in itself consists of two effect lines with modulation inputs. Both are really easy and intuitive to use. Time parameters, damping filters, feedback and amp controls plus two LFOs, a random generator and two envelope generators are found. On top of that, there are four types of distortion that again take care of the character. A dry / wet knob rounds off the control elements of the effect.
The plug-in runs on macOS 10.11 or higher and Windows 7 or higher as AU and VST3 in 64-bit. It costs EUR 19 on the manufacturer's website.
Audec Spread Delay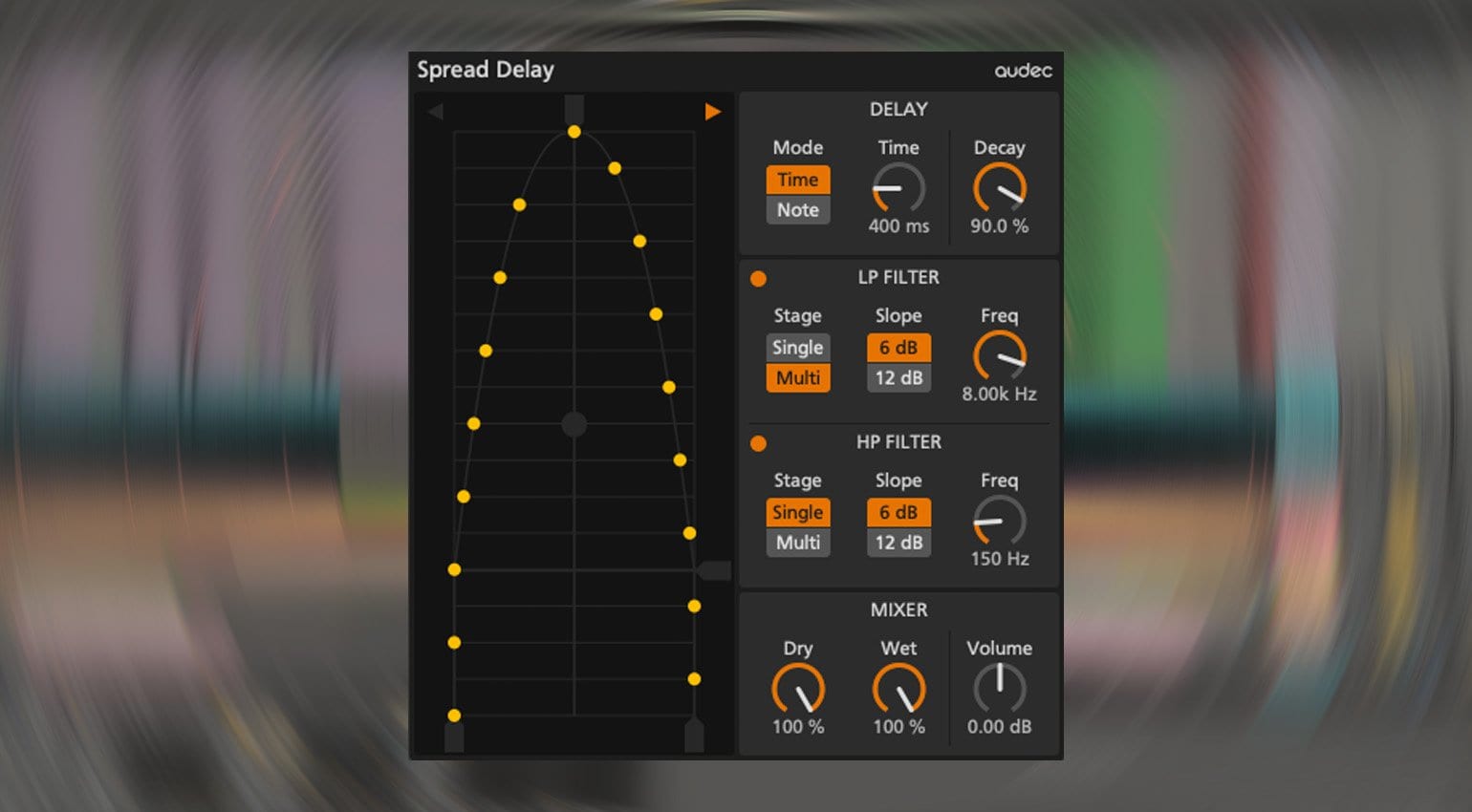 This delay effect is not for special FX, but is intended to help you mix and master your audio tracks and songs. Because Spread Delay from Audec brings breadth to the big picture with a delay of the audio signal that is passed through the panorama. The course of the effect is shown very clearly on the graphical interface. The delay times can optionally be synchronized to the DAW tempo. To do this, you can shape the effect signal with a high and low-pass filter . As usual, the dry / wet knob and a volume control are located in the output area. For this attractive price, this tool is certainly a no-brainer.
The plug-in runs on Mac OSX 10.11 or higher than VST3 and AU in 64 bit. You can get it on the manufacturer's website for USD 7.
Initial Audio Dynamic Delay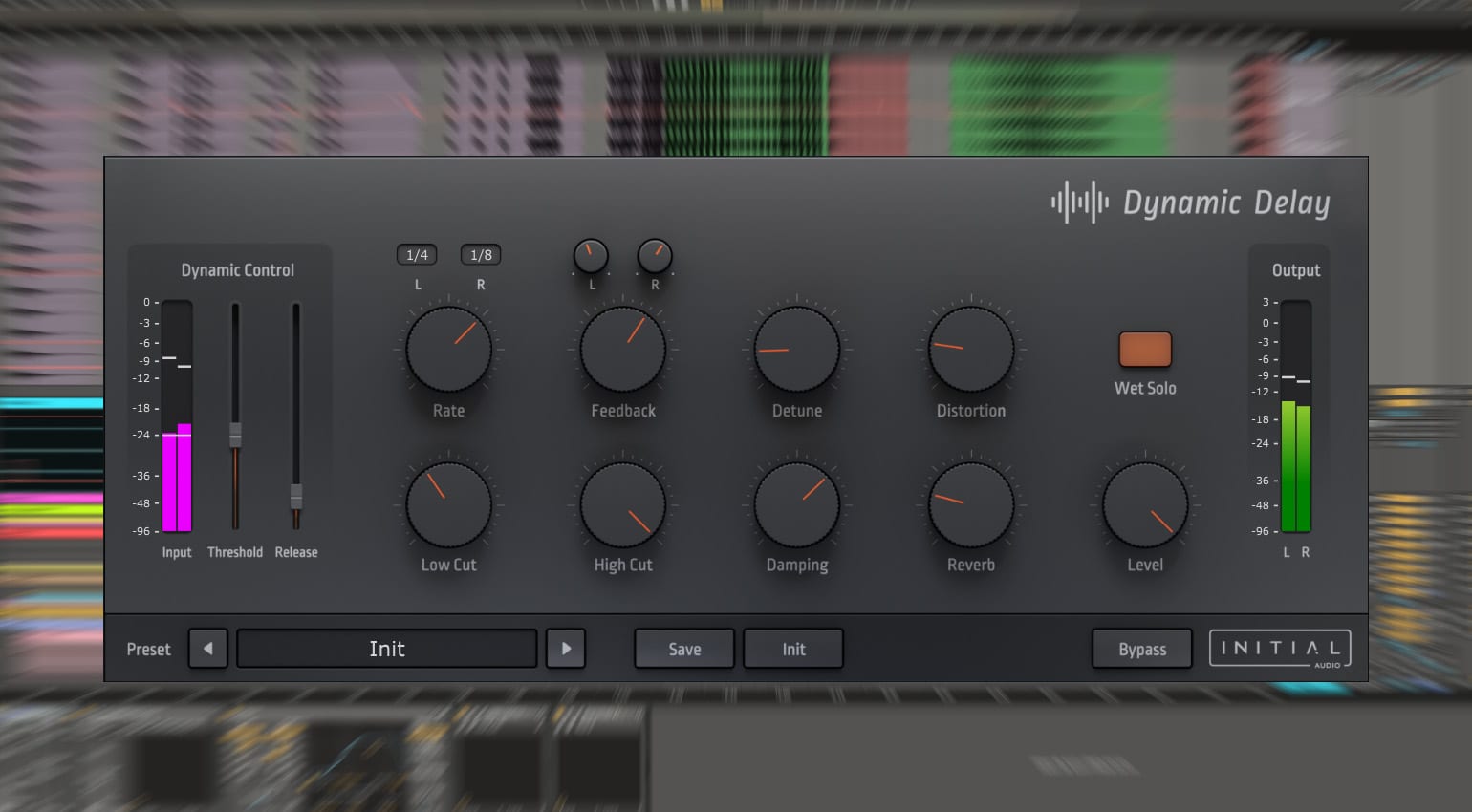 Initial Audio's Dynamic Delay is, as the name suggests, another ducking delay. The effect is made to pump through dynamic processes that you can trigger via the sidechain input. In this way, the delay is optimally combined with the song (glue effect). You can determine the intensity using the threshold control . The resulting groove gives your audio track even more groove. The obligatory high and low-pass filters, a reverb, a detune section and a distortion effect complete the plug-in.
The plug-in runs on Mac OSX and Windows as VST and AU in 64 bit. You can get the effect here at Plugin Boutique (affiliate) at the special price of EUR 21 instead of EUR 68.
Nembrini Audio F-Pedals Echobandit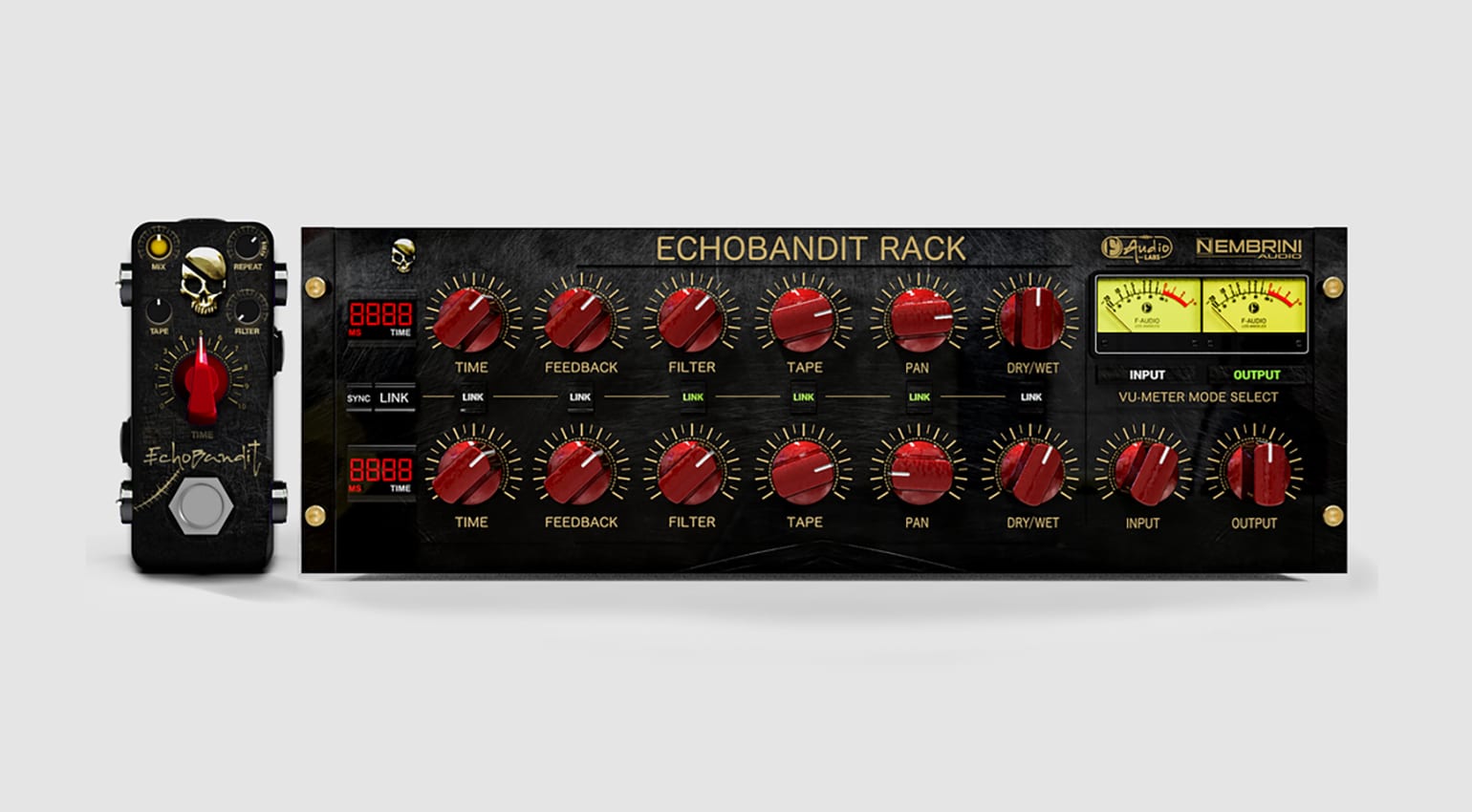 This plug-in package consists of two effects pedal emulations. Of course, the sound is very close to the model – Nembrini Audio actually brought the inventor, Eddie Kramer of F-Pedals, on board to replicate the Echo Bandit VST. The small version is equipped like a normal effects pedal and is supposed to produce the tape delay with integrated saturation quickly and effectively. If you want to go into more detail, just open the large rack version. Here, of course, you get additional parameters to fine-tune the effect to the song. This plug-in works in either mono, stereo or dual mono.
The plug-in runs on Windows 7 or higher and Mac OSX 10.9 or higher than VST , VST3 , AAX and AU. A free iLok account (or paid dongle) is required for authorization. You can get the plug-in on the developer's website for USD 99.
Kuassa Efektor DL3606 Delay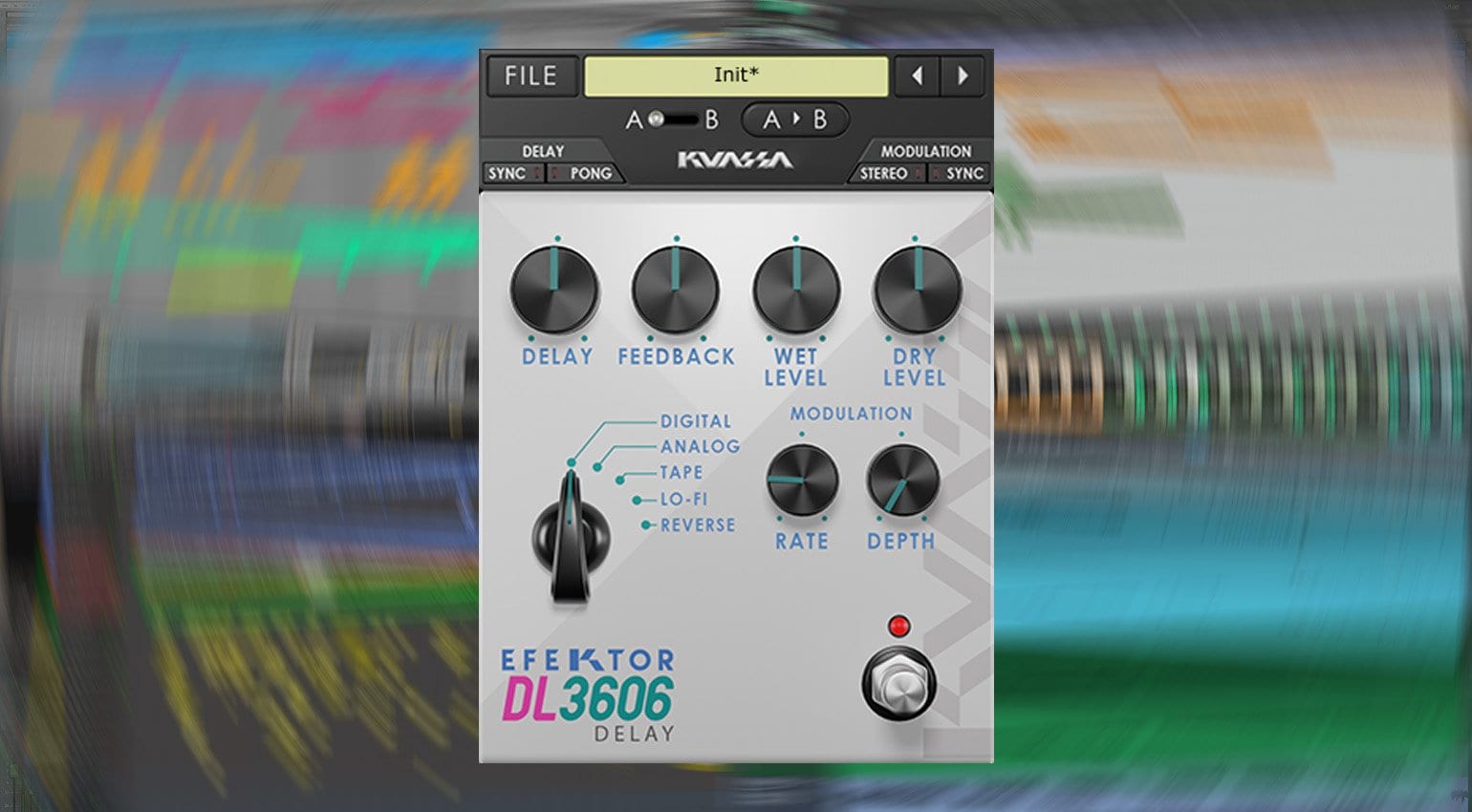 The Delay plug-in Efektor DL3606 from Kuassa contains five different Delay modes (digital, analog, tape, Lo-fi and reverse). In addition, you can bring more movement into the game through modulations. And that's exactly what brings the typical life and breadth to your audio tracks. Designed for guitars, the tool extends vibratos into a new dimension. But it certainly affects other instruments or even vocals as well. The parameters for controlling the effect are delay time, feedback, dry / wet level, rate and depth.
The plug-in runs on Windows Vista or higher and Mac OSX 10.6 or higher as VST , VST3 , AU and AAX in 32 or 64 bit. The effect costs USD 25 on the manufacturer's website.
Martinic Lem Echo Music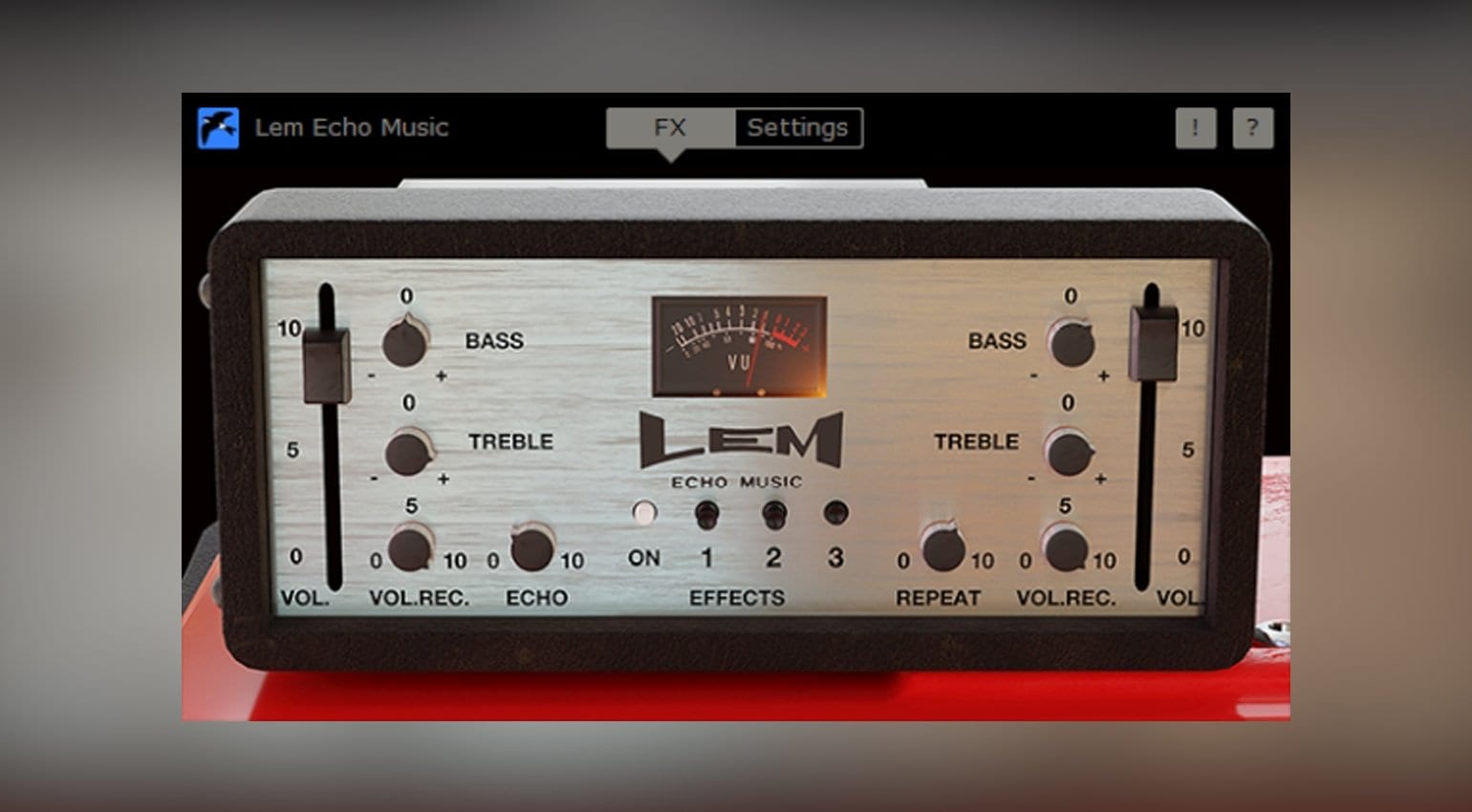 With the Lem Echo Music Effect, developer Martinic breathes new life into old Italian effect hardware. This tape echo component was part of the Elka Panther organ from the sixties. The effect is created using three playback buttons and seven combinations for the delay tap. There is also a bit of wow and flutter. You can even control the volume of bass and high frequencies separately. If you want to determine the virtual "age", you have to operate the tape age regulator. This plug-in definitely brings vintage vibes to the song.
The plug-in is available as VST and AU for macOS and Windows. The effect is sold on the company's website for EUR 30.
As always, we could go on and on with the list of delay plug-ins here. You are welcome to tell us your favorite effect in the comments! We are very excited to see which VSTs you use for your sonic escapades.
Videos
Image Sources:
valhalla-dsp-supermassive-01: Valhalla DSP
baby-audio-comeback-kid-01: Baby Audio
ik-multimedia-space-delay-01: IK Multimedia
2getheraudio-space-duck-01: 2gether Audio
inear-display-antagone-01: Inear Display
audec-spread-delay-01: Audec
initial-audio-dynamic-delay-01: Initial Audio
nembrini-audio-echobandit-bundle: Nembrini Audio
kuassa-efektor-dl3606-delay-01: Kuassa
martinic-lem-echo-music: Martinic