The Zero Guitar: A sustainable, eco-friendly 3D-printed guitar now on Kickstarter
The makers of an interesting new 3D-printed Zero Guitar have just launched a crowdfunding campaign on Kickstarter. Could this "sustainable" instrument be a glimpse into the future of guitar making?
Zero Guitar
So what the hell is this thing all about, then? Well, the people behind the Zero Guitar are trying to build a guitar that's sustainable. They've bravely elected to use 3D printing to make it, so they're trying to do something genuinely new. Is this a glimpse into the future of guitar making? 3D printing certainly produces less waste, as there are no cut-offs. And they're using recyclable materials, too. The "zero" in the guitar's name refers to the zero-waste manufacturing process.
The guitar was designed in the UK by Neil Hewitson who has a background as a guitar technician and also as a CGI designer at Gibson. The Zero Guitar is printed out of a form of recyclable nylon called PA12, which has low weight and a high impact strength.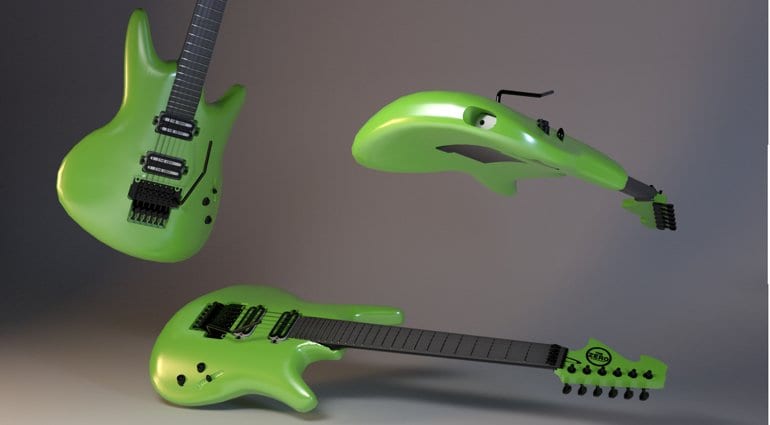 Modern Guitar Design
The makers of this guitar provide several options to personalise your instrument. The main design has a contoured double-cut body, a two-humbucker pickup layout, dual outputs and a Floyd Rose tremolo. However, there are different configurations available depending on on your pledge, from just the guitar body, to a completely finished custom guitar.
After the recent Boaz One and the Rubato Guitars Lassie, it looks as though guitar design and construction is finally pushing forward. Of course, luthiers like Ken Parker of the Parker Fly were driving new ways of building guitars back in the '90s. But now in 2019 it looks as though finally we may see more forward thinking designs emerging.
The makers aim to begin shipping in February 2020. You can hear Neil talking about the concepts behind the instrument in the video below.
More Information
Video
https://youtu.be/E4arW2YzuvA
Image Sources:
Kickstarter Zero Guitar: Zero Guitar