TapeStop, Xenos, Wave Manuel 2.0: Free Plugins of the Week
TapeStop is a useful little plugin that does just that: It delivers the classic tape stop effect without having to deal with pitch shifters, envelopes, or automation. Also in this week's roundup of the best free plugins: an experimental algorithmic synthesizer and an update for the Wave Manuel waveshaping synth.
EAS Audio TapeStop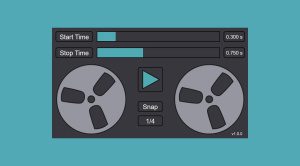 EAS Audio has released TapeStop, a free plugin that creates the effect of a tape recoder stopping or starting at the push of a button. You can dial in the desired start and stop times in milliseconds or use the snap feature to align them with the beat. Once restarted, the track remains in sync with the rest of the project. TapeStop makes it very easy to apply the popular effect without fiddling with pitch envelopes or automation curves. A great tool to have in your arsenal!
TapeStop is a VST3 plugin for Windows.
Raphael Radna Xenos
Xenos by Raphael Radna is a unique software synth based on the Dynamic Stochastic Synthesis (DSS) algorithm. The developer created it as part of his master's degree at UC Santa Barbara. Xenos offers ten stochastic distributions with up to two parameters each and first-and second-order random pitch and amplitude walks. If that sounds like gibberish, just check out the tutorial video below. For a science project, Xenos delivers some very interesting and unique sounds!
Xenos is available for macOS and Windows in VST3 and AU formats. It's built on the JUCE framework and open-source, so you can also build it for other platforms and formats if you know what you're doing.
Pauli Pölkki Wave Manuel 2.0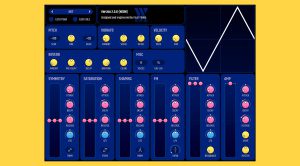 Pauli Pölkki has released Wave Manuel 2.0. The waveshaping synth has received a flashy new user interface for a better overview of what's going on. There's also a bunch of new factory presets that highlight the strengths of the synth. Wave Manuel features a unique waveshaping oscillator that delivers a huge variety of waves, plus FM and a filter for further sound shaping. It also includes a built-in reverb, vibrato, and a neat oscilloscope that displays the various waveshapes.
Wave Manuel 2.0 is available for macOS and Windows in VST and AU formats.
Visit our archive for many more free plugins!
Videos about free plugins
Image Sources:
eas-audio-tapestop: EAS Audio
raphael-radna-xenos: Raphael Radna
pauli-poelkki-wave-manuel-2: Pauli Pölkki