Tangible Waves AE Modular system gets drums
The AE Modular system from Tangible Waves aims to provide the modular synthesis experience for everyone regardless of their budget. With the basics of synthesis covered they have turned their attention to some well needed percussion sounds.
AE Modular Drums
AE Modular is really starting to come into its own. I wasn't so sure when the original Kickstarter landed but they've had a great lot of attention at Superbooth and they keep popping up on videos of well known creative people. I still think they look a bit ropey but they are definitely starting to make an impact, and not just for being cheap but for being a great sounding and creative system to work with.
Into the mix now comes three percussion focused modules to give your AE Modular a bit of rhythm.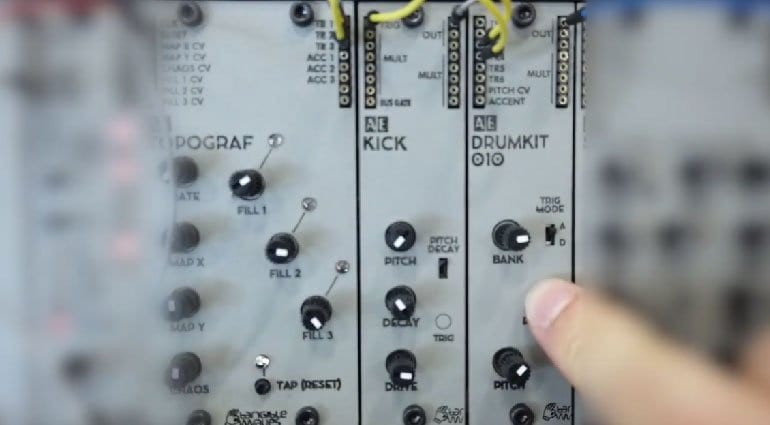 Drumkit 010
It's a simple 8-bit drum sound generator with 11 samples, 6 of which can be triggered at one time. You have trigger inputs for bass drum, snare, clap, open and closed hi-hats and "FX". There's also CV control over pitch and accent. The pitch control effects all the sounds together as does the Reverse button. Tangible Waves say not to expect high-quality, this is designed to be "nasty". Sounds like fun for €49!
Kick
It's an analogue kick drum with Pitch, Decay and Drive controls – that's about it. But for €29 there's a certain amount of economy going on here.
Topograf
It's a 3-track drum sequencer that works on a topographica principle of having a number of patterns arranged in a virtual map. You then navigate the map (and so the patterns) using the Map X and Map Y controls. Each track has a density control and there's a Chaos knob to bring in the randomness. In actual fact it's a copy of the Mutable Instruments Grids. You'll probably need two to run the Drumkit 010 but then at €65 you can probably afford it.
More information
Video
Image Sources:
Tangible Waves Drums: TuesdayNightMachines