Fender Squier 'Jarman' signature guitars: Offset oddness coming later this year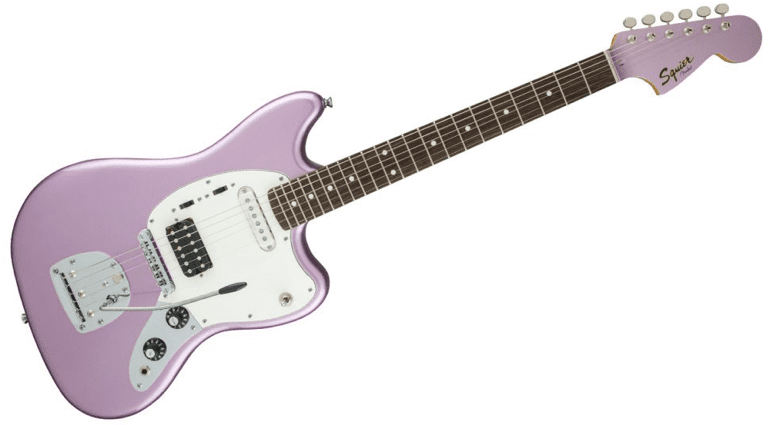 Fender Squier Ryan Jarman Signature Guitar · Source: http://www.musicradar.com/news/guitars/squier-unveils-the-cribs-signature-ryan-jarman-guitar-and-gary-jarman-bass-models-635327
Next to their impressive run of Top 10 UK albums, The Cribs are perhaps most famous for their collaboration with ex-Smiths guitarist Johnny Marr, who was a member of the band for several years. Their line-up currently consists of three brothers – Gary, Ryan and Ross Jarman – and it would seem that Mr Marr has put in a good word of them at Fender, as Gary and Ryan now have their own signature models which are due out later this year.
Neither model is based on any one particular Fender guitar and both are more of an amalgamation of old classic offset guitars from the company's history. Ryan's signature guitar is a kind of "Jagstang meets Mustang". It's the child of two popular offset instruments and has a shorter scale length – 24″ – which is popular with a lot of players. There's a Volume and Tone control, as well as on/off switches for phase and each pickup. It comes in a really vivid Burgundy Mist colour that looks lovely, and it has lots of chrome hardware to complement the look, including the classic Jazzmaster/Jaguar trem and a control plate. Comes loaded with a Duncan Designed single coil in the neck position and a high output humbucker in the bridge position. This is a really hip, cool-looking instrument for all you beard wearing trend-setters.
Gary Jarman's signature bass is again a mismatch of style, falling somewhere between a P and J bass. It comes in a lovely Ocean Turquoise colour and has a white pick guard. It's a 32" scale length bass and has a solid bridge – Fender call this a high mass unit – as well as brass saddles. It also has a single split pickup with a Volume and a Tone control.
These two Jarman brother 'offset' signature models are due out late this year around September. Neither of them has a specific name, so for now they are listed under the names of the two brothers. In the video below, the two Jarmans tell of the many years they've been fans of Fender guitars and basses.
RRP Ryan Jarman guitar GBP £345 and Gary Jarman bass GBP £330, due out in September