Soothe 2 Alternatives – The best free and cheaper VSTs to replace it
Few VSTs have become as popular in recent years as Soothe 2 from Oeksound. The plug-in offers AI-based resonance damping at an extremely high quality. But the VST is not exactly cheap. It also relies on iLok as copy protection and some do not like its sound and its workflow. That's more than enough reasons to look for Soothe 2 alternatives. 
Originally published on Gearnews.de by Julian Schmauch. Translation by Julian Schmauch. 
What is Soothe 2?
Soothe 2 from Oeksound is a so-called intelligent resonance attenuator. In other words, the plug-in's main purpose is to automatically find and dampen resonances in recordings. Usually, this is done in mixing by manually sweeping EQ bands in normal EQ plugins and finding overly resonant frequencies. If you don't do this, these frequency ranges will sound too dominant in the mix. That can lead to masking other instruments and also lead to harsh-sounding distortion and reverb effects.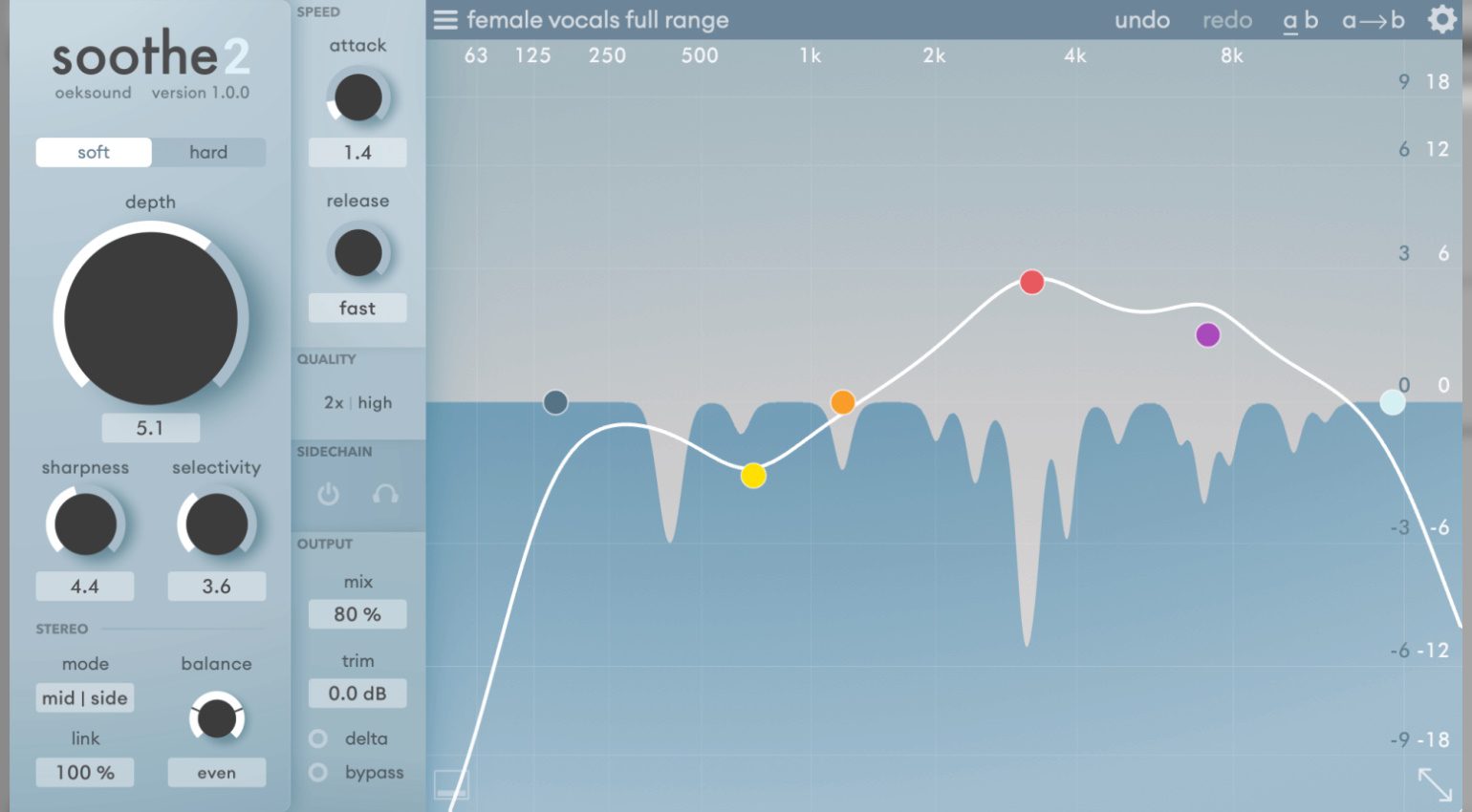 But can't you just do this with a standard dynamic EQ like Fabfilter Pro-Q 3? If there is exactly one resonant at one frequency band that does not vary in intensity, then that's fine. But most recordings are resonant in far more than one place. And then also at different volumes. Imagine having to do all of this with a giant array of EQ plug-ins and an insane amount of automation! Soothe 2 does the job for you.
The VST's algorithm detects resonant frequencies in the range you set. Then it attenuates these resonances, depending on how much attenuation you desire. Since Soothe 2's release, its fan base among producers and audio engineers has grown rapidly. So, what do Soothe 2 alternatives need to bring to the table?
What do Soothe 2 alternatives need to be able to do?
Any of the Soothe 2 alternatives we're going to suggest today will have to offer these features: Automatically detect and attenuate resonant frequency ranges. Determine the speed and detail of the attenuation. In addition, the plug-in offers up to four times oversampling and it can also be used in mid-side mode.
The first and most obvious reason you might be looking for Soothe 2 alternatives is the price. Because at 199 Euros Soothe 2 ain't exactly cheap. Manufacturer Oeksound does sales from time to time, though. But even then, the plugin will mostly go for 139 Euros.
In addition, there are quite a few producers and engineers who avoid everything concerning iLok (a copy protection mechanism) like the plague. To be fair though, Soothe 2 only uses the software-based version of iLok. So, no need to get a dongle.
Soothe 2's bright blue interface, its workflow, or even its extremely neutral sound may also not be to everyone's taste. So, let's take a look at the best Soothe 2 alternatives! But before jumping in, we recommend that you familiarize yourself with the full 20-day demo of Soothe 2.
Baby Audio Smooth Operator – The cheapest of our Soothe 2 alternatives
Since Soothe 2's release, many plug-in companies jumped on the bandwagon. But very few have come as close to the plug-in's sound as Smooth Operator by Baby Audio. The VST works in a very similar manner. It finds and attenuates resonant frequencies in a recording in real-time, just like Soothe 2 does. In contrast, Smooth Operator offers far fewer details in its settings. It also lacks oversampling.
However, compared to Oeksound's VST, Smooth Operator is quite a bit cheaper. It also generates much less latency in its special "Classic" mode. Therefore, Baby Audio Smooth Operator is one of the best and most certainly the cheapest of all of our Soothe 2 alternatives and you can get it at Thomann*.
iZotope Neutron 4 and Ozone 11 – Spectral Shaper, Sculptor and more
Ozone 11 has just come out with three new, very Soothe-like modules Clarity, Spectral Shaper, and Stabilizer. In addition, the AI-based mixing tool iZotope Neutron 4 offers a similar Sculptor module. Just like Soothe 2 these modules in Ozone 11 and Neutron 4 work in the spectral domain. And they are all aimed at damping resonances and improving the sound of your mixes.
As these modules are more on the advanced side of things, you can only get them in the advanced versions of Neutron 4* and Ozone 11*. Both VSTs are among the most comprehensive Soothe 2 alternatives given their extensive feature sets and you can get them at Thomann*.


iZotope Neutron 4 Download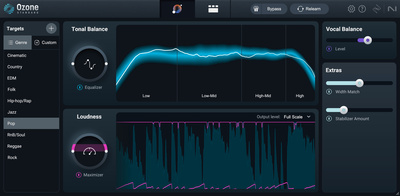 iZotope Ozone 11 Standard Download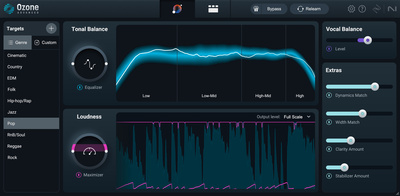 iZotope Ozone 11 Advanced Download
TBProAudio DSEQ3 is the most similar VST of our Soothe 2 alternatives.
It doesn't analyze with as many bands and it does not offer a quite as well-thought-out workflow – but in terms of functionality, DSEQ3 from TBProAudio comes closest to Soothe 2. Compared to the VST, DSEQ3 needs to be trained first on the material it's supposed to work on. But after that, it often yields even cleaner-sounding results. And just like Soothe 2, DSEQ3 offers an M/S mode and up to four times oversampling.
Therefore, DSEQ3 comes pretty damn close to Soothe 2 in many aspects. You can get the VST at TBProAudio's online store where DSEQ3 costs 94.01 Euros including taxes.
More alternatives and runners-up
The sheer number of Soothe 2 alternatives is too big to list them all in the same detail as we have up until this point. But here are a few VSTs worth mentioning:
Some readers may wonder why we didn't include Gullfoss by Soundtheory as one of our Soothe 2 alternatives. The plug-in also operates AI-supported and it also raises and dampens many frequency bands simultaneously. However, it is not suitable for targeted damping of resonances.
Free alternatives to Soothe 2
If you try to find a free alternative to such a versatile and high-quality plug-in like Soothe 2, you will inevitably have to make sacrifices. But there are some VSTs out there that come close. For instance, when it comes to dynamically attenuating only a static frequency range, i.e. you want a dynamic equalizer, TDR Nova is one of the best free dynamic EQs.
And if you happen to own FL Studio, take a look at Mitigate, a software tool specifically written for the popular DAW. Last but not least, Wavegrove's Vastaus works in a similar manner as Soothe 2, but only with high frequencies.
Conclusion
Oeksound Soothe 2 is one of the most powerful and high-quality audio plugins of the last few years. And it comes at a price. Whether it's worth paying that or whether one of our suggested Soothe 2 alternatives wouldn't be better, is up to you to find out.
* This post contains affiliate links and widgets. When you buy a product via our affiliate partner, we receive a small commission that helps support what we do. Don't worry, you pay the same price. Thanks for your support!
Image Sources:
oeksound-soothe-2: Oeksound