Rumours build as Apple's MacBook Pro is long overdue an update
... but will it still be a 'pro' enough for the many musicians and producers using it now?
Whilst there was speculation that we might have seen a new MacBook Pro at WWDC 2016 earlier this month, Apple kept their word and only announced a host of new software and software updates. It was March and May last year that saw the latest update for the MacBook Pro's, so many are anticipating an imminent release. The most reliable rumour from KGI Securities analyst Ming-Chi Kuo suggests the release will come in the 4th quarter of this year, which for Apple is July to September. However, a more skeptical source in the form of Japanese web site Mac Otakara suggests we could see a complete refresh of the MacBook Pro in June. We take a look at some of the top rumours developing around the new MacBook Pro and what they might mean for professionals…
Skylake Processor
Let's start off with some potentially good news. Apple is falling behind other manufacturers such as HP, Dell and Microsoft who already offer devices with Intel's latest Skylake processors. These are 6th generation Intel processors which could increase the MacBook Pro's performance considerably. Predictions are that this move could prove more beneficial than when Apple moved from Haswell to Broadwell chips which mostly brought efficiency and battery life improvements. With Skylake processors incorporated in an overall refresh of the MacBook Pro, there's definitely hopes for much faster machines with even better battery performance.
OLED Display Touch Bar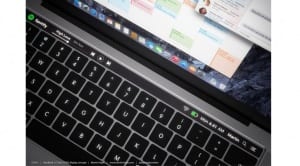 As seen here in this computer generated image, there is strong belief that the latest model will have an OLED display touch bar in place of the standard function keys. Whilst this looks cool, I'm certainly skeptical about this being suitable for professionals. I use the function keys in my DAW on a daily basis, and presumably find them via feel and muscle memory. Taking my eyes off the screen to see where the function keys are could become tiring.
This information was hinted at by Kuo of KGI Securities who said the new MacBook Pro will "use OLED display touch bar (to replace physical function keys, located above the keyboard)". Evidence of this rumour becoming a reality is said to be found in the programming of the new Mac operating system Sierra, which was released as a beta version. Some images were supposedly leaked online in May, showing the new body with a blank strip for the new touch bar, which also supports this rumour.
Keyboard
Besides the loss of the function keys and the new touch bar, there are concerns about the keyboard being the new butterfly mechanism found on the latest MacBook. Surely not, this can't be the most professional? Even more concerning is idea that the new keyboard will feature 'zero-travel' keys on a touch-sensitive slate, giving force feedback like the Force Touch trackpad.
A rumour that I simply can't believe is that the new MacBook will have a touch screen with a removable keyboard, much like the Microsoft Surface devices. This was dreamt up after news leaked that Ampenol, the manufacturer who makes the hinges for the Microsoft convertible tablet, started shipping hinges to Apple, supposedly for the new MacBook Pro. This is hard to believe because of the iPad Pro, and that the OS Sierra hasn't been written with a touch screen front end in mind. This news does however highlight a release is right around the corner.
Touch ID and OS Sierra
Depending on which article you read, there's an idea that the new MacBook Pro's will either have Touch ID built in, or users can unlock their Mac with the Touch ID on their iPhone. Either way I can see this posing issues for bigger facilities, particularly post production houses with many employees. However, if implemented correctly, it could also provide a very useful and secure way to achieve many tasks. Perhaps we could eventually do away with our iLoks? Having software licenses assigned to our fingerprints could both be useful and concerning.
The new Mac operating system Sierra was released in its beta form at WWDC, seeing an end to OSX. It's fairly safe to assume that the MacBook Pro release, whether that be now or at the end of the year, will mark the official release of Sierra. At first glance Apple appear to be bringing the world of desktop OS and iOS closer and closer. For example, Siri – the iOS assistant activated via speech is becoming part of a Mac's operating system too. Let's hope we don't sit in a studio one day soon and say; "Siri, I'd like to mix this record now", and Siri formats your hard drive!
4G Connectivity
Whether or not we can expect SIM card capabilities inside the new MacBook Pro's is hard to tell, but it wouldn't come as much of a surprise. Mobile phone and data plans are getting cheaper and cheaper, with more and more of our lives spent 'online'. I actually like this idea and hope the ISP's will continue to develop suitable packages for the modern world. I would certainly benefit from such a feature, I just wonder if my Dropbox activity would send me over my data limit. If Apple are to add this feature, then they must make it physically optional I think. There are many scenarios where this is could provide security issues.
Thunderbolt 3 and USB-C
The new MacBook Pro's will almost definitely offer one or multiple USB-C ports. Following the new MacBook with a USB-C port and Intel's move to combine USB-C and Thunderbolt 3, it's a safe bet the new machines will also offer USB-C. The real question here is what other ports will the MacBook Pro's have? There is a good chance that there will only be USB-C ports available as Apple are used to making bold moves like this on a model revamp. A few years ago for example, we saw the loss of optical drives. Here's to buying even more expensive converters which Apple enjoy selling.
Thinner & Lighter
Kuo also comments that the new MacBook Pro's will be "thinner and lighter" which is reasonably predictable. Everything get's smaller and more compact, and the MacBook Pro is almost certainly due some attention in this area. Whilst this sounds 'nice', I obviously hope this doesn't effect the performance of the machines. As pro's we're not interested in the laptops being any smaller. We really don't want to see Apple's line of products becoming more similar with little to separate the MacBook, MacBook Pro and iPad. This is a pro machine used by professionals, and I hope it stays that way. I'd rather trade in the loss of size and weight, for a quieter and more stable machine any day. It would be music to my ears if the new MacBook Pro was a silent machine!
MacBook Pro 2016 – References
Here are the sources for these predictions. Whilst we can't be sure about any of the information here, it's certainly some interesting reading:
MacRumours:
http://www.macrumors.com/2016/05/23/macbook-pro-2016-oled-display-touch-bar/
http://www.macrumors.com/2016/06/16/hardware-free-wwdc-second-half-2016/
http://www.macrumors.com/roundup/macbook-pro/

Mac World:
http://www.macworld.co.uk/news/mac/2016-macbook-pro-retina-release-date-uk-touch-id-4g-oled-display-leak-13-15-in-sierra-3593988/
Tech Radar:
http://www.techradar.com/news/mobile-computing/laptops/macbook-pro-2016-release-date-news-and-rumors-1318467
Image Sources:
Apple MacBook Pro 2016 Rumour - OLED Display Touch Bar: macrumors.com