NAMM 2018: Audient intros iD44 20in/24out USB audio interface with console-grade preamps
Following up last Friday's teaser announcement, British brand Audient unveiled its new ID44 audio interface. Our prediction that the company intends to bring more inputs and outputs to its product range, filling an obvious gap in its catalog, turned out to be correct. The iD44 offers an imposing 20 inputs and 24 outputs, introducing the brand's coveted proprietary preamps and choice of Burr Brown AD/DA converters to owners of bigger studios. There's lots to reflect upon in this device, so let's have a look!
Preamps
Continuing the iD line's design language, the iD 44 is quite compact for what it is, made of aluminum, and styled in black & silver. It has four of Audient's Class-A mic preamps, ripped straight out of the company's flagship recording console – the ASP8024HE. They deliver up to 70dB of gain, which is enough to power even gain-hungry dynamic microphones like the notorious Shure SM7. The original preamp design by David Darden from DDA & Advision Studios dates as far back as 1997. It can be described as clean and punchy, with a bit of added character as to impart some pleasant musicality to the signal that your typical "transparent" preamp might be too clinical to deliver. At the heart of Darden's design is the recreation of a specific transistor, originally designed for record player preamps. Overall, you can count on the iD 44 to sound like a console- not exactly an SSL, Neve, or API, but a more modern spin on the coveted analog character that everyone, ironically, seems to be after in the digital era!
Converters
Once more, Audient chose Burr Brown AD/DA converters, the same ones which it has been using for the rest of the iD line and its ASP recording consoles. The company has a liking for these converters, choosing them after deliberate testing & listening and proclaiming they are among the best available. While conversion quality is up to much debate, due to the intricacies of discerning miniscule differences in quality despite the human ear's limitations, Burr Brown converters are generally well-regarded as approaching the conversion quality that brands like Apogee and RME are known for.
Connectivity and expansion
Audient outfitted the iD44 with two optical inputs and outputs that support both ADAT and S/PDIF. This way, the iD44 can be expanded with up to 16 channels of mic preamps for bigger recording sessions. Furthermore, there's a word clock output, four line outputs, inserts with Send/Return jacks, and a pair of D.I. inputs. The latter are designed to simulate the input stage of a "classic" tube amp, giving recorded guitars, bass, synths, and other analog signals a warm welcome. Finally, there are two separate headphone outputs, each with a dedicated stereo amplifier and DAC. This lets you set up separate cue mixes through the iD44's stereo outputs with the best possible sound quality.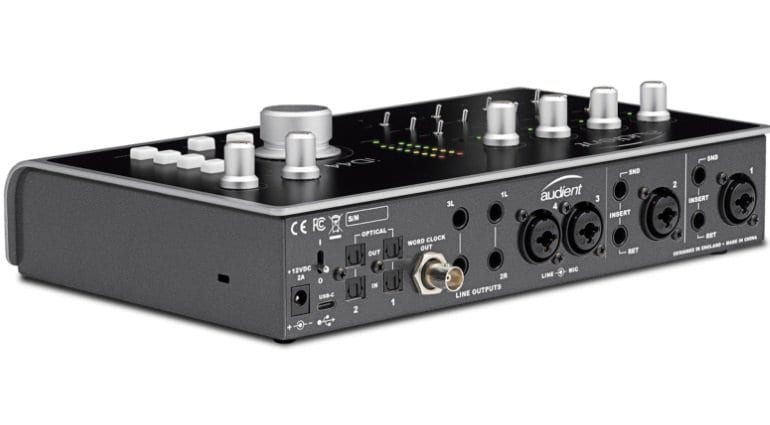 Monitoring
The iD44 has extensive monitoring capabilities with its dedicated talkback, cut and dim buttons, polarity switching, mono, speaker select, and cue mix on board. The talkback technology, in particular, lets one use any audio source connected to the computer – perhaps its built-in microphone, or an external USB mic – for talkback. This frees up the mic preamps for actual recording. Furthermore, Audient made it so that all monitoring functions can be assigned to three programmable function buttons, skipping typical routing matrix and other menu-heavy software facilities for actual hardware control. It's a nice display of forward-thinking engineering that illustrates Audient's goal of cramming as much from its analog mixing desks as possible into its desktop audio interfaces.
Software
Of course, a modern audio interface won't stand a chance if it didn't come in pair with some slick software for routing and mix control. Audient's iD Mixer tool allows the creation of up to four stereo artist cue mixes with naming and channel customization, user presets, button assigning, and other features to let users have an easier time using the device.
Speaking of software and user interfacing, Audient added a clever and modern touch of functionality to the iD44's panel. The volume encoder can become a virtual scroll wheel, suitable for use within a DAW for tasks like dialing in settings, adjusting faders, and drawing automation.
Finally, Audient bundled a Creative Hub subscription that sets iD interface owners up with a hearty bunch of software, such as Cubase LE, Eventide's Ultrachannel and Ultraverb plug-ins, free courses from Producertech, mastering from LANDR, and more stuff for producers to sink their teeth in.
Price and availability
The Audient iD44 is available now for pre-order at select retailers, priced at 577 USD. The price tag is a point of interest, as 500 to 600 USD audio interfaces rarely feature extensive connectivity, console-quality preamps, and aluminum builds. The iD44 has all that, which turns it into a very compelling choice for a mid-range audio interface that would feel at home inside studios of all sizes – except the really large ones. For some, there might be a tough choice between the iD 44 and other new interfaces announced at NAMM – such as Universal Audio's sub-500 USD Arrow 2 x 4 interface, PreSonus' new rack interfaces, or Focusrite's Clarett USB range. Competition in the mid-market is super tough at this year's NAMM, which is good for consumers and a serious headache for manufacturers. Still, Audient doesn't seem disheartened – it's firing on all cylinders, delivering more of its well-respected technology in a bigger, better package.
More information
Image Sources:
Audient ID44 - back: Audient