Homework to Random Access Memories: How to Sound Like Daft Punk
Quite unbelievably, this week marks the tenth anniversary of "Random Access Memories" by Daft Punk. Join us as we relive a piece of music history! How did Daft Punk create the sounds that became their unmistakable trademark and what gear did they use? And how did their approach on "Random Access Memories" differ from their earlier albums, which were no less groundbreaking?
Homework and Discovery: The classic Daft Punk Sound and Gear
"Da Funk", "Around The World", "One More Time", "Harder, Better, Faster, Stronger": With their first two albums, Guy-Manuel de Homem-Christo and Thomas Bangalter created the soundtrack of an entire generation. This distinctive sound made Daft Punk one of the most influential groups in the history of electronic music, cited as an inspiration and influence by countless other musicians.
Not only did the two Frenchmen rarely show their faces in public, they also only sporadically let the guard down when it came to equipment. However, a few secrets did leak out over the course of the years. We take this as an opportunity to compile a list of synths, effects, and other gear that will bring you closer to the classic Daft Punk sound.
Samplers: E-mu SP1200, Akai S01, Ensoniq ASR-10, Roland S-760
Samplers played a huge role in the duo's sound on "Homework" and "Discovery", perhaps even more so than synths and drum machines. Daft Punk used various samples such as the legendary E-mu SP 1200, AKAI S01, Ensoniq ASR-10, and Roland S-760. In a feature published in Japan in 1997, they also shed some light on their workflow: The outputs of the synths and effects units were first recorded onto DAT. From there, they used hardware samplers to sample, process, splice, and combine the various elements. The result then ended up on DAT again.
Unlike vintage synthesizers and the legendary SP1200, you can still score some samplers from the 1990s like the SP-760 quite cheaply with a bit of luck, although prices are on the rise. It's also a question of whether you can still find working memory modules and drives – and whether the sonic results justify the effort of dealing with the often cryptic user interfaces of old samplers and various compatibility problems. What is certain is that Daft Punk used samplers because of their specific sound. Today, you can get close to the sound of old digital devices with a high-quality bitcrusher like the D16 Decimort 2, for example.
The 12-bit sampler E-mu SP1200, however, belongs to the select handful of digital devices that fetch astronomical prices – mainly because of its importance for the history of hip hop. If you can't get hold of an original, the waveTracing SP950 plugin is a cheap alternative. There's also the Isla Instruments S2400, a sampling groovebox that is strongly inspired by the SP1200 and offers a 12-bit mode.
Daft Punk Gear: Roland Variphrase VP-9000
On "Discovery", the Roland Variphrase VP-9000 was instrumental to Daft Punk's sound, especially the vocals. Today, it's easy to take for granted that audio can be freely manipulated in terms of playback speed, pitch, and formants. At the time, it was nothing short of a revolution. Daft Punk reportedly received the VP-9000 from Roland even before its release. Ever since then, it is an essential part of the Daft Punk sound – an early form of viral marketing.
As we are now used to being able to bend audio in every conceivable way, the special thing about the VP-9000 is not so much what it could do (that's available everywhere today, in much better quality), but rather its unique workflow. If that's what you're after, I'm afraid you'll need to go hunting for a real VP-9000. If it's just about the vocal sound, a vocal processor like the Roland VT-4 goes a long way.
Roland Juno-106
The Juno-106 is one of the most popular analog synthesizers of all time and was used by Daft Punk on their debut album "Homework", according to their own account. Like many other vintage synthesizers, the Juno has become insanely expensive, although it can still be had for much less than a Jupiter-8, for example, and there are some good-sounding modern alternatives. Here are some tips on how to recreate the classic Roland Juno sound using software plugins.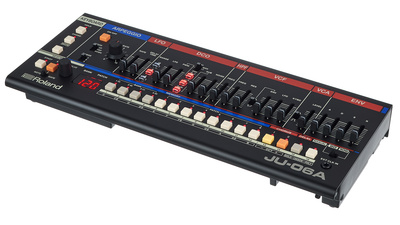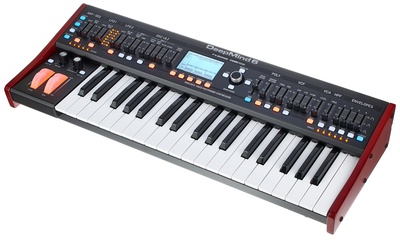 Roland MC-202/TB-303
Of course, the Roland TB-303 and MC-202 – a combination of a 303-style sequencer and the sound engine from the SH-101 – were heavily used, too. Luckily, the TB-303 is the most frequently copied synth out there and various digital and analog alternatives are available from manufacturers such as Roland, Behringer, Cyclone Analogic, and others. The new Roland SH-4d takes the concept further with several different oscillator models based on various classic Roland synths, alongside other synthesis methods.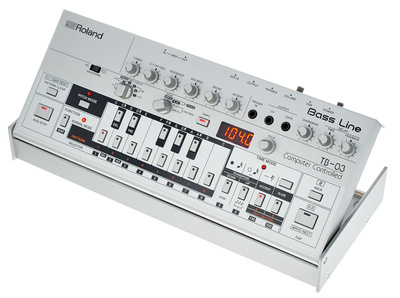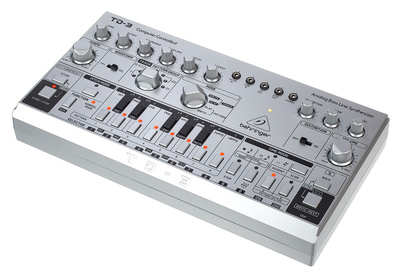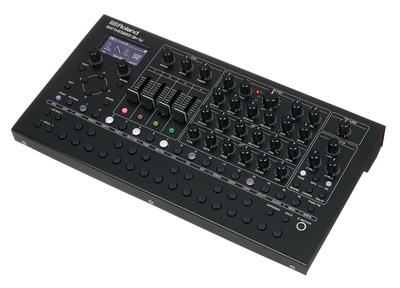 Daft Punk Gear: Drum Machines
When it comes to drum machines, Daft Punk mainly relied on the classics from the Roland TR series, but the Linndrum also appears on the list. Like the 303, the sounds of the TR-808 and TR-909 are easy to come by today, for example in the form of the Roland TR-8S, TR-08, Behringer RD-8, and RD-9. As the TR-8S not only includes the sounds of the sample-based TR-707, but also lets you load your own samples – for example those of the Linndrum –, it's a versatile option that covers almost the entire range of Daft Punk drum sounds.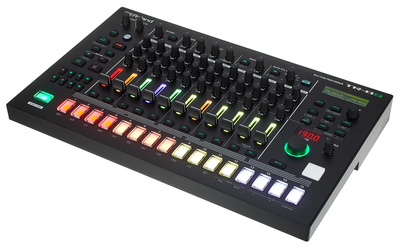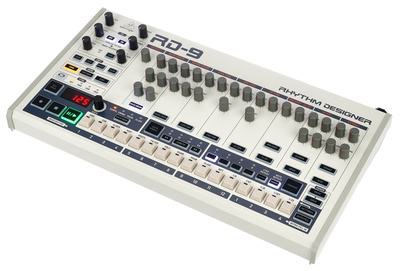 Effects: Compressors, Phasers, Vocoders and other Daft Punk Gear
There was hardly a sound that Daft Punk didn't run through some kind of effect. The duo used various stompboxes like phasers and distortion pedals for their synthesizers and drum machines. The rack-mounted Ensoniq DP/4 from the 90s also left its mark on the sound, as did (obviously) various vocal effects, such as a talkbox and a vocoder. In addition, Daft Punk used various inexpensive rack effects from Behringer and Alesis in the early years, for example the Alesis 3630 Compressor.
The Gear used on Random Access Memories by Daft Punk
"Random Access Memories" marked a departure from the band's earlier albums in terms of gear, production workflow, and sound. They publicly stated that they wanted to go back to the way records were made in the 70s and 80s and drew inspiration from bands like the Eagles, Fleetwood Mac, and Pink Floyd, among others. Consequently (and in stark contrast to their earlier works), RAM involved a lot of live musicians (including legends like Nile Rodgers) and analog tape recorders. According to engineer Peter Franco, most tracks were first recorded straight to tape and then transferred to Pro Tools for editing.
Unless you have access to actual analog gear, a tape simulation plugin like u-he Satin, Waves J37 Tape or the IK Multimedia T-RackS Tascam Tape Collection is your best option for that sweet tape saturation. Be sure to also take a look at our list of the best free tape simulation plugins!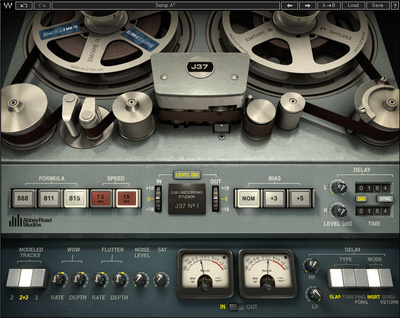 IK Multimedia T-RackS TASCAM Tape Collection Download
That said, Daft Punk decided to avoid using plugins on Random Access Memories altogether and opted for analog outboard gear instead. So if you really want to go all-in, there's no other way than to invest in outboard compressors, equalizers, and preamps. Our guide to Outboard Gear for Beginners provides some tips. For more great reads on classic hardware, check out these articles:
Modular Melodies
Smack in the middle of the Random Access Memories project, Guy-Manuel and Thomas took a break to compose the acclaimed soundtrack for the movie Tron. This involved lots of experiments with their custom modular synthesizer, which then left a mark on the band's next album, as well. Daft Punk's modular synth reportedly included a bunch of custom modules made specifically for them, so it's not easy to track down what they used exactly. But you'll be off to a great start with our Eurorack Starter Kit or a semi-modular synth.
A Blast from the Past
From the accounts of Peter Franco and Mick Guzauski, who was responsible for most of the live tracking sessions in L.A. and also mixed the album, we know that Daft Punk stayed true to their original plan. Random Access Memories very much involved the gear and recording and mixing techniques from in the 60s and 70s – with the exception of extensive, meticulous editing in Pro Tools. The duo spent several years rearranging the files from the various recording sessions into what would eventually become the final tracks.
The audio editing capabilities are one of the main reasons many still use Pro Tools – although the DAW now faces stiff competition and is far from being the only option. Read our tips on how to choose the best DAW system!
Videos about Daft Punk's Random Access Memories
* This post contains affiliate links and/or widgets. When you buy a product via our affiliate partner, we receive a small commission that helps support what we do. Don't worry, you pay the same price. Thanks for your support!
Image Sources:
E-mu SP1200: Oscidance
Isla Instruments S2400: Gearnews
TR-909: Roland