Guitar Gear Gems: The Beast, Diablo IV and more
The Beast is going nowhere
This week on Guitar Gear Gems we take a look at the Jackson Diablo IV Special Edition Kelly model. A guitar made to celebrate the latest Diablo IV game. Then we take a peek at a guitar made using 10,000 fallen leaves. And finally, it turns out that Bernie Marsden has decided not to sell his Gibson '59 Les Paul Burst for $1.3 million.
Jackson Diablo IV Special Edition Kelly
This Jackson Diablo IV Special Edition Kelly is a Custom Shop model and screams heavy metal! It is actually a collaboration with Blizzard the maker of the latest Diablo IV game franchise. The model was master built by Pasquale "Pat" Campolattano.
It even sports a Custom Diablo IV graphic hand-painted by Dan Lawrence and it has a set of mother-of-pearl demonic runes for fret inlays.
The red, black and white colour scheme really pops and the dark ebony fretboard looks perfect for this demonic-looking axe.
Screaming Demon
Key specifications include the EMG 81/60 active pickup and the FU-Tone Titanium Floyd Rose locking trem system. This model is also equipped with a set of colour-coordinated Gotoh Magnum locking tuners.
It is not going to be cheap, so you may want to go for one of these more affordable models instead.


Jackson JS32 Kelly Ferrari Red AH


Jackson JS32T Kelly AH SBK


Jackson JS32 Kelly Snow White
10,000 Fallen Leaves
At the other end of the guitar spectrum is this one made using 10,000 fallen leaves built by Marlon Roxas who is a luthier and YouTuber from the Philippines.
This single humbucker model is a back-to-nature work of art.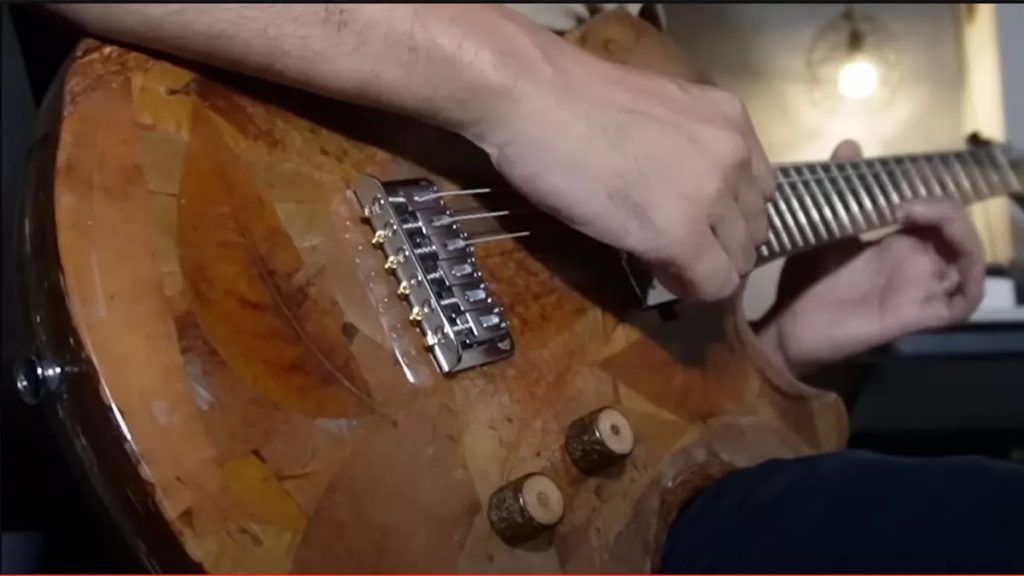 Epoxy
The leaves are sealed in epoxy resin and so they are still visible through the clear finish. The 20-minute video itself is well worth a watch and is a very relaxing watch.
It is really quite impressive to watch the multiple layers being gradually built up into a structure which is then turned into a guitar.
Bernie Marsden
Bernie Marsden has now decided not to sell his Gibson '59 Les Paul Burst named The Beast for $1.3 million.
The following statement appeared on the guitarist's Instagram account, as he has had a change of heart.
"I have been astonished by the reaction to the potential sale of The Beast! As you all know, I've had the guitar since 1974 and technically it's been for sale ever since…
That's what happens when you own a vintage Les Paul! 
However, I have had some constructive conversations with my family and they feel it should stay with me for a bit longer, and so I have withdrawn it from a possible sale…
I hope this improves your moods.
BM"
The Beast stays put
Originally, Marsden had put the guitar up for sale with a specialist guitar dealer, along with a whole collection of his other instruments.
These include a stunning 1952 Les Paul Goldtop, a 1961 Tele Custom, a 1963 Firebird I and a 1966 Gibson EDS-17.
Now The Beast is staying with Bernie and I personally think that was possibly a very sensible decision. Marsden is one of the nicest people in rock and I cannot imagine him without this famous guitar by his side.
If you fancy a '59 Burst then these offerings from Thomann are far more manageable financially.


Gibson Les Paul 59 Dirty Lemon VOS


Epiphone 1959 LP Standard Outfit ADB


Epiphone 1959 LP Standard Outfit ADCB
This post contains affiliate links and/or widgets. When you buy a product via our affiliate partner, we receive a small commission that helps support what we do. Don't worry, you pay the same price. Thanks for your support!
Image Sources:
Jackson Diablo IV Special Edition Kelly: Jackson
10,000 fallen leaves in a guitar: YouTube/Gitara Maker
The Beast: Instagram/Bernie Marsden