bx_console AMEK 9099: Neve-designed 9098i analog mix console emulation
Developer Brainworx has introduced a new analog console emulation – bx_console AMEK 9099. Brainworx remaking the Rupert Neve-designed E 9098i desk using some of the finest analog modeling technology around surely raises expectations. The plug-in will be on sale from August 3, but it's already available to subscribers of Plugin Alliance's Mega, Mix & Master, and Brainworx bundles. If you are among them (or fancy a free 14-day trial if you're not), you have an excellent opportunity to put those expectations in check.
bx_console AMEK 9099
The Rupert Neve-designed AMEK 9098i Master Console is considered a landmark achievement in analog console design. While the emulation is not officially endorsed by AMS/Neve, it's not stopping Brainworx from doing it justice. Each console channel is emulated per component and includes the variances between channels that add up to greater width and depth when summed. While going at it, Brainworx conjured some useful functionality additions, such as Clip mode for the Limiter (promising fast and smooth soft clipping) and a brand new Expander/Gate design with sidechain filtering.
bx_console AMEK 9099 is also the first plug-in from the series to include options such as Mono Maker (sum to mono), Stereo Width (expand or narrow the sound stage), and Auto Listen (solo the frequency band you are adjusting). The rest is all about bringing some of the Amek 9098i's unique functionality to your DAW – such as Sheen and Glow modes for the shelving filters, Notch mode for precise cuts using the parametric bands, a fully parametric dynamics sidechain filter for even more precise control of the compressor and limiter, and an Ambience switch in the dynamics section.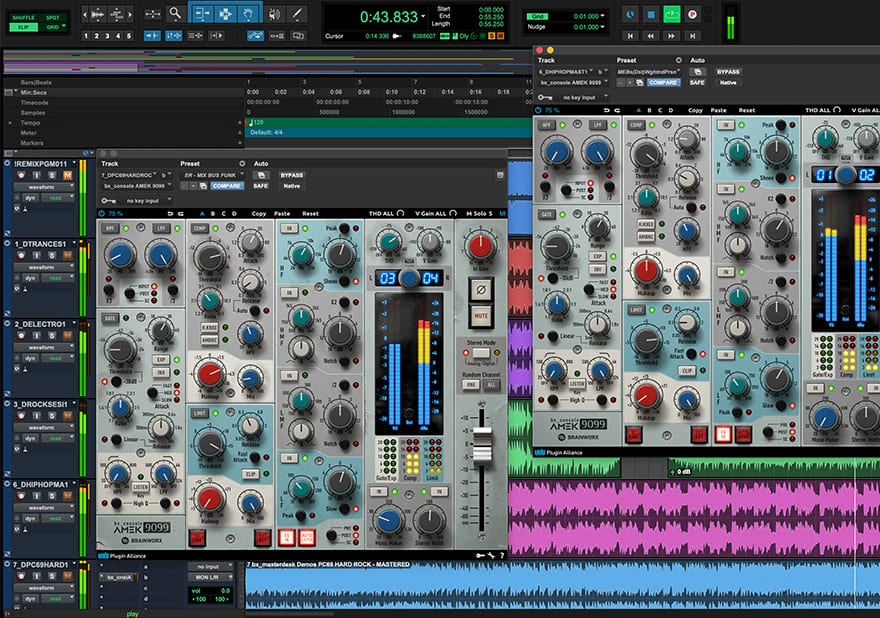 The AMEK 9099 could well become one of the greatest console emulations around. Can someone haul an old AMEK Mozart down to Brainworx HQ next?
bx_console AMEK 9099 – Price and availability
bx_console AMEK 9099 will go on sale at Brainworx partner Plugin Alliance from August 3, presumably priced in the ballpark of other bx_console products – that is, USD 350 regular price with regular promos taking some of the edge off. Meanwhile, subscribers to the Mega, Mix & Master, and Brainworx bundles get early access to the plug-in. You can trial each subscription free for 14 days. bx_console AMEK 9099 is available in AAX DSP, AAX Native, AU, AAX AudioSuite, VST2, and VST3 formats for 64-bit computers running macOS 10.9 or later (Intel only) and Windows 7 or later.
More information about bx_console AMEK 9099
bx_console AMEK 9099 – Video
Image Sources:
bx_console-AMEK-9099: Plugin Alliance