Best Neve-inspired Plug-ins: 7 preamp, EQ, and console channel strip emulations
Great plug-ins by Acustica, Softube, Brainworx and more that model legendary Neve hardware
While esoteric and conspiracy-minded folks may disagree, technology is the closest we ever got to magic. Analog emulations are proof. Ever seen a large-format studio desk? The kind that sounds like an old record and heats up a medium-sized room (with the accompanying electricity bill?) Well, you can have that inside your computer now, and it sounds dead-on. I think that's pretty darn magical!
Below are 7 fine examples of that kind of magic in action. These are the finest emulations of Neve recording equipment that I know of. Neve gear is the holy grail of analog mixing for many reasons. Chief among them is the brilliant craft that went into the late Rupert Neve's timeless works. Second, the sonic character – open, musical, and pleasantly colored. It's only second because taste is subjective. Me, I'm an SSL guy, I like precision and punch. But I'll never fault a Neve. Or an API, or a Trident, or a Studer. The fact we keep talking about these names some 50 years after their emergence is a testament in itself!
The emulations below cover a lot of ground for not a lot of money. Some focus on the most essential Neve modules, the ones that many studios still swear by – the 1073 preamp, the 1084 EQ, and the 2254 compressor/limiter. Others delve deeper into Rupert Neve's legacy to explore rarer, off the mark creations. No matter which plug-in you choose, you are getting excellent value and more than a little of that coveted Neve sound for your DAW.
Brainworx bx_console_n
bx_console_n has to be the plug-in that put the Brainworx name on the map as a synonym for excellence in analog emulation. It recreates a rare 72-channel Neve VXS console owned by Brainworx CEO Dirk Ulrich. Unfortunately, the relic of audio engineering suffered flood damage last year. You can read more about that here.
True to form, Brainworx isn't joking around when it comes to the emulation's depth. All 72 console channels are modeled, complete with the channel strip processors, crosstalk and component tolerances. That means each plug-in instance sounds a little different. Combined, they make for a complete virtual console replica living on your DAW tracks. This adds the kind of realism and elusive "3D" sound quality which is where less sophisticated analog emulations miss the mark.
Gobs of console saturation is one thing, but the Neve VXS channel strip is stacked with processing options: Compressor/Limiter, Expander/Gate, 4-band EQ, High Pass and Low Pass filters. Like in real life, the EQ and Dynamics curves for these processors are all a little different on each channel. Having accomplished authenticity, Brainworx thoughtfully added modifications such as Dry / Wet mix control for the compressor and the ability to adjust the threshold for its secondary release time; a HPF control for the Compressor's sidechain input; a switch to turn the EQ from post- to pre- Compressor; THD control to adjust harmonic distortion; Mid/Side processing and more.
Price: Depends on what kind of sale Plugin Alliance is having in the next 5 minutes :p
More information
Lindell Audio 80 Series
Lindell Audio developed exacting emulations of the original 1073 (preamp), 1084 (preamp/EQ), 2254(compressor/limiter), and 1272 (line amplifier) modules. These are the Neve-est modules of them all, found in the 80 series hand-wired desks that are the stuff of legends. Think of the rare Neve 8028 console, one of which is owned by Dave Grohl and featured in the Sound City film. So if you want a deep impression of 'that' sound but don't get to roll with the Grohl, Lindell has you covered. It borrowed Brainworx's tried and trusted TMT modeling technology to model each individual component. A total of 32 channels are emulated, complete with component tolerances, cross-talk, harmonic distortion and all that jazz.
Price: Check with Plugin Alliance.
More information
Acustica Audio Gold4
Gold is one for the real diehards: the 'rare Neve' collection to rule them all. That's 9 EQs, 2 compressors, and 7 preamps contained within 4 plug-ins. Among them, you will find artefacts like a pair of EMI-Neve EQs sourced from the venerable 1081 module, the rare Neve 3115 console preamp/EQ (basically a compact 1081), the Neve 31102 (a 1073 with additional high frequencies and mid-range high Q), and the tube-based Neve 9001 preamp. They are brought to life using Acustica's proprietary dynamic convolution technology. It puts a bit o' stress on the ol' CPU, but it does sound glorious. Gold4 is my go-to when I want a bit of Neve action without loading a complete channel strip.
Price: EUR 199
More information
NoiseAsh Audio NEED Preamp and EQ Collection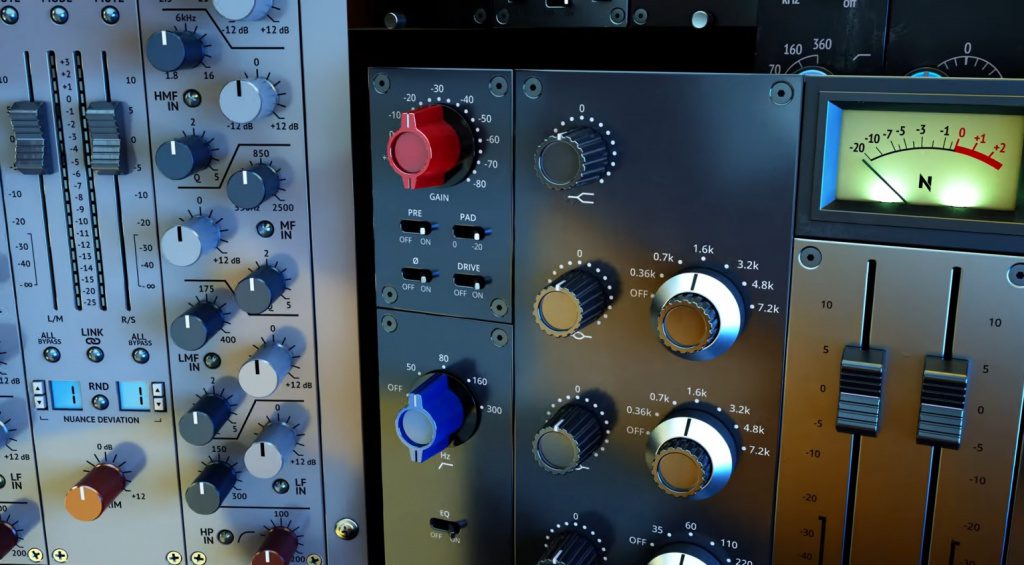 Noiseash finished 2021 off with a bombastic release – a USD 150 bundle containing 6 plug-ins that cover the Neve preamp and EQ heavyweights. You can read more about the individual emulations here. Rocking price aside, the NEED bundle enhances the original gear's capabilities with Mid/Side processing, additional EQ bands, and HP/LP filters. All the equipment is modeled using NoiseAsh's proprietary Nuance Deviation System which recreates component drift (and other deviations). So there's more than a dose of realism at play with these plug-ins.
Price: USD 150 (on sale)
More information
Arturia Pre-1973
Arturia has a strong hand in the Neve emulation game with the Pre-1973 plug-in. It's a replica of the venerable 1073 preamp module made with all the modeling expertise behind Arturia's synth and effects emulations. This one's a winner among standalone 1073 emulations, but it's not just the coding chops that count. Arturia went the whole nine yards by sourcing an original, unmodified 1037 unit and explored several other units making the rounds in studios. The Pre-1937 plug-in is complete with a Transformer Type 1 / 2 switch, a Stereo Mode switch (L/R or M/S), and low-cut filters.
Price: EUR 99
More information
Softube British Class A
Softube's renowned modeling prowess eventually culminated into a full-blown Neve channel strip. It's comprised off modules taken from Neve Class A units made in the 60s and 70s. The modules in particular are the 1073 input stage, the 1084 EQ, the 2254 compressor/limiter, and the 2257 gate. Basically the most sought-after Neve gear plus the unassuming, but powerful gate. Softube's Neve homage is a total treat: it's flexible, nice to look at, and the sound is on the money. The Native plug-in does not require the Console 1 hardware controller, so don't fret if you don't own one.
Price: EUR 99 (on sale)
More information
Sonimus Burnley 73
Sonimus offers a straightforward take on the Neve 1073 preamp at a fair price. That aside, Burnley 73 is distinguished by its selectable, adjustable Line and Mic saturation. Line is subtle while Mic brings the crunch. You can actually bypass the EQ and use Burnley 73 just for color. You can also bypass each EQ band. There are three of those – Low Shelf, Mid, and High Shelf – and they are complemented by a High Pass filter. Burnley 73 is well-loved by users for its sound quality and the ability to turn it into an analog distortion processor. Distorting stuff through cranked inputs is a favorite of edgy industrial bands.
Price: USD 59
More information
Image Sources:
bx_console_n: Plugin Alliance
Lindell 80 Channel: Plugin Alliance
Acustica Audio Gold4: Acustica Audio
Acustica Audio Gold4: Acustica Audio
NoiseAsh Audio NEED Preamp and Eq Collection: NoiseAsh
Arturia Pre-1973: Arturia
Softube British Class-A: Softube
Burnley 73: Sonimus