Best free plug-ins this week: WhispAir, GR-8 and Nettle
In this week's collection of the best free plug-ins, we're highlighting our three favorite synths from the KVR Developer Challenge 2021. And there's something for everyone: wavetables, virtual analog synthesis and an experimental scanned synthesis instrument that'll blow you away. Here's WhispAir, GR-8 and Nettle.
You'll find many more free plug-ins in our archives.
Full Bucket Music WhispAir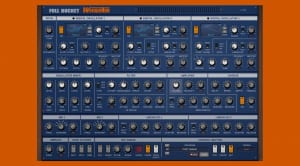 One of Full Bucket Music's entries in this year's KVR Developer Challenge is WhispAir, a fantastic wavetable synthesizer. Its three oscillators offer many ways to get creative, including sync, FM and AM. WhispAir also features a multi-mode stereo filter and no less than four envelopes and three LFOs for modulation. For extra lush, wide sounds, there's a chorus effect and a unison mode. While you're downloading WhispAir, be sure to check out Grain Strain, Full Bucket Music's other entry.
WhispAir is available for Windows and macOS in VST and AU formats.
Phuturetone GR-8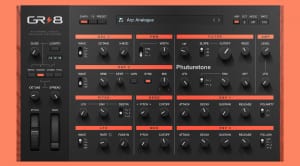 GR-8 by Phuturetone is a straightforward virtual-analog synthesizer with eight voices. It can be used in mono, poly, chord and unison modes and features two versatile oscillators with PWM, FM and sync and a variety of filter types. In addition to two envelopes and an LFO, GR-8 offers an integrated effect section with EQ, distortion, phaser, chorus/flanger, delay and reverb. The synth comes with an extensive selection of presets to get you started.
GR-8 is available for macOS and Windows in VST3 and AU formats.
Fellusive Nettle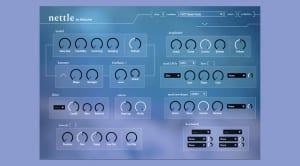 This one's a personal favorite of mine. Nettle by Fellusive is an innovative software instrument that uses scanned synthesis. It generates sounds by scanning the positions of moving masses, which you can control using your MIDI controller. Imagine a bunch of objects connected by springs, and using a hammer to set them in motion. Nettle lets you adjust various parameters of the model, which are all connected. It rewards the experimentally minded with a wide variety of unique sounds.
Nettle is a VST and AU plug-in for macOS.
Video
Image Sources:
full-bucket-music-whispair: Full Bucket Music
phuturetone-gr-8: Phuturetone
fellusive-nettle: Fellusive