Best free plug-ins this week: Grain Strain, STFU and FKFX Influx
In this week's roundup of the best free plug-ins, we take a look at some of the best effects developed for the 2021 KVR Developer Challenge. We've got an awesome granular looper by Full Bucket Music, a very effective and quick sidechainer by ZEEK and a "sonic retox engine" from FKFX. Here's Grain Strain, STFU and Influx.
Check out last week's post on the best synth's from this year's KVR Developer Challenge here. Head over to our archives for many more free plug-ins.
Full Bucket Music Grain Strain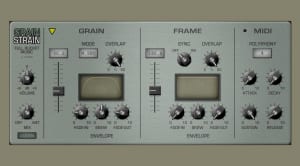 Grain Strain by Full Bucket Music is a versatile grain looper that lets you turn an audio track into something completely different. The Grain section allows you to specify the size, overlap and envelope of the grains. In the Frame section, which includes a sync-to-host option, you set the loop iterations. Both sections have their own envelopes. There's also an option to control the frequency of grains via MIDI. A quick, intuitive and inspirational way to get creative with any kind of source material!
Grain Strain is available for Windows and macOS in VST and AU formats.
ZEEK STFU
STFU by ZEEK is a very effective sidechainer / volume envelope. It syncs to your host if desired, and the developer claims that it's sample-accurate. You can use various predefined shapes to draw your volume curve, which can then be triggered rhythmically or via MIDI. This alone makes the plug-in super useful, but there's more: STFU also lets you crossfade between two separate envelopes, and it even outputs CV for use with "lots of hosts and modular plug-ins", ZEEK says.
STFU is available as a VST3 and AU plug-in for macOS and Windows.
FKFX Influx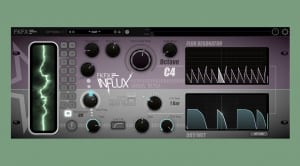 From the makers of Obvious Filter comes Influx, a "Sonic Retox Engine". Designed to create new grooves from any input signal, Influx combines a resonator module, low pass filter and tube distortion. The resonator note can be controlled via MIDI and modulated using a fully editable multi-point LFO. With features like Flux Chaos, Scale Snap and 16 wave shapers, Influx has a whole bunch of tricks up its sleeve. It includes a huge selection of presets for your inspiration.
FKFX Influx is available for macOS and Windows in AU and VST3 formats.
Videos
Image Sources:
full-bucket-music-grain-strain: Full Bucket Music
zeek-stfu: ZEEK
fkfx-influx: FKFX