Best free plug-ins this week: Elsita-V, Exakt Lite and Scratchknott
We've got some great stuff for you in this week's collection of free plug-ins! There's an emulation of a rare Soviet drum synth, a 4-operator FM synth and a plug-in that lets you scratch an audio file like a vinyl record. Check out Elsita-V, Exakt Lite and Scratchknott!
For many more free plug-ins, check out our huge archive!
Digital Systemic Emulations Elsita-V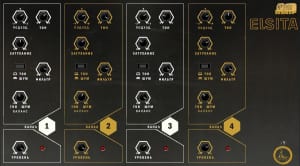 The RMIF Elsita is a 4-channel analogue drum synthesizer from the Soviet Union. Digital Systemic Emulations has emulated the rare machine in a very cool free plug-in. The developer says that while the four channels have identical parameters, they don't sound exactly the same. The controls are in Russian, but there's a translation on the website. Each channel has envelope, tune and decay controls, a filter and a blend knob for adjusting the balance between the oscillator and noise.
Elsita-V is available for Windows and macOS in VST, VST3 and AU formats.
Sonicbits Exakt Lite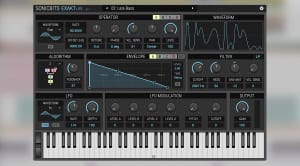 Exakt Lite by Sonicbits is a free 12-voice FM synthesizer. Its four operators can be arranged in eight FM algorithms. In addition to basic waveforms, the synth emulates the classic waveforms of the Yamaha TX81Z. The developer says that each operator has its own 5-point TX-style amp envelope, which can be edited graphically. There's also a resonant multi-mode filter and a neat waveform visualizer. Exakt Lite looks like a great addition to any plug-in folder!
Exakt Lite is available for Windows 7 or higher (64 bit) and macOS 10.9 or higher in VST, VST3 and AU formats.
Derknott Scratchknott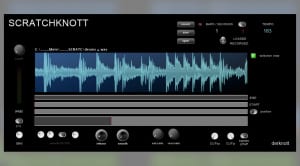 This cool plug-in first came out about five years ago, but was restricted to 32-bit Windows hosts. The developer has now made it available in VST2 and VST3 formats for 64-bit hosts, and updated the GUI. Basically, Scratchknott lets you load an audio file and scratch it like a vinyl record. You can also record audio directly into the plug-in. The section for scratching is set with two sliders, and visualized in the waveform display. Other features include envelope controls and high / low pass filters.
Scratchknott is available for Windows 7 or higher in VST and VST3 formats.
Download Scratchknott here (direct download link)
Videos
Audio demos
Image Sources:
digital-systemic-emulations-elsita: Digital Systemic Emulations
sonicbits-exaktlite: Sonicbits / Gearnews
derknott-scratchknott: derknott / Gearnews